Current Issue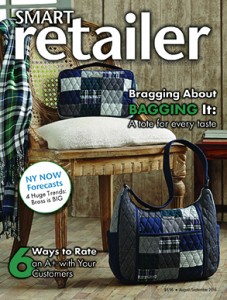 The August/September 2014 issue of Smart Retailer is packed with tips and advice that any retail business owner can use to help boost the bottom line, including:
Candles and scent diffusers continue to set sales aglow.
Visual merchandise expert Amy Meadows teaches the ins and outs of window displays.
How you treat your customers can make a world of sales difference.
NY NOW gazes into its retail crystal ball and reveals four essential styles.
And so much more!
Not yet a subscriber? Qualifying retailers can subscribe for FREE by clicking here!
Click on the cover below for full access to the July 2014 digital edition of Smart Retailer! Enjoy!