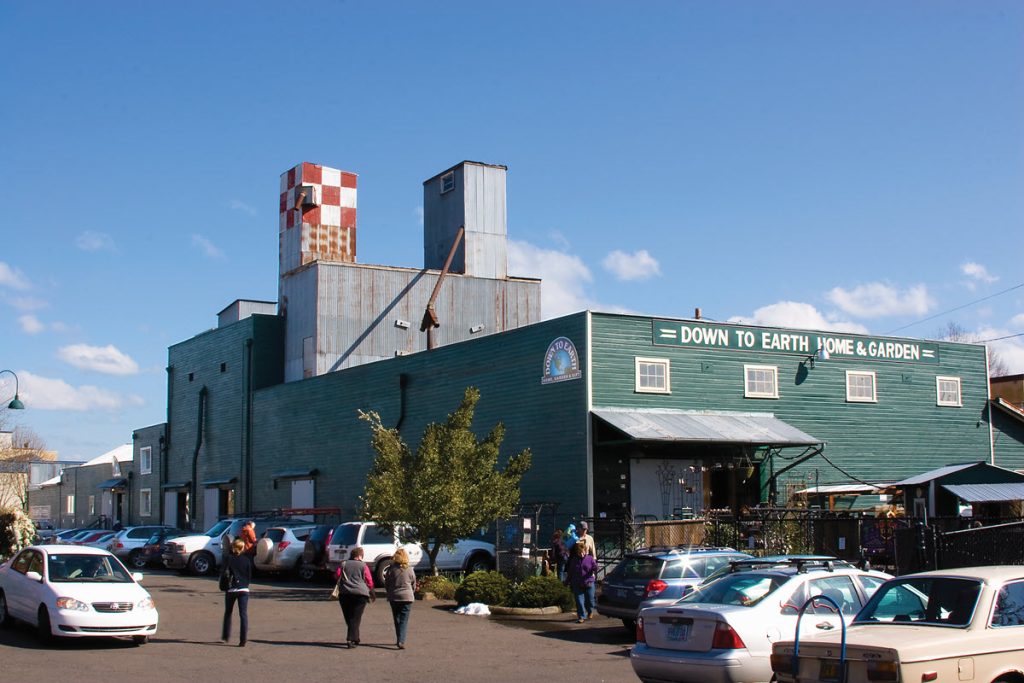 Practical Goods for Natural Living
By Angie Landsverk
For close to 50 years, Down To Earth Home, Garden & Gift has been helping people create sustainable and healthy lifestyles.
This business in Eugene, Oregon, opened in 1977. "Down To Earth Home, Garden & Gift is a private corporation with enduring local ownership, with the same stewards for many years," said Zeph Van Allen, its president and CEO.
Every business has faced challenges, and for this one, it has involved managing expectations. "Understanding our customers, staff, or other stakeholders, they each bring their own set of assump­tions, and as managers, it's our goal to provide clarity and leadership, so we can better manage these diverse expectations while being true to our mission," Van Allen said.
He explained how the company came to be. "Down To Earth was started by three guys who had previous experience in the trade and who subsequently scraped together $6,000 to start a retail venture in an old laundromat next to a natural food grocery store here in Eugene," Van Allen said. "From there, we expanded our reach with a wholesale business and later a manufacturing unit that formulates and packages organic fertilizers. Basically, the original Down To Earth owners were interested in having the cash to pay the rent, so to speak."
The company's current location is its fourth since inception, he said. The business has leased the current building since 1986, Van Allen said.
How was "Down To Earth" cho­sen as the store's name? "The name described the kind of company we were/are; it was always about the products we sold and the lifestyle that those products supported," Van Allen said.
The business is in the historic Lane County Farmer's Union Cooperative building, in downtown Eugene, said General Manager Rachel Klinnert. "Built in 1923, the building spans one city block. We provide a self-guided tour," she said. "The building is truly a destination, complete with vintage seed and feed processing machinery, belts, chutes, and grain towers. It is a beautiful backdrop to the home and garden products that we sell."
Their Product Mix
Like its name, Down To Earth's product categories are home, gar­den, and gift. Carol Watkins is the housewares purchaser, and she said the core product categories of home and garden are the same as when the business first opened. "We have expanded on those over the years," she said.
Klinnert said the company is known for its practical goods for natural living. "Our farm-to-table model encompasses organic gardening with an emphasis on our branded fertilizers manufactured here in Eugene; beekeeping supplies; kitchen and housewares; rugs and textiles; natural body care products; candles; houseplants; and an outdoor plant nursery," she said.
She said Down To Earth's natural and organic fertilizers, potting soils, compost, and soil amendments are selling well for them. "The houseplant trend has been very popular the last several years," Klinnert said.
Trends related to "growing your own food, sustainability, and get­ting back to basics" have also been good for Down To Earth, she said.
There are several things that make this store different from others in its area. Watkins said these include it being locally owned, selling natural living products, and supporting fair trade vendors. "Customers are welcome to shop with their dogs, who know a treat awaits them at the counter," she said.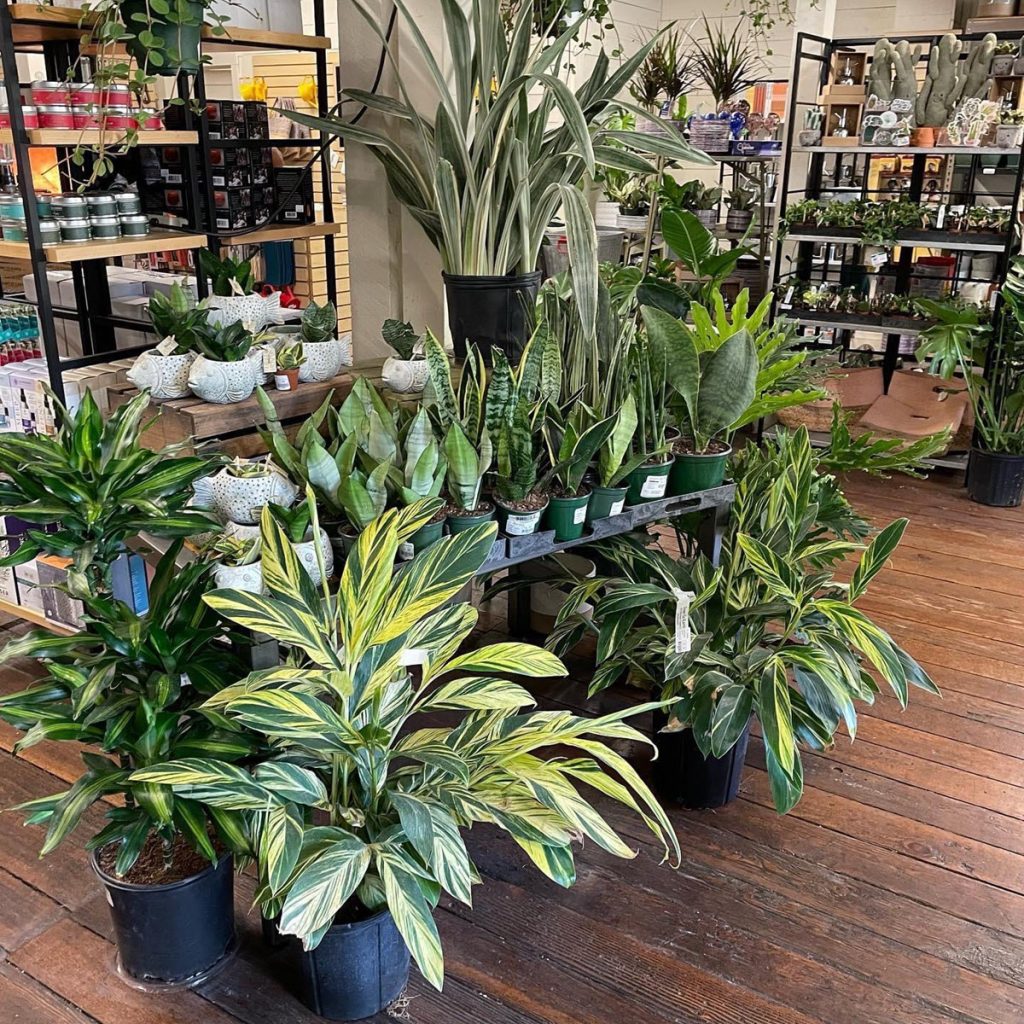 Customer Service and Support
Watkins described their typical customers. "Local people have kept us going strong for 46 years!" she said. "They include young, older, university students, folks whose lifestyle is DIY, and lots of out-of-state visitors."
She shared what customers say about the business. They describe Down To Earth as their favorite store and a cool place to shop. Some wish they had a store like it where they live, Watkins said.
Eli Van Allen, the assistant store manager, said staff members do their best to provide customers with a wide selection of products and to then share information and advice to help them be successful. "Our knowledgeable staff can speak on a variety of topics, including plant care; pest and disease management; growing and preserving food; composting; and much more," Van Allen said. "We offer many free brochures and how-to guides packed with useful information."
Klinnert said they have also been known to pot houseplants for people.
Watkins said what sets their customer service apart from other stores is how they are present and available to assist and answer any and all questions. "If we don't have an answer right away, we will research and get back to our customer," she said.
Down To Earth offers online shipping and curbside pickup. Events are held at the store as well. "It's a great way to connect with our community and provide information on seasonal topics," Klinnert said.
Community Connections
Watkins said her advice for those who have just opened a store is to remain true to their core values. "Be authentic and transpar­ent," she said. "Connect as much as possible with your community."
Down To Earth connects with the city of Eugene in numerous ways, including in-store events, celebrations, community fundrais­ing partnerships, and online via social media, Klinnert said. Social media is also an effective marketing strategy for the company.
Klinnert said the store is successful because it provides connec­tions and is a resource of information. "We do what we can to help identify solutions to common problems," she said.
She said they are grateful to be able to connect with so many people who enjoy cooking, gardening, and cultivating a sustainable and healthy lifestyle.
Watkins said they are deeply connected to the community and provided examples of this. "A couple weeks before Mother's Day, we have a free planting for kids to create a flower bowl for their moms," she said. "From our nursery, we donate a lot of vegetable plants (when they become a little 'too old' to sell) to local schools/community gardens. We help support many local nonprofits for gardening, food, and housing."
Their customers are important to them. "Their loyalty and support for 46 years have allowed us to be a beneficial member of our city," Watkins said.
Watkins said Down To Earth, the owners, and the employees are just like family. She said, "I started here 32 years ago and have grown alongside of a truly remarkable company."
As one of the company's buyers, what Watkins likes best about her work is the thrill of the hunt. "I love when I find a new source for a quality, affordable, and practical item to offer," she said.
Klinnert enjoys going to work every day, being creative, and participating in the collaborative process that makes it all possible. She likes "sharing products with our community that increase the well-being of the individual and in turn the community and more broadly the world that we live in."
Facts at a Glance
Business Name: Down To Earth Distributors, Inc.
Location: 532 Olive Street, Eugene, OR 97401
Website: downtoeartheugene.com
Email: contact via website
Phone: 541-342-6820
Employees: 33+
Size: 10,800 sq. ft. interior and 7,000 sq. ft. exterior (nursery)
Trade Shows Attended: Gourmet Catalog, Inspired Home, Seattle Gift Show, and Las Vegas Gift Show
Product Categories: home, garden, gift
Social Media: Facebook, Instagram, Pinterest, TikTok, Twitter
POS System: Retail Pro