By Debra Bouche
No business could be more aptly named than evolutions in design (lower case is intentional). This is an ever-changing floral and retail store that gives real meaning to the word "evolution." Owner Randy Verhasselt credits its success and growth to the innovative approach he and his team take to provide a unique customer experience.
From floor to ceiling, every inch is bursting with artistic floral arrangements and unique items, including sculptures, wall hangings, home décor, clothing and accessories, jewelry, and items to quench every taste from modern to traditional.
Displays and merchandise occupy three-quarters of this historical two-story building—with the "mainstay" of the business, the floral shop, located to the back of the first floor. Their distinct arrangements really stand out, which is what draws customers to evolutions in design. Staff takes as much time as necessary with clients, and it's that personal purchasing experience that brings people back again and again.
The Man with the Plan
The inner workings of evolutions in design are best understood when owner Randy Verhasselt is introduced. The shop's interior is so distinct—it's a virtual peek into his innovative mind. Given how unlike this store is from most in the area, one might ask, "How did it end up in Wausau, Wisconsin?" The answer is simple: Randy was born and raised there.
Verhasselt's creative talents evolved from a young age. His love for design made him consider a degree in architecture, until he found out how much mathematics were involved with the major. So instead, right out of high school, Verhasselt took a job at Penske Truck Leasing Company as the daily rental manager. He admits it wasn't the right job for a creative mind. Still, he stayed for 22 years.
Throughout that time, a desk couldn't satisfy his creative energies and he was constantly redesigning and repainting his office. The salary was good, so he showed appreciation for his assistants with flowers. Every week he'd stop to get flowers at Krueger's Flower Shop. One day, they asked if he'd like to help with deliveries on Saturdays. His response to that invitation evolved into a new profession, which spanned the next 11 years. Eventually it led to a bold idea: to strike out on his own.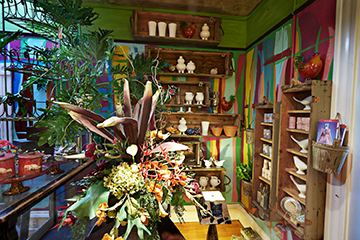 Sowing the Seeds of Success
Verhasselt wanted to take his unique talents to Minneapolis, Minn., but a co-worker at Krueger's convinced him to remain in Wausau, and they became business partners. Everything fell into place with financial help from his parents, and in 1998 they procured the building on Third Avenue. Recently, after 14 years together, his partner decided to devote more time to her growing family, and Verhasselt is now the sole owner.
Additional design services continue to evolve as his creative talents flow from one service to another. By word of mouth, the unique floral arrangements led to more weddings, funerals, and party floral designs; in-store special events spread to community and private event planning. In-store holiday decorating blossomed into holiday decorating for businesses and homes. Additionally, the store displays spawned image consulting for businesses and homes. Verhasselt's innate architectural talents now help customers with architectural and interior design from blueprint to furnishings to landscaping.
The Business Thrives
Admittedly, it's daunting to offer as many creative services as they do, but the proprietor was thankful for the array as tough economic times hit. He believes the downturn didn't have the effect that it could have if they had limited their services to a floral and retail shop. The diverse services offered at evolutions in design have kept them going as much as their creative marketing and their charitable giving have.
According to Verhasselt, "Giving back to my community has helped the business, and keeping it in the public eye helped get us through the tough times. Everybody needs flowers, and the gesture to send colorful cheerful gifts never goes away, but we had to do more. We held classes on how to pot herbs or how to arrange a vase. We spoke at women's groups. We promoted a local artist by holding a jewelry trunk show for her in our store. We worked with school art programs and created connections with restaurants to display their work. You don't always get paid for these services, but it got people talking about us, and eventually they came through our doors as customers."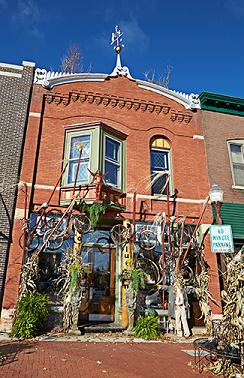 Funky Can Be Fun
The talented entrepreneur is grateful to the area for embracing his creative style, and he often donates to nonprofit auctions. His favorite donation is a private dinner party at his home in his rooftop garden, now known as "Randy's Rooftop." It has raised thousands of dollars to benefit organizations that include the Women's Community Center, the Center for the Visual Arts (CVA), and Newman Catholic Schools.
One big community event called "11-11" is actually sponsored by evolutions in design. Created on 11-11-11, it celebrated the rare date, as well as Verhasselt's birthday! It was so well received that it's become the area's yearly holiday kick-off party! With the tagline "Everyone Needs a Party!" more than 1,200 people usually attend, with all proceeds from the night going to the Grand Theater.
After the "11-11" party, evolutions in design transforms their displays for the Annual Christmas Open House, held on the second weekend of December. During the Yuletide season, Verhasselt is also busy providing holiday decorating to many private homes and businesses.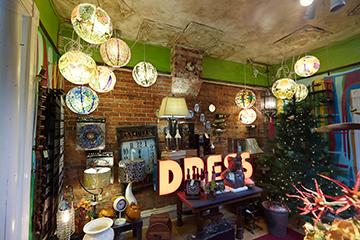 Reaping Rewards
The growth and unique evolution of the store has not gone unnoticed by the Chamber of Commerce. In 2005, evolutions in design was chosen as the Chamber of Commerce Small Business of the Year, only seven years after opening its doors. Additionally, City Pages has honored the store for 15 years in a row. Awards have included "Favorite Small Shop," "Favorite Small Store to Splurge," "Most Creative Store," and "Best Flower Shop."
The shop is definitely growing in the right direction, but even Verhasselt can't say what the business might evolve into next. As business factors continually fluctuate, only one thing is certain: Randy Verhasselt's creative talents will keep evolutions in design's displays and services ever evolving!
5 Fun Questions
If you didn't own a shop, what would you be doing?
"I'd be doing the same thing, but for somebody else."
What's your most unusual display place or prop?
"I made a prop for Basils Restaurant using old car fronts (procured from junk yards and Dumpsters), covered them in leaves, and then put deer on them. I love recycling stuff! I have old tire rims made into display tables. My staff often wonders if I'm crazy, until they see the outcome."
What one item were you unsure of when you ordered it, but then it sold much better than expected?
"I'd have to say Ginger Snaps jewelry. Brian Miller, a local guy who now lives in Minnetonka, Minn., came in one Saturday when he was home visiting his family. He said, 'I think I have something you'd like.' So I got a starter kit and haven't stopped selling them since. I have exclusive rights to Ginger Snaps in the Wausau zip code and online. They're really fun to touch!"
What is your favorite spot in the whole store?
"The atrium. It has grates on the floor and you can see through right down to the first floor. It was originally covered with boards. When we lifted the boards up after we bought the place, we fell in love with the view! It was a lot of work, but putting a metal catwalk over the opening made it safe."
What's the first thing you do when you get to the store in the morning?
"It's pretty routine. I turn on the lights, make the coffee, turn on the computers and check e-mail. I start the day with routine, thanks to a job I held at McDonald's."