Discover four tips that will keep your displays fresh, eye-catching, and most importantly, attractive to customers. Maura Lodes of Magnet Works, Ltd. offers these suggestions.
1. Have a Theme & Create the Unexpected
Product that is scattered about haphazardly isn't going to get much attention from customers. Develop a basic layout before you start merchandising. The plan doesn't have to be very detailed, just make sure you have a general vision for your display and make a list of anything you will need to make it happen.
You might choose to display product by color, product type, function, etc. Each of these options has its specific benefits, but make sure whichever theme you pick is obvious to shoppers.
Another way to display products is in a way that gives people an idea of how they might use the items in their own home. One way our showroom stylists, Debi and Colleen, accomplished this was by incorporating things like a dog leash, umbrella, books, baseball gloves, etc. into our Painted Peace display. These details were an integral part of the display's overall appeal.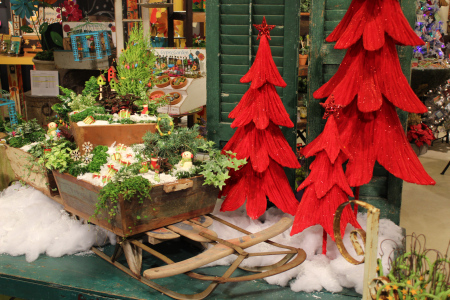 Surprise your customers by using unique, eye-catching props, but be careful not to over do it! If your product starts to get lost and cannot be easily distinguished, you have too many props cluttering the display. Stop shoppers in their tracks by creating something unexpected – like a miniature garden planted in an old suitcase, a vintage hat, or even on top of an antique sled like we did with our Winter Gypsy Garden items!
Two great ways to get customers' attention are with a whisper or with a shout. Highlight one product with a "whisper" by setting it apart or spotlighting it, much like a jewler would do with a diamond necklace. Showing just a single necklace in a glass box with a dark backdrop makes the item seem special, and you can bet customers are intruiged. A "shout," such as a full display with bold colors and lots of product, is another way to draw customers in and raise top-of-mind awareness about a product.
Whether you "whisper" or "shout," commit to it; anything in between runs the risk of being overlooked by customers.
2. Focal Point
Creating a display is an opportunity for you to tell a story and show customers how a variety of products coordinate. But it is critical that you choose one item as a focal point and then build your display around it using complementary items. Without a main focus, the display may seem too busy and will be less effective in attracting customers. A clear focal point will catch shoppers' attention right away and create interest in the display as a whole.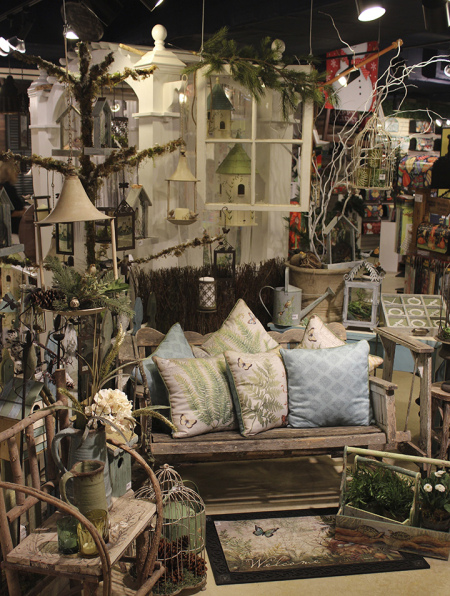 In the Sanctuary display pictured at left, the eye is immediately drawn to the pillows in the center. Their pop of color is what shoppers see first and then the whole scene is taken in. The porch-like display created around the pillows makes it easy for customers to see how the featured items could work together in their home or garden. By doing this in your store, you'll see greater returns, and your customers will leave feeling inspired to bring the look home.
Make sure your displays are not jam-packed, so shoppers can process the scene quickly and easily. Cluttered spaces can cause customers to leave a store altogether because they feel overwhelmed, uncomfortable, or unsure how to navigate the environment.
In our Atlanta showroom, we made sure not to crowd our Art Poles. It is important for shoppers to be able to see each item individually, as well as how all the pieces fit together in the collection.
3. Lighting

The right lighting helps products look their best and attracts customers to the display. Avoid lighting products only from above, as this can cause shadows that make items seem distorted and unattractive. Illuminating displays from multiple angles will really show your products in their best light 😉
A few displays in our showroom that were particularly well lit were DrinkBlots, Expressions, and Bloom. I especially loved the vintage Edison bulbs that Debi and Colleen used in our DrinkBlots display!
Not only does the DrinkBlots display stand out because of its unique lighting, it is also a perfect example of Tip 1 – Create the Unexpected. People wouldn't ordinarily think to cover a ceiling or table with a collage of coasters, but this display enabled customers to see DrinkBlots in a whole new light…not just as coasters but as pieces of art that can bring color and life to any space!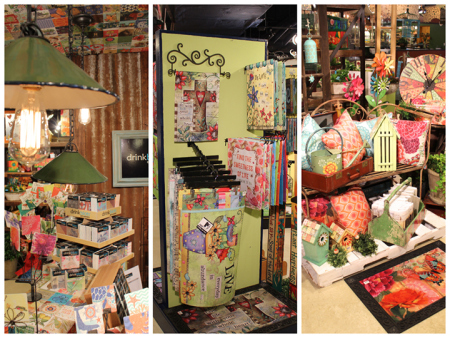 4. Keep it Fresh

Last, but certainly not least, don't forget to change it up! Customers tend to pass up tired, been-there-done-that displays.
Don't feel like you need to buy new props for every season; that can be expensive and overwhelming. Instead, think of ways to transform what you already have. You'll be amazed at the way items take on a whole new look!
Debi brought a beautiful chandelier into our showroom for the January 2013 debut of Studio M. It was such a hit, we had to use it again for July Market!
Keeping it fresh also means keeping it clean. Take a look at your store entrance, cash wrap, and any other parts of your store where customers will form their first impressions. Put your best foot forward. If the first thing shoppers see in your entryway is drooping flowers or chipped paint, freshen it up! Show shoppers that you are organized – de-clutter your cash wrap by getting rid of all the post-it note reminders and loose paperwork.
As product sells through, find a new spot for it in your store. Displays that look empty and picked over aren't doing much to help sell the remaining product. No one wants to purchase items that are dusty or have packaging that has been crumpled or torn. Often, manufacturers' customer service departments can provide you with replacement packaging if you ask for it. Mix the freshly packaged items into existing displays to give new life to both the product and the display itself.
Adding some of your own personality and creative spirit to your displays and keeping your store sparkling clean goes above and beyond shoppers' expectations. Drive it home by providing a level of genuine service that shows customers how much you care about them and appreciate their business. These attributes add immeasurable value to your store and will keep shoppers coming back for the unique, personal experience they can only get from you – a specialty retailer!
Maura Lodes is with the marketing department at Magnet Works, Ltd. Visit Magnet Works at www.magnetworks.com or follow the company's blog at http://mworksltd.wordpress.com.