A. Dodson's delights customers with unique merchandise displays, where everything tells a story!
For 12 years, A. Dodson's has been a community treasure located in a cottage in Suffolk, Va., perched on scenic Route 17. The welcoming front porch with its squeaky screen door has led to a charming shop for countless folks who have dubbed A. Dodson's as their "happy place." Recently, the business expanded to a second location in Norfolk and third in Virginia Beach. The talented A. Dodson's team has transformed all three empty storefronts into shopping meccas where customers delight in seeing the unexpected way items are merchandised and are reminded how much character local businesses bring to a community.
Owner Alison Anderson Dodson studied fashion merchandising at Louisiana State University, followed by two years at the Fashion Institute of Technology in New York City. She stayed in New York to work for Anthropologie and later, the Louis Vuitton Company, managing brands such as Givenchy and Donna Karan.
In 2003, Anderson moved back to Virginia and started A. Dodson's out of her mother's antique store. "At first, I had this grandiose vision that people here needed the luxury brands I worked for in New York," said Anderson. "I quickly realized that you don't need crazy prices to have fun with fashion and good taste in the home," she said. About 70% of A. Dodson's gift items are priced between $9.99 and $19.99, with some clothing and tabletop pieces priced up to $69.99. If you ask her why she left an exciting career in New York City to set up a shop in Hampton Roads, she'll tell you quite simply it's because "this is home." Her goal was to "raise the bar" of retail by focusing on the customer experience, giving back to the community, and creating a love of shopping locally. She set out to create a retail destination whose customers would experience something new each time they stopped by, and she didn't want that experience to cost a fortune.
Anderson, now 41, said the idea for A. Dodson's originally stemmed from her love of merchandising. She was born into a family of retailers in Chesapeake, Va., where she lives with her husband and four children in the 1812 farmhouse where both she and her mother were raised. Her grandfather ran a general store a few miles from the house, and her mother opened an antique store in Suffolk in 1973, the year Alison was born.
She remembers growing up in the aisles of her grandfather's general store and seeing how the customers who shopped there created the community she lived in. She watched her father, a local dentist, often exchange his services with patients who could only afford to pay him with a live chicken or free yard work. She learned from her mother's antique store in Suffolk how to run a smart business and form lifelong relationships with her customers. Spurred by the pride and appreciation for her father's generosity and her mother's business acumen, she turned those early experiences and lessons into the creation of A. Dodson's.
As important as the retail experience itself, is Anderson's commitment to giving back to the local community. She created the A. Dodson's Round Up program, allowing customers to round up the cost of each sale to the nearest dollar and have the extra cents donated to charity. Each month, the company matches the customers' "round up" dollars and donates the total to a regional nonprofit chosen by the store's Facebook fans. To date, A. Dodson's has matched the donations from over 35,000 customers to raise over $31,000 for local charities.
Anderson is equally passionate about supporting the local small business community and encouraging people to shop locally. She helped spearhead a new "buy local" campaign for the regional Retail Alliance. Launched in October 2014, the campaign's motto is "Be a Local Business LoveVA" (pronounced luh-vah). "We all need to do a better job of explaining that when you buy local, you keep your dollars local," she said. With a passion for supporting all local retailers, A. Dodson's promotes other shops by giving regular "shout outs" to them on Facebook through their "Small Business Everyday" posts.
All of the locations carry a varying eclectic mix of unusual gifts, home decor, clothing, and accessories, but A. Dodson's signature difference is the way merchandise is displayed. "Each store is divided into vignettes, and everything tells a story," said Anderson. In one location, Southern-themed items are displayed on the bed of an old pickup truck. The kitchen 'story' showcases dishes and cookware in a 1950s refrigerator. Anderson boasts that the displays are different in every store. "The story never feels the same, and never gets old" Anderson said. "People who shop in the Suffolk store can come to Virginia Beach and have a completely different experience."
Twelve years ago, when Anderson chose that little cottage on the hillside of Route 17 to open her home décor, apparel, and gift shop, some folks considered it a risky proposition. But she considered the venture to be worth the risk, believing that if she built a shopping oasis combining home and fashion, rustic and chic, while passionately supporting the community, then A. Dodson's would eventually become a destination.
She accomplished that goal, and now the business is thriving with three locations and an online store, which came into fruition five years ago. "We now have a director of marketing and e-commerce, a director of merchandising, a retail manager, a dedicated e-commerce shipping staff, and an internship program that allows young people interested in a marketing or merchandising career the ability to earn on-the-job training while gaining real-world experience." Anderson says proudly.
"People leave here happy whether they buy something or not, and that in itself is really special," she said.
---
A Few Fun Questions…
If you were given $100 to invest in your business how would you use it? What about 10,000?
With $100, I would purchase gift cards to other small businesses for my employees to enjoy. With $10,000, I would hire a part-time data analyst to help us track our buys better.
What would you identify as an important turning point in your business?
When I decided to delegate and "let go" and give my staff an opportunity to shine. It was at that point we were able to open the second and third locations.
What traits / skills do you have that makes you so successful in this business?
I am both right- and left-brained. I have a love for the numbers and a passion for the merchandising. As a retailer, you must know your numbers inside and out. When I'm buying from a vendor, I am looking at shipping costs and incentives because every little bit affects my margin, which ultimately determines A. Dodson's success.
Do you have a creative process, some method that helps you think outside of the box?
My team. They challenge me every day! Part of the challenge is simply taking the time to be creative. It is 80% planning and 20% execution.
How do you balance your busy, successful career with a marriage and family?
I wake at dawn and work out (something for me), and I try to stick to my schedule every day. Being home by 3 to be with my family is a must.
What piece of advice would you give to other retailers who may be striving for your level of success?
Delegate to your employees and raise the bar for them. They will meet you there.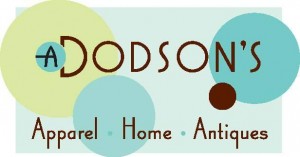 SUFFOLK
2948 Bridge Road, Suffolk, VA 23435 • 757-483-1344
NORFOLK
1611-A Colley Avenue, Norfolk, VA 23517 • 757-222-0254
VA BEACH
500 Laskin Road, Virginia Beach, VA 24351• 757-965-9426
Online at www.adodsons.com