When Molly and Tom Bedell started their "indie clothing/music shop" in the Gulch, the trendiest neighborhood of Nashville, they never thought it would end up becoming an essential landing place for every deep-pocketed music lover out there. Nashville gift shop "Two Old Hippies," the name of their store, is now filled with all the things that Molly and Tom love — guitars, music, gifts, clothing, a magic bus, and even a performance stage. Not only has their store become a favorite with both locals and tourists alike, but also a spot where the vibe is all about peace, love, and music.
Free Spirits From Childhood
The Bedells, who believe in celebrating each and every day of life, claim they're "old enough to have been around when the concept of peace, love, and rock 'n' roll inspired a generation of free spirits," and "young enough to embrace a world community where generosity, compassion, and equality are a way of life." Although Molly and Tom met later in life, their individual journeys were deeply impacted by the '60s hippie movement, and the values it stood for, in the same way. It was a time when, in their words, "love was in the air" and "people cared about each other and the earth that is our home." The spirit of rock 'n' roll that inspired a generation and became the means of bringing it together never faded away, at least for the Bedells.
Molly, who calls herself "stubborn in a good way," soaked up the hippie culture when she was a teen living in California. Her passion for rock 'n' roll — which grew after she moved to Oregon a few years later — had her buying albums as fast as she could earn the cash. Everything she learned about "the colorful alternative lifestyle of the times — the unconventional clothes, the encouragement of self-expression, the deepening connection with Mother Earth — struck a chord with her and brought out her creative side, leading her on the path to Two Old Hippies.
For Tom, whose journey began in Iowa, music was no less than his world, especially after Beatlemania invaded America. At 14, he started importing guitars from Japan, and that's how Bedell Guitar Company was founded. Tom sold those guitars to neighborhood kids who were crazy for music and taught them how to play. He recalled how that time was influenced by a love of music. "We loved our music, it was our life, and not just for those of us who played. It was a time that defined us all," he said. His passion for music only increased with time, as can be seen now in his groovy lifestyle shop.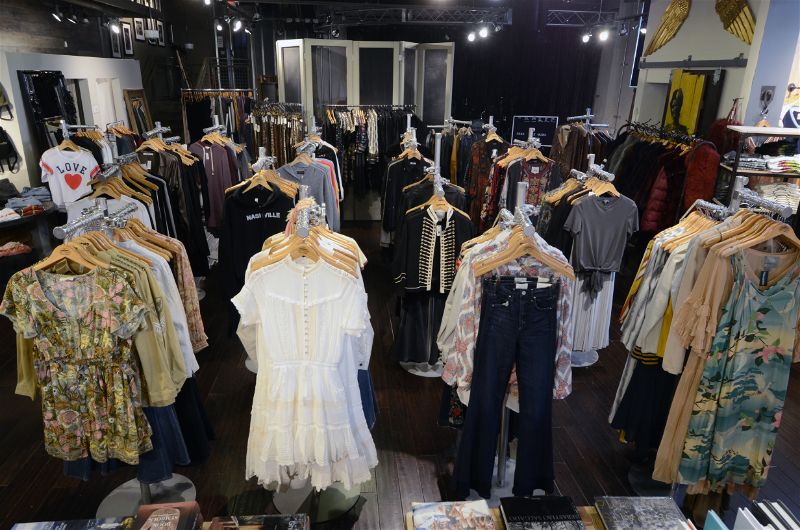 Reconnecting to Their Roots in Nashville
Being deeply influenced by the '60s hippie movement, starting a store like Two Old Hippies was the perfect way for both Molly and Tom to reconnect with their roots. So with their kids grown and "real world" careers behind them, the two hippies opened their flagship lifestyle store in the Gulch neighborhood of Nashville, Tennessee, in September 2011.
Nashville, the Music City, was a perfect choice for the location of the store since, according to Molly and Tom, "it's one of few places where a cowboy-esque style still stands strong." It's a city whose music lifestyle is extremely vibrant, and while walking through the streets of Nashville, you may hear anything from rock 'n' roll, to folk, to bluegrass, to country. The eclectic city of music attracts a young hip crowd, and Two Old Hippies is a wonderful reflection of that.
The exuberant city of Nashville offers much to do but in a relaxed way without any rush, according to the couple. The store is just five blocks away from the music strip for tourists in the downtown bustle of the city. Moreover, the Gulch has several attractions including new retail shops and great dining experiences. The Historic Station Inn, which has remained home to country and bluegrass music since 1974, is right across the street. There couldn't be a more perfect location for their 8,000 square foot shop.
The store's building, which is famous for its old brick-and-mortar appearance contains everything "hip and hippie." From men's and women's clothing to shoes and accessories, home décor and accents, jewelry and gifts, and a remarkable book collection, the shop has it all. The store's walls are lined with a stunning collection of rock 'n' roll memorabilia, including artwork, crafts, and fine textiles from indigenous cultures gathered by the Bedells during their travels over the years.
Products and Services That Reflect the Good Old Days
The memorabilia, all of which is available for sale, not only gives a marvelous look to the store's inside by adorning its walls but also brings Molly and Tom back to "the good old days." Owing to its unique and wide-ranging offerings, the store is rightly defined by the Bedells as "a hip mini department store of sorts." Though Two Old Hippies is famous for everything it offers, some of its products — like its eclectic mix of hip apparel, unique jewelry made from guitar strings, and an outstanding collection of premium acoustic stringed instruments — are wildly popular with both locals and tourists alike.
While the store specializes in Bedell, Breedlove, and Weber mandolins, most of the acoustic instruments featured in it were built by popular artisans across the globe. According to the owners, their fine collection of premium acoustic instruments is an expression of their love of music. The space designated for displaying most of the store's premium instruments is a climate-controlled string sanctuary known affectionately as "The Vault." It's been designed, built, and decorated to give guests a comfortable and relaxed buying experience when looking for a new guitar, ukulele, or mandolin.
For those who want to play an acoustic instrument in a quiet space, the store provides the "Quiet Room." It's a peaceful sanctuary for customers, designed to help them make the final decision when they're not sure which instrument they want to take home. What's more, the store provides exclusive space where shoppers can get a guitar repaired, or a mandolin cleaned and restrung, or any other help customers may need regarding their acoustic instruments. The guitar staff at Two Old Hippies, is always happy to lend a hand when their customers' gear isn't working right.
The Importance of Building Community
The store also hosts live music performances five nights a week on their stage. And when people pay a visit to the shop, they never leave without a photo of the Magic Bus. In addition, the shop also provides a great venue for gatherings, complete with a full stage and backline sound system. The unique space offered by Two Old Hippies has hosted numerous public and private assemblages ranging from corporate events to commercial filming, book signings, album release parties, charity events, art discussions, and exhibitions. The gatherings at the store are often used to raise funds for a multitude of national and international welfare organizations. As Molly put it, "Tom and I have always believed in the spirit of giving and helping others, and we especially realize the importance of community. It is in that spirit we are honored that we have given back to so many charities."
Nashville Gift Shop Creates A Unique Lifestyle Experience
Besides its appealing community engagements and irresistible offerings, the quality that sets Two Old Hippies apart from the crowd is the unique lifestyle experience it creates. The Bedells seek unique finds that appeal to most people to create a truly laid-back environment. According to Molly, their shoppers don't see what they buy from them in the other stores in town, and that's what makes them return again and again. And if there's another thing that makes customers return to Two Old Hippies, it is the experience the store creates for its visitors. "Walking into our store is really an experience," Molly said.
Sharing the Spirit of Peace, Love, and Rock 'n' Roll
The store offers something in everyone's price point, so that every visitor is able to shop. But you don't have to be a customer to enjoy Two Old Hippies. Anyone can visit the store, have a great time, experience the atmosphere, and feel welcome. "We want our guests to arrive and be wowed, then spend a little time in the store with our amazing team of co-hippies, and leave as one of our friends," they said.
Molly and Tom see Two Old Hippies as an outlet beyond material things. For them, the store is a representation of the beliefs and values they acquired decades ago: Be true to themselves, inspire community, seek harmony among all, and, most importantly, to keep sharing the spirit of "peace, love, and rock 'n' roll."
FACTS AT A GLANCE
Two Old Hippies
401 12th Ave. South
Nashville, TN 37203
615-254-7999
www.twooldhippies.com