The Store for Global Vintage Lovers
Located on Burbank's famous Magnolia Boulevard, Unique Vintage is the go-to destination for vintage lovers in California and abroad. The store sells retro-style dresses both offline and online to people around the globe. The online purchases, however, account for the lion's share of the store's total sales.
Offering vintage-themed apparel as its key merchandise, the store provides iconic vintage patterned prints that date back to the 1920s. From stunning retro swimsuits to pinup styles, customers can easily spend hours scavenging through vintage treasures dating back a century.
Outfits from Unique Vintage have been featured in a number of movies and TV series, donned by Hollywood celebs and megastars, as well as in the pages of popular fashion magazines. The store's success can be traced to the creative mind of owner Katie Echeverry, a talented, inspiring, generous mom of two with exceptional business acumen.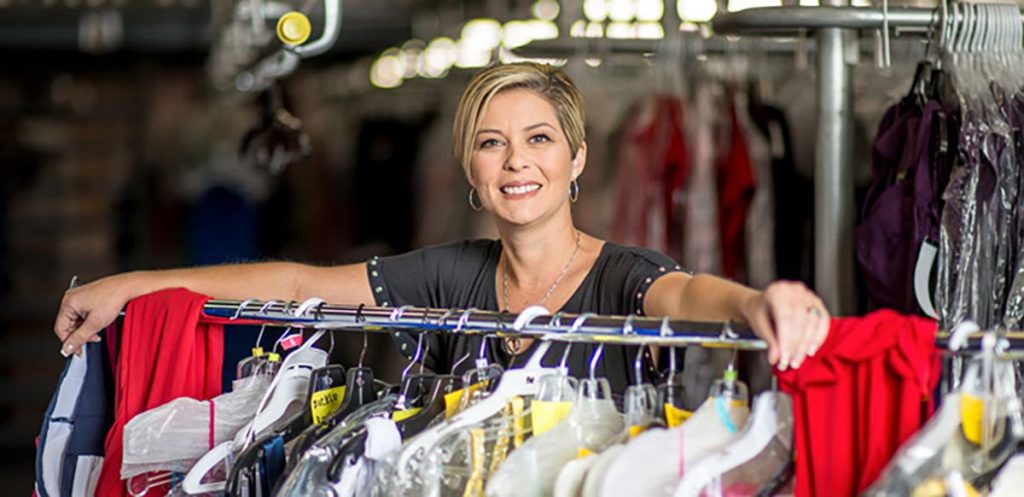 Starting From Scratch
In 2000, Katie was working as a pharmaceutical sales representative. She had always been interested in vintage fashion, so she often stopped by flea markets and estate sales. It was during one of these visits that Katie decided to create a business from her passion for vintage clothing. Katie knew that vintage outfits have remained and will always remain "hot" items, so after doing research, she started selling vintage dresses through a website one of her friends created for her.
Katie spent five days a week traveling from doctor to doctor and two days trawling estate sales and flea markets, looking for vintage apparel to post on her newly launched online store. Like many beginning businesses, the first few months were disappointing. It took six months to receive her first order, but after that first order, the orders never stopped.
It wasn't easy to find true vintage apparel, so she decided to add some vintage-inspired clothing to her online store. "I realized I could sell more than one of something if I switched from authentic vintage to vintage-inspired clothing," she said. "I knew which vintage pieces always sold well. The problem was, there was only one of each." This seemingly simple decision, taken on a whim, went far in increasing her sales.
Even though sales increased after Katie added retro-inspired dresses, the turning point for her business came in 2005. Katie was expecting her first child and was worried about how she would be able to work full-time while taking care of her baby and packing orders at night, which by then had increased to around 10 per day. It was then she took what she called a "huge leap of faith."
Katie left her pharmaceutical job for good and focused all her energy on her business. Then she made her most important decision as an entrepreneur —starting her own label called Unique Vintage. Before long, the business took off and orders started flooding her inbox. The brand was comprised of an extensive range of retro-inspired clothes, featured beside a number of fabulous vintage designers on her online store. From black wiggle dresses with applique work to retro Hollywood starlet-inspired swimsuits to adorable floral chiffon gowns like those featured in garden parties on the TV series Mad Men, Katie was making practically everything a vintage fashion lover could dream of. When her brand got a mention in Glamour magazine, her sales soon went "from $1,000 a month to $5,000," and she realized that "everything had changed."
Opening a Brick and Mortar Store
Katie decided to open a brick and mortar boutique in September 2008. And like all of her previous business decisions, it proved to be a great success. Launched in Burbank, California — Katie's hometown — the store expanded to more than 4,000 square feet in 2011. The store features a dynamic collection of swing dresses, stunning hand-beaded flapper dresses, gorgeous wiggle dresses, retro swimsuits, evening gowns, fabulous jewelry, handbags, shoes, and a range of retro gift items. The merchandise is displayed under the glowing lights from oversized crystal chandeliers, which creates a perfect retro environment.
Within just five years, from 2005 to 2010, sales rose astronomically as Unique Vintage increased from 10 orders per day to a whopping 500. At first, she tried working with different wholesalers. But she quickly realized that the only way to satisfy the customers and provide them with exactly what they want was to partner directly with a manufacturer. She found one in China. "The Internet is a wonderful place," Katie said. "It was actually easier for me to find a manufacturer in China than here in L.A." Katie has successfully been collaborating with the Chinese manufacturer ever since then. Their partnership sees more than 24,000 dresses made every year and has worked well for both. "I know we positively impact his company and his employees because he tells me so all the time. He's very grateful," Katie said of her manufacturing partner, "and that makes us feel good."
The Warehouse Expansion
Due to her constantly expanding Internet business, Katie procured a 12,000 square foot warehouse. She also added a picker, a returns specialist, and a shipper, as well as part-time stylists and models. Katie didn't have the slightest idea of how to run a warehouse, however. "My knowledge had plateaued," she said. That's when she acquired the services of John Broker, FedEx senior sales executive. John brought in some FedEx consultants to help with software platforms and streamline all the operations at the warehouse. Katie also hired another consultant to find a reliable marketing manager, a controller, and a programmer. "I'm getting help finding the higher-level employees I need to take this business to the next level," she said.
The astronomical rise in sales translated to more hiring, and it's something Katie is extremely proud of. "I feel really good," Katie said. "Not only is my business creating jobs, but they're in a fun, hip, creative environment, because that's our culture."
The success of Katie's online empire is complemented by her partnership with FedEx, since the delivery service is known for its dependability, speed, and Saturday delivery service. A whopping 23% of Unique Vintage shipments arrive on Saturday. "Because so many people are last-minute shoppers, and we deal with events like prom, our customers want their dresses right now," Katie said. "Saturday delivery prevents a big chunk of our customers calling us on a Monday and saying, 'Where's my package?'"
A Boost From Hollywood
Celebrity endorsements have given Unique Vintage a big boost. Because of the store's proximity to many of Hollywood's movie and television studios, it has become a popular spot with celebrities and fashion icons. For example, Zooey Deschanel, Ariel Winter, Elle Fanning, Teri Hatcher, and Jennifer Love Hewitt have visited the shop to trawl its racks. Unique Vintage's retro items have also popped up on a number of famous TV shows including Glee, Pretty Little Liars, The Vampire Diaries, American Horror Story, Good Day LA, True Blood, My Fair Wedding, and Parenthood.
Katie's incredible journey to global entrepreneur serves as an inspiring example for those who want to dream big. She advises aspiring entrepreneurs to start small, take risks, and not expect overnight success. She also urges to stop worrying about competition because "there's enough business out there for us all." But she emphasizes the importance of creating a unique niche because that's what can help a small business go global — like Unique Vintage.
Burbank California Shop: Unique Vintage Facts At a Glance
Business Name: Unique Vintage
Location: 2013 West Magnolia Blvd.
Burbank, CA 91506
Website: www.unique-vintage.com
Email: service@uniquevintage.com
Phone: 800-721-6589