Press Release submitted by Ferret Corp.
Ferret Corp.
408 27th Street West
Bradenton, FL 34205
941.400.4439
Findwithferret.com
hello@findwithferret.com
Announcing the release of Ferret: An exciting, new mobile app that will transform the gift industry
Bradenton, FL – Ferret is the first mobile-based app to connect wholesale buyers and sellers of quality items for retail.
Ferret launches July 2019 in conjunction with the wholesale tradeshow season starting at AmericasMart in Atlanta continuing with the World Market Center Las Vegas and NY NOW.
Wholesale trade shows in the U.S. have changed radically in the last decade, and the increasing costs and diminishing return on conventional methods of buying and selling wholesale has left an opening for Ferret to emerge.
"Ferret will function as a discovery app with a dating-site feel," company co-founder Martha Bennington, said. "It will be similar to Tinder's format, with simple and beautiful photo-based product profiles."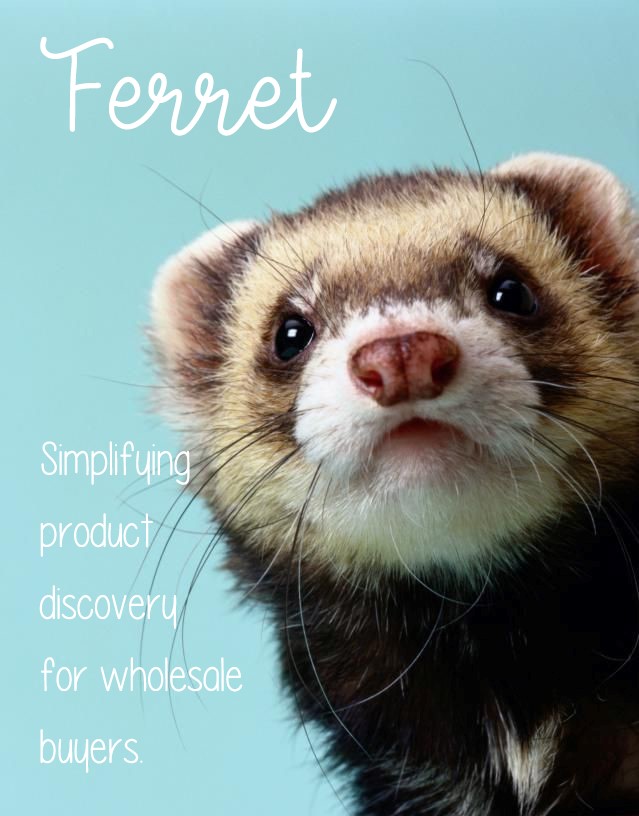 Buyers will "heart" items they want more info about, or "x" if the product is not a fit for their store. Buyers can follow up with the products and brands they are interested in through direct links to sellers' websites, email addresses, and social media accounts. "Ferret will help buyers discover new products, and after the Ferret intro the rest is up to the buyer and seller through their already established sales channels," said Bennington.
Ferret is FREE for buyers. Sellers can be part of Ferret for $9.99 a month, or $99.00 a year making Ferret significantly less expensive than any other web-based option.
"Because Ferret links directly to a seller's existing social media and digital portals it does not require the redundancy and time management of creating a new online portfolio duplicating the seller's current website or venues," Kathleen Plate, Ferret's other founder, explained. "There is a need in the market, and Ferret fills that need with simplicity, aesthetic appeal, and both cost and time savings for all users."
About the founders:
Plate is the CEO of Smart Glass Jewelry, a designer and manufacturer of recycled bottle jewelry, lighting and home décor. With over 25 years in the wholesale and tradeshow system, Plate has a deep knowledge of the evolution of this industry and a keen sense of emerging trends. She has used this understanding of technological opportunities to interface her micro-business with large brands such as Coca-Cola, Estee Lauder, and Chick-fil-a. She has also spoken and taught on micro-businesses and entrepreneurship, most recently as the guest of a startup created by a Harvard Professor of Entrepreneurship.
Bennington is CEO of The 3 Sisters Design Co., a designer and manufacturer of recycled jewelry, accessories and home décor, with over 20 years of wholesale and tradeshow experience. She is also the CEO and founder of Wild Rumpus Room, a multi-market wholesale showroom venue featuring over 7000 square feet of handmade, made in America jewelry, home décor, stationary, bath and body, tabletop items. She is the administrator and moderator of an online forum, "Artists Who Wholesale", a 3,200+ group of wholesale artisans, its sister forum "Wholesale Artisan & Buyer Connections" with over 900 members, as well as an established and recognized advocate for handmade arts and Made in America products.