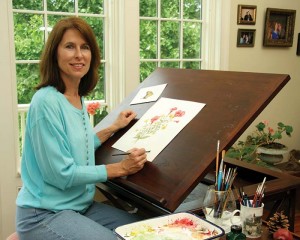 By Cassie Noble Beyer
Art influences us at the most unexpected times. For Alice Backman, art was an intrinsic part of her childhood, encouraged and nurtured by her family. From a young age she was designing clothes for her dolls. Then her mother bought her a sewing machine, and she quickly began making clothes for herself. She creatively expressed herself with paint and other mediums as well.
But like so many young artists, Alice originally looked elsewhere for her career, going into the sciences. In the 1980s, both she and her husband were working at John Hopkins University in Baltimore, while living an hour away in western Maryland. Then she lost her job, and her husband took a position in Washington D.C., an even more brutal commute.
Alice figured there had to be a better way of earning an income. Determined to live in her beloved rural community and unwilling to continue commuting to distant big cities, she concluded the best option was to work from home. And the best way of doing that would be to make use of all those artistic skills honed for so many years.
She started making period clothing for local museums and historical locations such as Thomas Jefferson's home at Monticello. From there, she quickly expanded into a variety of household goods, which are still the staples of Alice's Cottage today. Most of the items are kitchen textiles such as potholders, aprons, and towels, but they also carry a variety of non-kitchen fabric gifts such as tote bags.
She quickly found herself with more work than she could handle alone, so she started hiring seamstresses. As a cottage industry, Alice did all of the design work, stenciling and cutting of fabric, then handed the pieces off to women who sewed in their own homes. Once a week, they'd return with finished pieces and Alice would hand out new projects.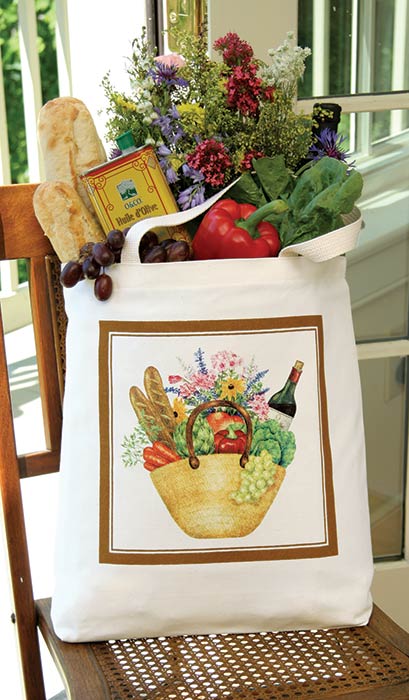 It wasn't long before Alice's husband gave up his commute to work alongside his wife in the new business. Among his contributions has been devising a silk screen method using water-based inks, a rare practice at the time. Water-based inks are more earth-friendly than traditional silk screening inks, but they tend to lose fine details. The process used by Alice's Cottage produces highly detailed images while being environmentally conscious.
Three years later, the enterprise had completely outgrown the Backman home, and they moved the business to a 19th century church just down the road, using it as a manufacturing space for their fabric goods for the next decade. "People use to kid and call us the people of the cloth," Alice shares with a laugh.
By 1996, they were once more out of room, so they constructed a new 21,000 sq. ft. space, which is the home of Alice's Cottage today. Altogether, the business has been in operation for 33 years. While 14 employees cover most aspects of the business at the manufacturing plant — cutting, screening, packing, billing, and so forth — Alice's Cottage also continues to
be a cottage industry, currently employing about 40 seamstresses still working out of their homes.
That makes every Alice's Cottage product 100% made in America, a point Alice loves to emphasize. She's particularly proud of the positive economic impact she's had on her rural corner of Maryland. "I really feel grateful that I can supply jobs to the people here," she explains.
Alice has never been tempted to give up on the business, not even in the early days. "Once I got it started I couldn't think of anything I would rather do," she says. "My whole youth prepared me for this."
Indeed, her work continues to be an outlet for her creativity, and the challenge of creating new things is a constant motivator. Every design is personally created by Alice. She comes out with new products twice a year, summer and winter, so she's constantly looking for new inspiration. Most often, she draws from nature. Botanicals, garden scenes, birds,
and pets are all popular subjects.
There is nothing frivolous in Alice's Cottage products. Everything is meant to be functional. "We make products that everyone can use in their day-today living," says Alice. Her towels, while silk screened, aren't merely decorative; they can hold up under regular use in the kitchen. And that quality is matched with real affordability, making any of her products a great gift anytime of the year.
Her products find wide success across the board. Particularly popular items include flour sack towels, lavender scented
items such as sachets, wine caddies, and a wide variety of gift totes.
Alice's Cottage products can be found in a variety of places, including online, in museums and gift shops across the
country, in catalogs, and in multiple showrooms, including Americasmart in Atlanta, where they proudly display in the
Made in America section.
FACTS AT A GLANCE
Business Name: Alice's Cottage
Location: Hagerstown, Maryland
Phone: 800-288-7977
Website: www.alicescottage.com
Email: info@alicescottage.com