By Jackie Adamany
Love one another—it's as simple and difficult as that. For those shopping for the perfect Valentine's Day gift for someone special, the experience will be a lot easier with unique, handmade products highlighted here in Smart
Retailer magazine.
Valentine's Day 2016 gifts include personalized jewelry, romantic bracelets, fragrance, tableware, textiles, and so much more. According to the National Retail Federation, consumers spent nearly $18.9 billion in 2015 on Valentine's Day. It's no wonder artists and retailers across the country are paying attention and stepping up to meet the demands of the consumer.
Ruffles, lace, and a touch of Victorian add a romantic touch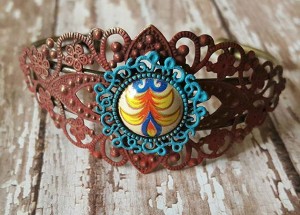 Tracy Stannard of Popli Tin offers a line of distinctive conversation starting jewelry which are one-of-a-kind and unique in every way—with colors that pop and patterns that intrigue. Popli's new line adds even more interest and depth by adding lovely filigrees that are all hand-painted with an antique matte finish. Graduating from the Art Institute of Atlanta was just enough to get her creative spirit flowing. Stannard shares her passion: "I love to transform vintage tins into wearable pieces of art, selecting each piece on the design and colors. My jewelry is all quite unique, made from vintage cookie, tea, and candy tins." Jewelry with a scrumptious past!
Popli Tin
Tracy Stannard
www.poplitin.com
Trendy Tableware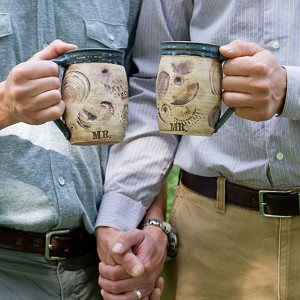 Handcrafted tableware is always on trend Especially when it features personalized messages with leaf imprints found on family walks in New York. Julia Dean, owner of JULIA e. DEAN, comes from a long line of craftsmen. She shares her story: "Five generations of our family have worked with stonemaking monuments in Kentucky. I see working with clay as my way of continuing that tradition. I have used clay to listen for and record my own story since 1998. I design every product in our collections and still throw every piece we sell." On any given fall day you will find Dean and her family on a walk with heads down, looking for perfectly pretty leaves to take back to the studio to use to imprint her line of pottery. Owning a piece of JULIA e. DEAN is like cupping a little piece of New York foliage in your hand.
JULIA e. DEAN
Julia Dean
www.juliaedean.com
Lasting Beauty, American Craft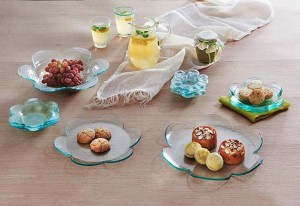 From kiln to table, Annieglass is a testament to the lasting beauty of American craft. Imaginatively designed and innovatively created by artist/owner Annie Morhauser and her team of artisans, Annieglass' fresh, contemporary collections of richly textured glass dinnerware, serve ware, and gifts compliment all styles—transforming every day into a celebration. Sustainably handcrafted on California's central coast, Annieglass luxury glassware is durable, dishwasher safe, and engraved with a studio signature for authenticity.
Their 2016 Collectible Daisy Heart Plate celebrates spring with delicatedaisies embellished in bright 24k gold on clear glass. Only available within the calendar year, individually signed, numbered, and gift boxed, Morhauser envisions a different design each year. She says, "Can you imagine what a gorgeous collection the dedicated collector could achieve?"
Morhauser also introduced three new daisy-shaped designs to the Annieglass Bloom Collection of clear glass tiny bowls, plates, and tea lights. Sustainably handmade in California, this pretty petal collection brings life to brunches, bridal showers, and outdoor picnics—and makes gift-giving a walk in the park.
Annieglass
Annie Morhauser
www.annieglass.com
Comfort and style make gift giving easy!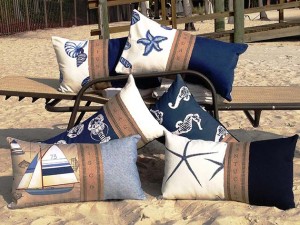 At the end of a long day, nothing beats relaxing surrounded by gorgeous pillows. Can't Resist Pillows owner Sheri Levine is an artisan and craftswoman who creates wonderful pillows from high-end scraps of fabric. She worked in the drapery business in Boston for the past thirty years. During this time Levine developed her love of fabrics while surrounded by rich textures and vibrant prints used for draperies and bedding for her affluent clients in the Boston area.
Levine also has a passion for recycling and saw a perfect use for drapery workroom scraps. "I rescue these unwanted scraps from the cutting room floor, allowing me to create unique pillows from extremely expensive fabrics from the best New York fabric houses." Each pillow is personalized and often one-of-a-kind. Levine uses a three-inch jute strap to hand print a "happy" word that works with the fabric pattern. Personalized stylish comfort—you can't beat that!
Can't Resist Pillows
Shari Levine
www.cantresistpillows.com
Eco-friendly, locally made products still reign high.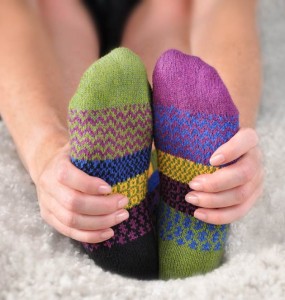 Consumers continue to look for locally made, environmentally friendly products. A handcrafted gift on Valentine's Day is a perfect way to say "I Love You." Shoppers can show they care about their loved ones while keeping them warm this winter in adorable hats from Solmate Socks. Owners Randy and Lisa Flood explain their line of eco-friendly socks and accessories: "Our socks are knit from the ingenious repurposing of recycled cotton yarn. Using recycled yarns means that Solmate Socks decreases the amount of cotton waste sent to landfills. Our yarns also reduce the amount of water, land use, pesticides, and herbicides used to grow new cotton fibers—as well as eliminates the need for harmful chemicals to dye virgin cotton yarn."
These multi-patterned and colorful mismatched socks for children, adults, and babies make for a thoughtful and functional Valentine's Day gift. A little something fun for your feet can make your day so much more fun!
Solmate Socks
Lisa Flood
www.socklady.com
Fragrance rules as a top gift for your Valentine.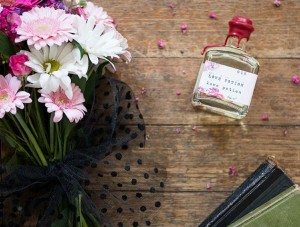 Apothea & Co. was created with pure intentions of vanity and takes a beautiful product and places it in a package that matches its core. The founder, Courtney Ash, has many skin issues including eczema and bouts of psoriasis. Tired of being bound to dull and lifeless-looking products made with harsh chemicals that just didn't work, she soon realized the natural beauty industry was missing one key ingredient—romance.
Ash began crafting bath and body luxuries packed with natural and organic ingredients, but she didn't stop there. Each label is designed in her studio with imagery and art from the past. As Ash explains, "You will find little handcrafted details on every bottle from the bows to the tags; every product has a special touch. Along with our pretty glass bottles (which are recycled glass) you will find a custom wax color to each fragrance collection stamped with our seal. To top it all off, every product has its own whimsical poem making it that much more special and unique to the collections."
One of the company's hottest selling items is their Love Potion No. 18 Bath & Body Oil which is packed with natural and organic ingredients. The little details include rose petals within the oil, an exquisite glass bottle, hand-dipped wax neck, and wax sealed for the finishing touch. "With this untraditional pairing of Sweet Rose and Pomegranate your senses will be elated," shares Ash. What better way to say "I Love You" this Valentine's Day.
Apothea & Co.
Courtney Ash
www.apotheaco.co
Supporting fair trade artisans does good, feels good, and looks great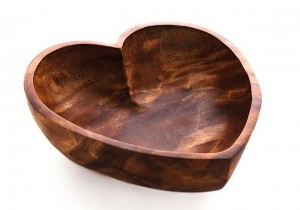 The mission of Acacia Creations has always been to improve lives in a long-lasting and sustainable way. They go beyond fair trade by creating jobs, providing training, and giving back to communities through their education and healthcare initiatives. Acacia Creations works directly with hundreds of craftsmen and women at their Nairobi, Kenya studio and across East Africa to improve their skills and product designs. In 2013, their passion for beautiful, hand-crafted items led them to Asia where they have expanded their fair trade partnerships. Acacia Creations is now proud to work with extremely talented artisans in Thailand, Vietnam, India, and the Philippines.
Acacia Creations was founded in 2007 by Maura Kroh. Duringher work in refugee camps across Africa, Kroh constantly noticed the natural artistic talent of the residents and the beautiful hand-crafted items they produced. At the same time, she also observed the frustration of artisans with no outlet to sell their crafts—and no way to generate income from their work. Acacia Creations was founded as a way to connect artisans with the global consumer marketplace.
Kroh shares, "It's easy to forget the impact our purchases have on the world around us. At Acacia Creations we try to show how closely connected you really are with artisan producers a world away. By buying fair trade, you make a very real impact on the daily lives of people in the most impoverished communities." Acacia Creations is proud to present this beautiful handcrafted work to the rest of the world.
Acacia Creations
Maura Kroh Lall
www.acaciacreations.com