By Jackie Adamany
Designer Baskets by Derek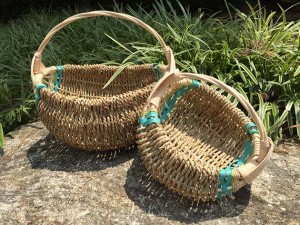 Derek Downing
www.designerbasketsbyderek.com
For over a quarter of a century, Designer Baskets have been valued for their extraordinary design and craftsmanship. Derek Downing began crafting his unique baskets while in high school. He has since exhibited his work at major craft and trade shows and become acclaimed as one of those rare individuals who has elevated craft to an art form.
Hailing from a creative pedigree, his parents being engaged in the fields of art and architecture, it was only natural for Derek to follow in their footsteps. Traditionally, basket making is passed from one generation to the next; Derek learned the art of basketry from his mother, continuing that tradition.
Each of Derek's creations represents a distinctive flair for style. The baskets are crafted of grapevine, hand-dyed rattan, and sea grass. The basket handles forged from grapevine allow the tendrils to dictate the basket's overall shape. The vibrant colors of his baskets are frequently inspired by trends in fashion and home furnishings. Most colors are produced from commercial textile dyes, many of which Derek creates himself. Once completed, each basket is signed and dated by the artist.
Moose's Metal Marvels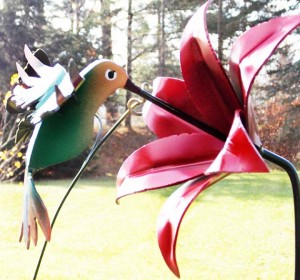 Chris Carle
https://www.facebook.com/pages/category/Local-Business/Mooses-Metal-Marvels-120618444687630/
607-591-9353
Chris began working with steel in 1997. He shares, "I have done just about everything from small garden pieces to large sculptures for restaurants and municipalities. I also have a production line of custom garden sculptures and home décor pieces, which I sell at various art festivals around the Northeast. While I mostly do smaller pieces for the garden or home, my real passion is making larger sculptures. Sculpting is a passion and I love to design, create, and push the boundaries of my medium."
All of Chris' work is created from steel. Using a combination of old and new techniques, he is able to create just about anything. Referring to himself as a "new age blacksmith," Chris believes his work is unique because of his strong attention to detail as well as his use of vibrant color. Unlike most blacksmiths, Chris uses a variety of automotive paints and clear coats to produce stunning lifelike features. This also protects the look and longevity of his pieces even in the harshest weather conditions.
Hickory Tree Studio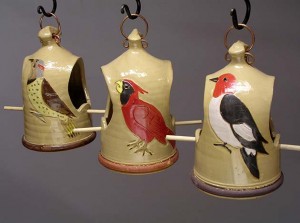 Walt Schmidt & Betty Westhues
www.hickorytreestudio.com
hickorytreestudio@att.net
812-332-9004
In 1978, Walt moved his pottery to the hills of southern Indiana. Since then, it has grown to include a blacksmith shop and a weaving studio for his wife Betty Westhues. Pottery created at the Hickory Tree Studios consist of functional, daily-use stoneware for the home as well as bird feeders and wren houses for the yard, artistic vases, fish for the wall, and even mousetraps! Walt is dedicated to providing quality functional stoneware intended for daily use and enjoyment. For Walt, this goal has been reached, designing and creating his product line for over 30 years.
Many steps are necessary to complete handmade stoneware ceramics. Walt explains, "Each must be properly accomplished before the next stage or the final product may suffer. Sometimes it is not until all steps are completed before errors become obvious. Little wonder pottery is a humbling endeavor."
Windsparrow Studio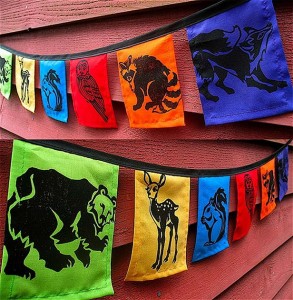 Jenny Grout
www.wholesalecrafts.com Artist# 26358
Jenny was educated as an artist; however, her work truly began thanks to her insomniac tendencies. "My first flag images were carved in the wee hours of the night while my dear family slept. My images are inspired by my flower farm, our kitchen garden, and the wildlife surrounding our home in the Pacific Northwest," shares Jenny.
All images are Jenny's original designs, hand carved and individually block printed in non-toxic black fade-proof ink onto 100% cotton fabrics.
Windsparrow flags come as a set of three to six flags per strand, one image per flag. "Each image is lovingly hand printed with my own original hand carved blocks. White ink on colored fabric appears almost like batik, with undertones of color, bright highlights, and wonderful texture. Black ink is bold, giving depth and great contrast," explains Jenny.
Steven Cooper, Metalsmith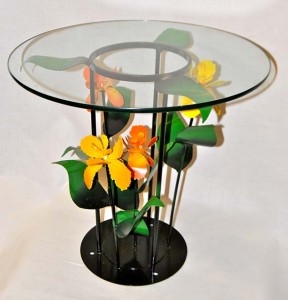 Steven Cooper
www.sdcoopermetalsmith.com
scoopermetalsmith@me.com
845-726-4479
At what point do you discover what you want to do for the rest of your life? For Steven Cooper, it was an industrial arts metal class in junior high school. Who knew that rigid cold metal could be so yielding and beautiful? This discovery continued throughout his high school years, helping him realize that what he wanted to be was a metal craftsman.
Steven explains his inspiration, "What draws me to nature is the beauty that is all around us. We often forget to stop and look at what nature has given us. I hope through my work, I can stop a person and make them start to see the beauty in nature. While I cannot reproduce nature, I try and have fun with my fantasy flowers. How else can you get to see big brightly painted flowers in the middle of the winter? That is the best time — when snow is on the flowers."
Whimsical, colorful, delicate yet durable, the art reflects the man. Steven Cooper's work will leave you smiling. His 200-year-old barn, lovingly renovated by his own hand, serves as his studio in the Hudson Valley of New York state. He'll tell you he's blessed and that he loves his work. Whether he's delicately crafting his fine jewelry, spraying brilliant colors onto his sculptural creations, or recreating the timeless iconography of his Judaica, he is creating a unique work of art. Steven says, "You'll find my work in galleries and museums throughout the country. You'll also find me in my barn loving life."
Oregardenworks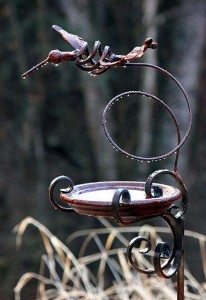 Jared Crusta
www.oregardenworks.com
208-249-5239
Born and raised in New Orleans, La., within an extraordinarily independent and creative family, Jared came to the startling realization that he had never seen a mountain or any significant quantity of snow. After his research Jared found his new home near Mt. Rainier in Washington. He began working at Mt. Rainier, regularly trekking across glaciers to the high altitude base camp through waist deep snow. This began his love of the natural world and his appreciation of natural forms, which serve to inspire Jared.
He spent two years exploring the West, spending many days hiking across the bottom of the Grand Canyon, drawing inspiration and awe from the natural formations and colors created by time and weather. While exploring the mountains of Idaho, he met his wife. "She is an extreme gardener, and was singlehandedly running a one acre nursery when we were married. At the time she was a plant vendor at a local farmers market, and to justify my taking up booth space with her, I made several pieces of metal garden art and bird baths to complement the plants. They were a huge hit with the crowd," shares Jared. Continuing to reflect upon the natural environment as his cue and inspiration for home and garden metalwork, Jared believes that steel in its natural state is the perfect medium for gardens, as it weathers and ages gracefully, and if done correctly, never looks dated or trendy.
Cathy M. Shepherd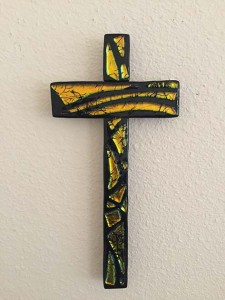 Cathy Shepherd
www.cathymshepherd.glass
cathymshepherd@verizon.net
214- 240-5085
Glass artist Cathy Shepherd earned a Bachelor's of Fine Arts in 1980 from the University of North Texas, where she won an award for best overall design. In 2009, after a successful career as a fashion designer and yoga instructor, Cathy's artistic inclinations to design returned, and she peeked at her boxes of art goodies that survived the end of her fashion career. She decided it was time to start fueling her artistic fire by bringing her creative energy to life again. With her husband's encouragement, she decided to work with her passion: glass. She took professional glass art lessons and her instructor immediately recognized her talents. Her life has never been the same.
Cathy's vibrant, spontaneous style allows her creative energy to flow freely as she exquisitely creates each of her glass art pieces. She fuses a collage of dynamic colors and shapes cut from iridescent transparent glass, layered together with dichroics cut into mosaics, blending in blown and fused glass shards for more visual energy. Cathy strives to create art that is beyond her expectations and those of her audience, leaving those who truly appreciate her art with an acclaimed "wow factor" that has gained national attention in the art world.