A Place That Sparks Wanderlust
The Paris Market, a warm and cozy destination store and cafe, brings together the magic of a Parisian flea market and Southern rustic charm to Savannah, Georgia. Don't be misled by the name though. It's not just French antiques that you'll find. It is a well-curated place, including antiques from Europe and the Middle East. Owner Paula Danyluk is a globetrotter, always on her feet and searching for unique pieces around the world to bring to her customers in Savannah.
A Store Inspired by World Travels
When Paula and Taras Danyluk founded The Paris Market in 2001, perhaps even they didn't know that their labor of love would turn into something so huge and would end up being rated as the South's Best Shop of 2017. The couple shared a love for traveling and wanted it to channel into something distinctive, which they did. Paula and Taras Danyluk travel far and wide to the lands of Egypt, Italy, and Belgium and bring all things vintage to The Paris Market.
The layout of The Paris Market is a nod to the storied French flea markets housed in a historic two-story building. It's an 1874 Victorian building and was originally built as a grocery store. The Danyluks took the building and worked on its restoration, bringing a charming old vibe to it. While the couple's background includes her profession as a speech pathologist and his as an emergency physician, the shop clearly shows their love of all things travel. It was the famous Parisian flea market "Marche aux Puces" where the couple had an insight and decided to bring the French charm to Savannah.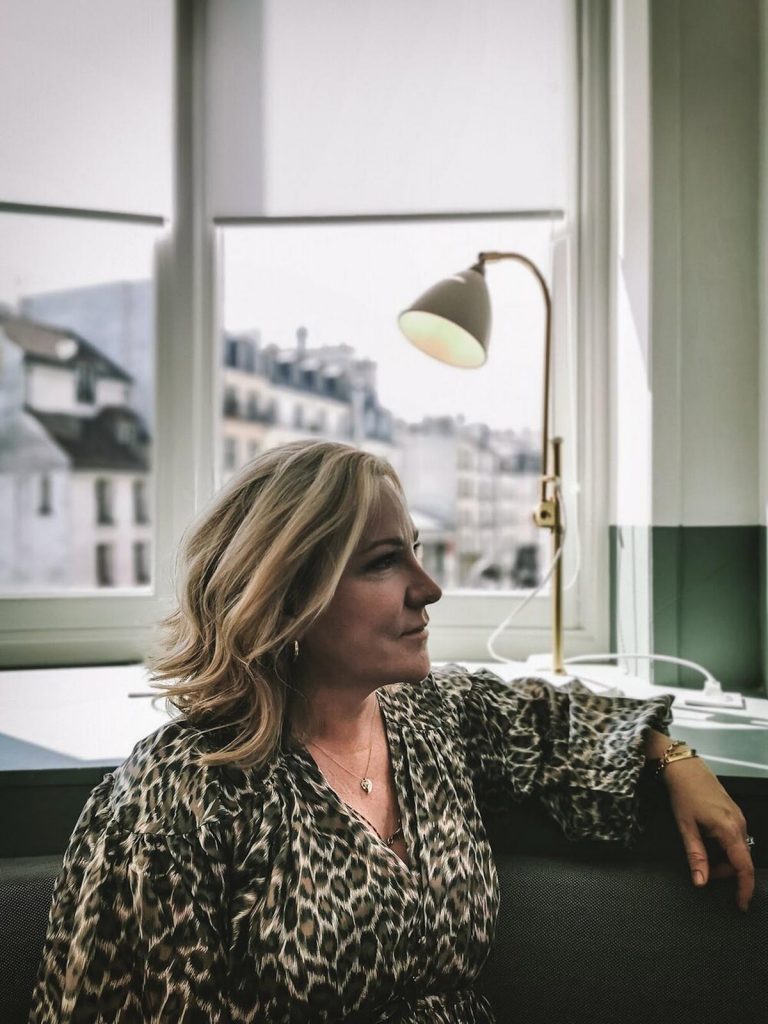 A Career Evolution
Born in New Orleans, Paula had always hoped to study art. Her father, however, wanted her to pursue a "stable" career, so she ended up majoring in speech pathology. Her career took her places and during this time, she met her future husband Taras. After marrying and moving to Australia, they moved back to New Orleans. The couple had come to Savannah by chance, and when they were driving around, Paula said she liked it because "it felt so cool."
When Taras got a job at Memorial University Medical Center, Paula realized that her true calling was art, not speech pathology. So she decided to finally enroll in art school. Earlier, she had studied architecture but didn't care for the drafting assignments. She then switched to interior designing only to find more drafting assignments. Painting was her passion but she didn't want a painting degree, and that's when she decided to open a store and explore her potential.
Her first place on Whitaker Street in Savannah was named The Paris Flea Market. Soon enough, she moved into a bigger place but when its lease ended, she landed in the current space on Broughton Street. She dropped the word "flea" and replaced it with "brocante," which means the flea market in French. And that's how the world came to have "The Paris Market & Brocante."
Transforming the Shopper Into the Traveler
Paula keeps "a nice mix of old and new merchandise in the shop." She makes sure she brings in all the inspiring and delicious things in her quaint store — things that her customers can't find anywhere else. Whether it's coral print pillows, handcrafted jewelry and furniture, or textiles and kitchenware, customers will find something to remind them of every nook and cranny of the world. Vogue said Paris Market "transforms the shopper into the traveler" and rightly so.
To go with the artifacts, Paula decided to retouch the setting too. On one of her trips to Cairo with Taras, Paula took a fancy to amazing crystal chandeliers. She brought it all together along with old farm table and club chairs to create a vintage look. The main floor of the market houses fresh bath products, India Rose cotton bedding, and handbags.
Set Apart by Stunning Window Displays
To set itself apart from the rest of the stores on the block, The Paris Market goes a step further with its window displays. They routinely set up artistic window displays to spark curiosity about what lies inside. One time, it was a tent pitched under a starry sky. Another time, the store was recreated as a Halloween dungeon covered in cobwebs. Once, they put up a Christmas tree trimmed with swans. These imaginative scenes create the playful and inspirational persona of The Paris Market.
Top Quality Merchandise and a Magical Setting
As time has passed, The Paris Market has developed a loyal following. It's famous for the antique chandeliers that Paula imports from Egypt. Customers also swear by the Savon de Marseille olive-oil soaps they claim help prevent wrinkles. The store also houses candles made by Price, the British company that also supplies candles for Westminster Abbey.
One corner displays wares and gifts exclusively for children. It also hosts a collection of books and magazines to spark the love of food, travel, art, and design. Sofas and daybeds lay sprawled covered with layers of smooth linens and throw pillows. Tables are laid out with embellishments that make it look like a grand dinner is about to come to life. It's perhaps this magical setting that prompted praise from Southern Living: "Like Alice falling down the rabbit hole, prepare to get lost in a wonderland of the most incredible home goods." But Southern Living isn't the only publication to praise the store. Architectural Digest ranked it as one of the "Most beautiful independent stores in America."
The Paris Market features an amazing collection of antiques and is an idea place to find gifts, as it's brimming with handpicked collections of lotions, fragrances, and jewelry. And the collection is always changing. French-milled soaps, fragrant candles, and estate jewelry are constants. The holiday season is a high-traffic time when the store sells more than 50,000 items.
A Parisian-Style Coffee Bar
To take the ambience up a notch, Paula introduced a Parisian-style coffee bar. It features marble bistro tables, luxurious velvet banquettes, and a tall wooden bar. The café serves Cafe La Semeuse, a smooth Arabica bean known for never being bitter. Paula proudly proclaims her lattes as being voted the best in Savannah. They also serve espresso drinks, coffee, tea, fresh-baked pastries, and house-made sandwiches. The outdoor tables offer lovely views of bustling Broughton Street.
A Second Location
Continuing with the success of the store, Paula and Taras opened a second location in Palmetto Bluff, South Carolina. It's located along the May River and is approximately 25 minutes from Hilton Head Island and Savannah. Smaller in size, the shop is like a little sibling of the flagship in Savannah. It covers an area of about 1,200 square feet and features jewelry, ceramics, and a growing collection of eccentricities from France.
The Paris Market is going 15 years strong, and Paula, although supported by a team of amazing people, does all the purchasing herself. She's currently working with Savannah artists to bring in a line of vintage-inspired jewelry and brass home accessories.
facts at a glance
Business Name: The Paris Market & Brocante
Location: 36 West Broughton Street
Savannah, GA 31401
Website: theparismarket.com
Phone: 912-232-1500