An Award-Winning Toy Retailer
Finding just the right gifts, especially for children, can be a challenge. While well-known chain stores offer generic products at inflated prices, you can find quality alternatives at some small businesses — like Pufferbellies. Located in the Wharf District in downtown Staunton, Virginia, Pufferbellies is the largest family-operated toy and book store in Virginia. The shop is owned and operated by mother-daughter duo Susan and Erin Blanton. When the Blantons named the business in 2006, they called it Pufferbellies because it's located near the historic train station of Staunton, and "pufferbelly" is a local word for a steam-powered train.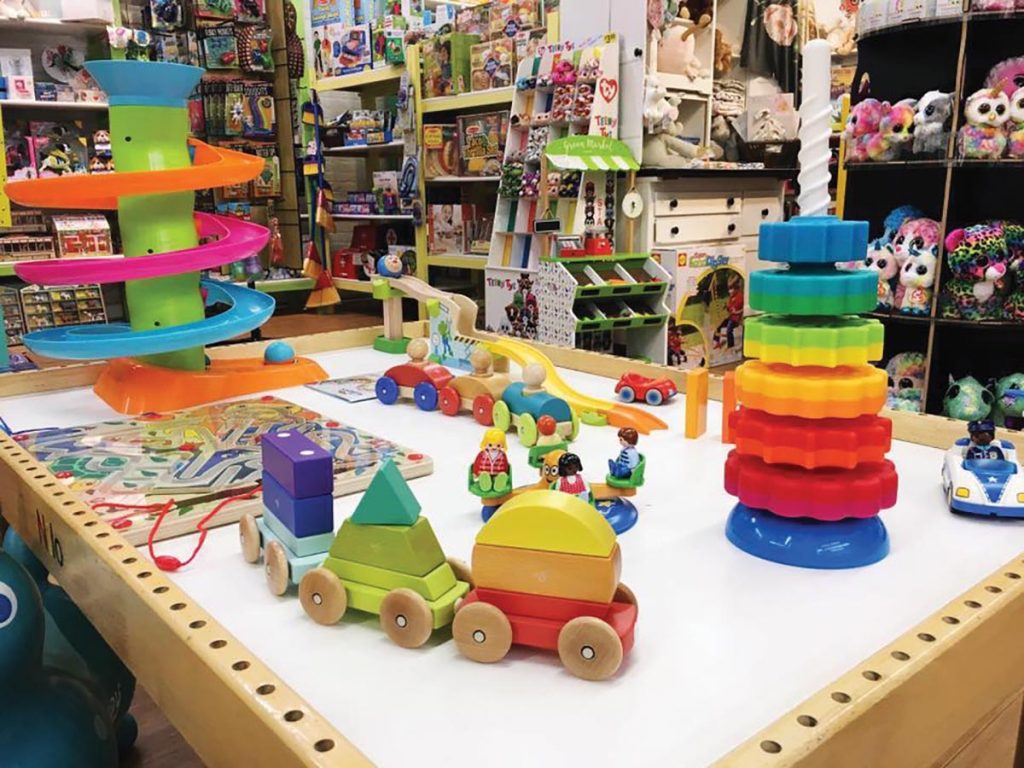 Extraordinary Merchandise and Service
Pufferbellies offers attention to detail, creativity, and out-of-the-box thinking in the art of toy making and selling. The store carries a vast range of merchandise. From stuffed animals to puppets and trucks, dolls, and gizmos to science and nature gear, it has almost everything a child could ever dream of. A customer could easily spend an hour or two in the store without even noticing the time pass. According to Susan and Erin, the store is fun because it has "lots of games to try, plus multiple play tables and ride-on toys to enjoy" and they never say, "Don't touch."
The merchandise is arranged into age groups, which makes it easy to select the right thing for the right child. Within each age group, merchandise is divided into categories, brands, events, and celebrations to help customers make their selections. Pufferbellies offers its merchandise on its website and, like the store itself, it's carefully categorized and arranged to make shopping easy.
Making an Impact
Erin and her mother entered the toy market in 2006 when they noticed that people from Staunton had to travel to Charlottesville to shop for quality toys. Before they opened the store, Susan was a children's librarian at the public library, and Erin was an editor in Charlottesville. The duo has not only been able to establish a successful independent toy store, but they also have the largest selection of children's books in the entire area. The store is so exceptional that it was named 2017's National Independent Toy Retailer of the Year. The award is given to the stores that have a "big impact on growing the specialty toy industry," and that "exemplify an appreciation for the role of play in healthy child development, a commitment to top-notch service, and a willingness to help others in the industry succeed." Speaking of the honor, Erin said, "We really have a love and a passion for what we do so I like to think that this award really recognizes that. That passion and that commitment that we have."
A Labor of Love
Erin noted that their retail business was a success from the very beginning due to the fact that they love what they do and to the relationships they've forged with customers. "Because the store is small, we as owners have an opportunity to interact directly with our customers every day," she said. Also, being independent storeowners, the Blantons can pivot quickly and stock the latest trends before they hit the bigger stores. For example, they were selling fidget spinners months before they were available at larger retailers.
Erin and Susan are proud of their work, knowing that they're an inspiration for other retailers. Even after a decade of a successful retail journey, the duo believes that it's just a start and that their store will see even more success in the future.
Contributing to the Community
The store is one of the few buildings in the city that has preserved its original 1900 street-level doors, moldings, window frames, and trim. Even though the building got a major front renovation in the summer of 2008, all the work was executed with extreme caution to make sure the original features remained intact. The renovation was carried out mainly by Erin's father, Kelly Blanton, who is always there to lend his wife and daughter a helping hand.
Nick Blanton — Susan's son and Erin's brother — runs a gelato shop near Pufferbellies. Like his mother and sister, Nick has also been successful, as Split Banana is a top destination for shoppers. The two businesses work together to make downtown Staunton one of the favorite family destinations in the state.
Erin and Susan believe their passion for community service has contributed greatly to their store's success. "What we do here at Pufferbellies is from the heart. We come from a place of wanting to serve our community and to do the right thing for children and families," Erin said. The love and support the Blantons receive from the local community make them work even harder to achieve more.
Pufferbellies is an example of the principle that success in retail isn't limited to those with extensive financing or big market names. Businesses succeed through dedication, motivation, and innovation. If storeowners make the right decisions, and operate in the right way, even a small family business like Pufferbellies can compete with chain stores.
Staunton, Virginia Toy & Book Shop: Pufferbellies Facts at a Glace:
Business Name: Pufferbellies
Location: 15 W Johnson St., Staunton, VA 24401
Website: pufferbelliestoys.com
Phone: 540-886-3516