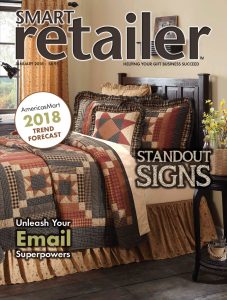 The digital magazine can be seen only by subscribers who are logged in.
Have a website login already? Log in and start reading now.
Never created a website login before? Find your Customer Number (it's on your mailing label) and look for First Time Registration top-right after clicking the link above.
Still have questions? Contact us here.
ON THE COVER:
VHC's Maisie quilt features eight-point stars set in tan Irish chains of ditsy floral prints. Black and burgundy blocks balance dainty floral patterns to create a look with wide appeal. Reversible, hand-quilted 100% cotton.
Product Focus
New & Noteworthy
14 Novel Products to Make Your Customers Smile
From the hilarious new Mouthguard Challenge game to cheerful Pals socks and Squishmallow stuffed animals, these fun offerings will make shoppers giggle and grin.

Counter Culture
20 Clever and Chic Win the Day
If you're looking for inspiring items to spice up your shelves, look no further.

Country Charm
26 Down Home Décor for Country and "Country-at-Heart" Folk
These rustic items are sure to make your customers want to kick off their shoes and "set a spell."

Trend Watch
32 Relaxing Décor for a Summer Season "Stay-cation"
No need to go jet-setting to a far-away place when you've got a relaxing home or cottage adorned with these gorgeous accessories.

Trend Watch
50 Rustic Signs: A Trending Sign of the Times
There's no better way to dress up a drab space than with wall art that conveys a heartwarming or humorous message.

54 Impulse Purchases: Wares on a Whim
Customers are looking for great quality gifts — like these — for friends and loved ones. When they spot just the right ones at a reasonable price, they'll make that spontaneous purchase in a jiffy.
Business Sense
36 Get a Sneak Peek at the AmericasMart January 2018 Market
Find out what's in store for the January AmericasMart show in Atlanta. It's got exciting new developments like Creative Co-Op and much more!

40 AmericasMart January 2018 Trend Forecast
Get ahead of the pack by learning what trends experts are predicting for 2018. You won't want to miss this.

44 Digital Sizzle: Leveraging Best Email Practices
Email marketing has proven its effectiveness over the years. Take advantage of its strengths by applying these time-tested techniques.

58 Dallas Total Home & Gift Market: A Preview of Dallas' Dazzling January Show
Discover why Dallas Total Home & Gift Market is a mecca for wholesalers. This behind-the-scenes overview provides fascinating insight into this favorite shopping destination.

Display & Design
62 If Those Walls Could Talk
Learn how to "keep it shoppable" from some of the best in the business.

66 Destination Lancaster
Few places in the country offer the charm and wholesale shopping opportunities of Lancaster County, Penn. So plan a working vacation where you can visit a dozen or more cash-and-carry shops within minutes of each other.

76 Successfully Navigate a Flood of Charitable Donation Requests
Learn how to effectively evaluate which causes to support and which to decline, while maintaining positive PR and good community relations.

80 Business Briefs
Shoppers value more than just low prices; a little attention goes a long way; are you ready for anything? is the holiday shopping experience expendable?

Retailer Spotlight
82 Designer Stone Garden Shop: Leaving No Stone Unturned in Customer Satisfaction
Michael and Alisa Gentilucci started a garden art business from scratch in their garage. With hard work, smart planning, and unique products, they've become "rock stars" in the decorative stone industry.

Vendor Views
86 VHC Brands: Quality Décor from the Heart
VHC Brands began as Victorian Heart in a small rural store. Now, three decades later, it's an industry-leading maker of handmade patchwork quilts and bedding.
In Every Issue
8 Editor's Note
12 Welcome Exchange:
Questions & Answers that Matter
90 Trade Show Calendar
96 Advertiser Index