Greg and Nina Tate- Elliott run Studio 24E, an upscale boutique in family-friendly Glen Burnie, Mary­land, located between Annapolis and Baltimore, in Anne Arundel County. Anne Arundel County is a great fit for their shop because it reflects the area's appreciation for style and culture. "We have a strong background in art, design, and cre­ativity, so the word 'Studio' captures that," Nina said. "As for the 24, that's my birthdate and E is for Elliott, our last name."
The Elliotts opened the store in 2002, offering custom framing and a collection of art and bespoke pieces. Since then, the shop has evolved to focus on a curated assortment of contemporary artists, designers, and independent labels from the U.S. and abroad. Not only do they carry influential brands, they've also played a role in helping some of them make their debut. "We have been part of the U.S. launch and development for major brands such as Zoppini, Chamilia, and Otazu."
The Retail Adventure Begins
Greg and Nina began their jour­ney in retail working at Nordstrom. The store brought them together, and it's where they developed their expertise in customer service and design, moving up the career ladder from sales to management. It proved to be the ideal training for opening their own store in a white Cape Cod-style building in Linthicum, Maryland. "We loved customer service and working with customers and wanted to be able to do that on a smaller, more intimate scale, curating and building brands large and small to connect them to customers who 'need them,'" Nina said.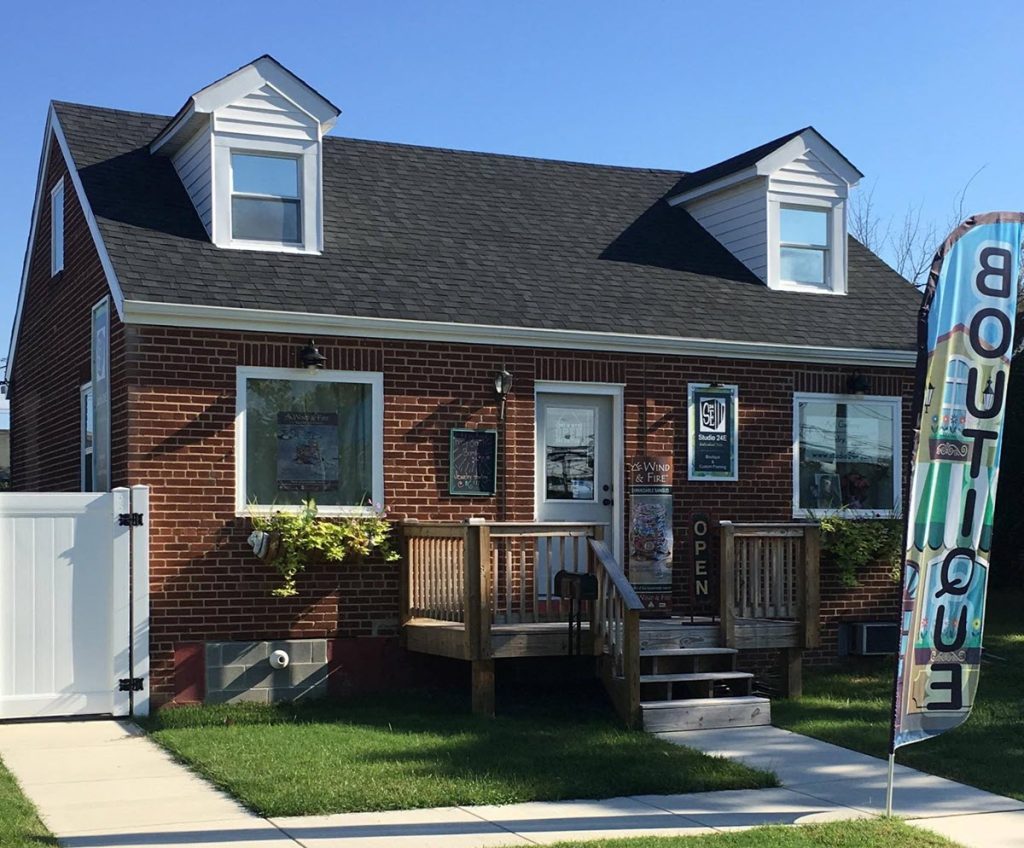 The Linthicum store is where they began their custom framing services, developing a loyal follow­ing. They gradually added jewelry and home departments. In just three years, with the expansion of cat­egories and products, they outgrew their space. In 2005, they moved their store west to the mountains of Oakland, Maryland, near the border of West Virginia and opened a second location nearby at Wisp Resort at Deep Creek Lake. After nearly seven years, though, they felt it was time to move back home to Baltimore and reopen in their cur­rent location.
Overcoming Challenges
While their store didn't have much trouble during the 2008 recession because they were in a resort area at the time, they did face a more challenging situation with the onset of the pandemic. They responded with creative problem solving, and that actually helped them improve their business in the long run. "We expanded our web­site, offering curbside and instore pickup, customized gift boxes, and nationwide mailing. We pivoted into wholesale offerings as well. It gave us the opportunity to focus more online and on the inception of our wholesale jewelry brand Individual Style," Nina said.
Being diversified has been a big help. In addition to selling products, their custom services create additional revenue streams. In addition to providing picture framing, they also have makeup services for weddings and events and skincare training on in-store products. This well-rounded business model makes the store a one-stop destination. "When you fuse a mix of product and services, it enables you to fulfill the true meaning of a lifestyle brand to accessorize both the people and their homes to complete the experience."
Offering Top-Shelf Products
Studio 24E offers a thoughtfully curated collection of merchandise categories including jewelry, clothing, acces­sories, sunglasses, handbags, tableware and drinkware, home fragrances, and luxury CBD products like skincare. They carry popular brands such as Lord Jones, Khus + Khus, Spode, Portmerian, OkaB Shoes, Simply Southern, Angelique de Paris, and jewelry creations by famed designer Rodrigo Otazu. They sell designer sunglasses by Tom Ford, Versace, MCM, Dolce & Gabbana, Chloe, and more. In the clothing department, their selections include Puppie Love T-shirts and Maryland My Maryland T-shirts. Their home product category features brands such as Aromatique home fragrance, Thompson Ferrier, Tussie Mussies Bath & Body, Spongelle, Mixologie Fragrance, Annalee, and Old World Christmas.
Charriol jewelry is one of their star products. "Jewelry has always been a consistent best-seller, so for this reason we are building our own brand (Individual Style) to complement and fulfill a space where our current style and price point are miss­ing out."
In addition to selling nationally known brands, Studio 24E carries local and handmade products. "Local artist and graphic designer Joe Barsin of Citizen Pride creates artwork as well as items such as garden flags, cards, and more."
Making Community Connections
Greg and Nina support their community by partnering with nonprofits like domestic violence shelters and animal rescue groups. Although they aren't currently doing any events, just before COVID-19, they did outdoor animal adoption events and a hospital-fundraising hosted event. They've also made an impact using their art and design expertise. "We were a pivotal part of the restoration efforts of priceless artwork when a local establishment that housed a large significant collection of original local photographs by artist Marion Warren was flooded during Hurricane Isabel in 2003."
Bonding With Customers
Greg and Nina pride themselves on their exceptional service, which has built a loyal customer base. "Our knowledge of our product and our vendor relationships are very deep, so even if we don't know the answer, I can get it, or special order items. Our strong partnership with our vendors and brands gives us the con­fidence to sell great product to our customers, who in turn trust our opinions on how a brand will best serve them," Nina said.
The Elliot's commitment to social media has been a boon, too, allowing them to connect with customers in the digital space. The relationships go beyond just the business level. "They like us personally because they've known us for so long, or if it is a newer customer, they like the unique product mix/environ­ment yet laid back interactions."
Providing great customer service requires flexibility. "Being in business for 20 years, you must be open to change, pivoting to the current needs, and knowing that at the end of the day, you're making a difference in your community." They've certainly made a difference over the years, and with their dedication and perseverance, they're destined to continue that impact for years to come.
Facts at a Glance
Business Name: Studio 24E
Location: 206 New Jersey Ave NE, Glen Burnie, MD 21060
Website: studio24e.com
Phone/Text: 443-679-7916
Employees: 2
Size: 1,300 sq. ft.
Social Media: Facebook, Instagram, Twitter, Tik Tok, LinkedIn
POS System: Lifesaver