Businesses, Organizations Collaborate to Host Event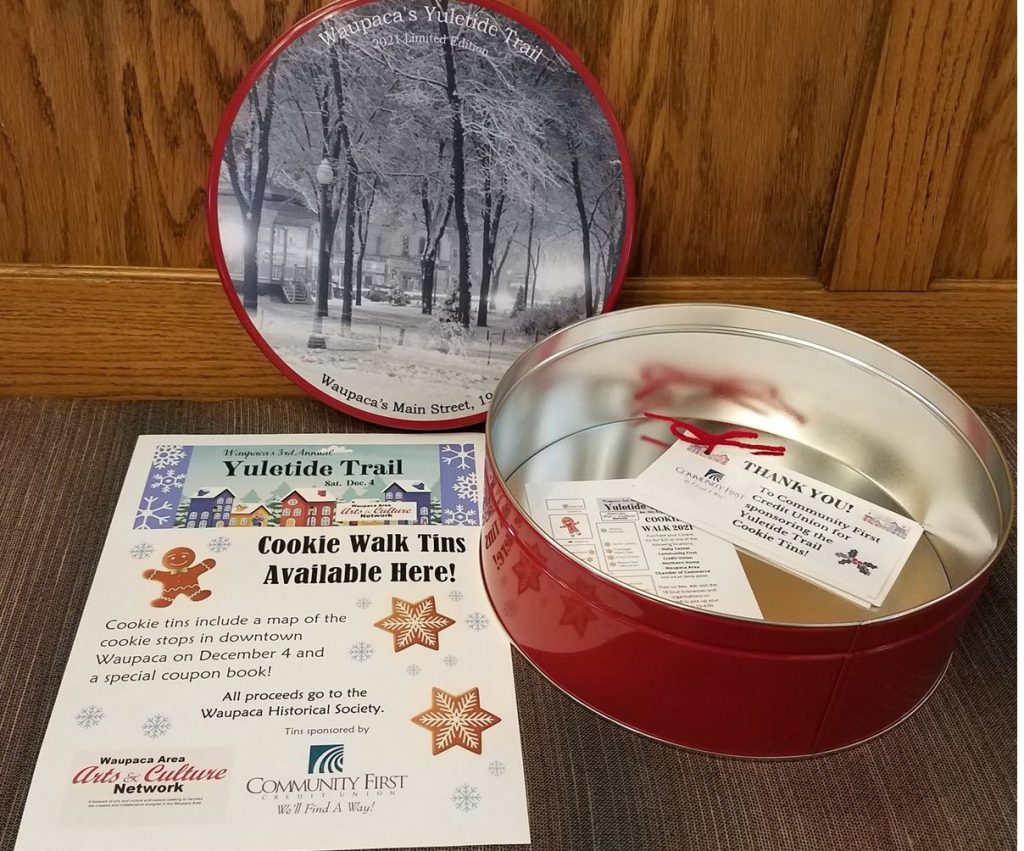 By Angie Landsverk
In early December, the downtown of a small Wisconsin community transforms into a magical setting with carolers, holiday decorations, cookies, and more.
The one-day event is the result of businesses, nonprofits, and local organizations working together to plan and host it. "Yuletide Trail began in 2019 when the Waupaca Area Arts & Culture Network (WAACN) had the idea to start a new holiday event. WAACN was created after Waupaca's award-winning cultural plan had a goal of creating a network of community orga­nizations," said Michele Drake, a downtown business owner.
The network includes the city, a retailer group, nonprofit arts organizations, the public library, Chamber of Commerce, local historical society, and Waupaca's Rotary club. "The group wanted a hometown, family, and community-based Christmas celebration," Drake said.
Tracy Behrendt is the director of the Waupaca Historical Society, and she said Yuletide Trail has always been a collaborative event and one that is possible because everyone takes a piece of the larger event. "In 2019, we met often to plan this event, which for many of us was a new venture," she said.
There was interest in the community to bring back a December holiday event, Behrendt said. In fact, shortly after becoming the historical society's director, several people visited her and talked about Waupaca's past downtown Christmas and holiday celebrations.
"It brought back so many wonderful memories for local people. Being a somewhat-new resident to Waupaca, I really wanted to bring something like that back to Waupaca," she said. "The Waupaca Historical Society's role in the community is to preserve our local history and to edu­cate our community about this history. For us, this includes finding ways, rooted in history, that bring our community together, are welcoming to visitors, and showcase our beautiful downtown and local history."
Drake is involved as a member of the retailer group. "The basic approach was to divide and conquer!" she said. "With each group in charge of one part of the event, it takes pressure off and makes a large event possible during a busy time of year."
Yuletide Trail includes live holiday music, a cookie walk, carol­ers, craft projects, a party for children, Toys for Tots, a visit from Santa Claus, and more. "The cookie walk is a big draw, but we have a lot of other activities going on that day," Drake said.
Cookie Walk Logistics
During an early planning meeting in 2019, a member of the network mentioned another Wisconsin city had done a cookie walk with great success, Behrendt said. The historical society loved the idea and spoke with that city, she said.
After finding a business to print tins, the historical society worked with Drake to see if the businesses were on board. They wanted to participate.
"The cookie tins are only possible because our local businesses have supported the fundraiser. That first year, we had 15 cookie stops and numerous sponsors to offset the cost of the tins," Behrendt said. "Each cookie stop makes enough cookies for each tin. Some cookies are homemade, while others are made locally, which supports even more local businesses."
Drake said that for the retailer group, 20 locations each supplied 168 homemade cookies for one of the cookie walks. People purchase a tin for $20 and use it to collect cookies around town, she said.
The tins have a new vintage image on the cover each year and are sponsored by a local credit union. All proceeds go to the Waupaca Historical Society. "The tins also include a coupon book to local businesses to be used throughout the holiday season," Behrendt said. "This encourages participants to not only shop the day of Yuletide Trail but also return to the local businesses for more holiday shopping."
Drake has three different gift shops in downtown Waupaca and said there are lots of people out that day. Some walk around collect­ing cookies, while many shop, eat, and enjoy the festivities, she said.
"It has made the first Saturday in December a terrific day!" she said. "Yuletide Trail is in the middle of the shopping season, so we get good sales, but some of our November weekends are bigger."
She loves being a part of Yuletide Trail and how it brings so much joy to the community. "The comment we hear the most from visitors is, 'This is like a Hallmark Christmas movie!'" Drake said. "The look and feel of Christmas, with music, carolers, and decorations, is such a wonderful atmosphere. Our downtown businesses work hard to create a feeling of welcome, and we want to be a destination that's unique and a world away from big-box and mall shopping."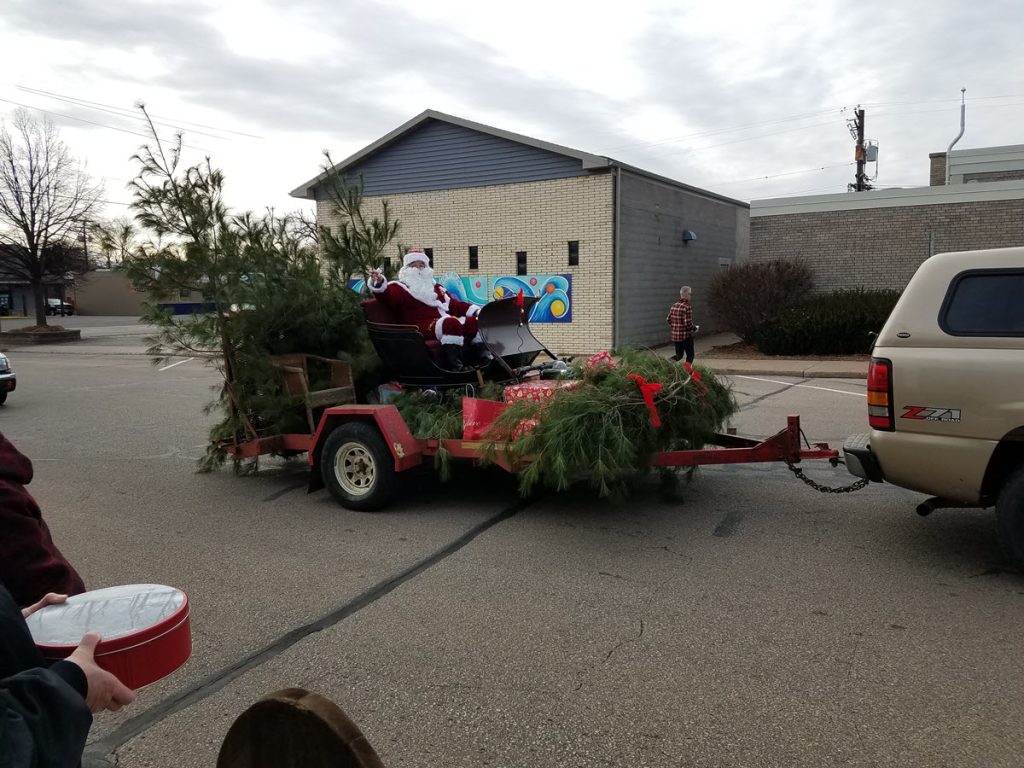 Plan a Special Event
Michele Drake and Tracy Behrendt shared some advice for those interested in working together to host a holiday event.
Establish a planning committee, start early in the year, and make sure there is a representative from each group, Drake said. "All of your tasks and activities can be divided among the groups, so no single group has the majority of the responsibility," she said. "Depending on the strengths of each group, you can make your event unique to your community."
Behrendt said they are lucky to have businesses and organizations in their community that see collaborations as vital to making Waupaca a wonderful place to live and visit. "The Waupaca Area Arts and Culture Network allowed us to more easily form a committee to plan this holiday event," she said.
Other communities can look within their retailer groups, nonprofit organizations, Chamber of Commerce, city, and library to build this type of event, Behrendt said. "Having so many groups and people involved makes not only lighter work for each of us but also a more well-rounded event," she said. "Each year, we look for something new to add, and we are able to do that because of the partnerships and collaborations we continue to build."
The first year showed them how important it was for Yuletide Trail to not be about just one business or group — that it was about the arts and culture network and all of them working together, she said. "And, because of these collaborations for Yuletide Trail, we've been able to build on them for other projects and events in Waupaca," Behrendt said.
A Pandemic Pivot
The first Yuletide Trail was successful, and the fifth annual event is set for Saturday, Dec. 2, in downtown Waupaca. It continues to evolve.
Behrendt said 2019's Yuletide Trail was amazing. "It truly was magical, with people walking around downtown, carolers singing in stores and along the sidewalks, snowflakes in the air — just like several people said, it was like stepping into a Hallmark Christmas movie," she said.
When the pandemic hit in 2020, they wanted to do Yuletide Trail again and keep the momentum from the first year. "But it had to look different — offer the holiday spirit but in a safe and home-based way," she said. "We worked with local businesses to fill our tins with items that would bring the holiday spirit into people's homes — cookies, candles, projects, etc."
She said the businesses were receptive to the idea and generous in providing items for the tins. "We also included coupons, as many local businesses were providing safe alternatives to in-person shopping in 2020. It was a small way for us to encourage people to shop locally and support our community during the pandemic," Behrendt said.
That year, they did a lot of things virtually. There were virtual story times, with Santa riding through local neighborhoods to hand out books. "It was definitely different that year and took a lot of extra planning through Zoom meetings, but it was wonderful to still make Yuletide Trail happen for Waupaca," she said.
As they prepare for this year's event, Behrendt said the historical society loves participating and bringing holiday cheer to the com­munity. "It truly is a special event," she said.