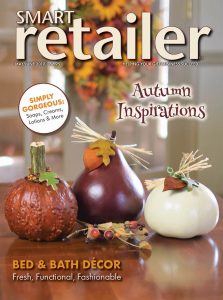 The digital magazine can be seen only by subscribers who are logged in.
Have a website login already? Log in and start reading now.
Never created a website login before? Find your Customer Number (it's on your mailing label) and look for First Time Registration top-right after clicking the link above.
Still have questions? Contact us here.
May/June 2019
ON THE COVER: Nestled along the foot of the Blue Mountains in Carlisle, Pennsylvania, is Meadowbrooke Gourds, a small family run business that has been growing and crafting gourds into home décor designs for every season since 1995.
Product Focus
New & Noteworthy:
10 Jewelry, Décor & More
From those who want to sport a fashionable new look, to those who'd like to spruce up their home with trendy accessories, you'll find what shoppers are seeking here.
Trend Watch:
14 Autumn Inspirations
When the first leaves drop, customers will start looking for autumn and Halloween-themed décor. You'll be sure to fall for our fall lineup.
22 Thoughtful Expressions
We may be in the digital age, but people still love to give and receive colorful, well-designed greeting cards. And let's face it, no one prints out texts or emails to hang over the mantel.
26 Bed & Bath Décor: Fresh, Functional, Fashionable
While the bedroom and bathroom aren't focal points for guests, they are for the homeowners. The accoutrements featured here are sure to provide the relaxing atmosphere they want.
32 Simply Gorgeous
The personal grooming niche is booming, and emphasizes natural, healthy ingredients. If you're not stocking an adequate amount of these items, consider adding to your selection.
Business Sense
38 Social Media Advertising Strategies
Social media is a fantastic way to advertise on a shoestring. Learn about best practices here to get the most effective results for your investment of time.
Display & Design:
42 Creating Peaceful and Unified Displays Through Harmony
The longer your customers shop, the more they're likely to buy. Discover how to design harmonious product displays that will invite them to linger.
44 Business Briefs:
Building community: got the spirit?; YouTube and you; safety first — and plan ahead; raise the woof: it's take your dog to work day; tastes and trendspotting.
Retailer Spotlight:
46 Two Old Hippies: Guitars, Apparel & Gifts
Molly and Tom Bedell took their lifelong love for the hippie and rock 'n' roll culture and opened a successful Nashville store. Their passion for a free-spirit lifestyle, centered in music, makes the store a favorite gathering spot for likeminded customers.
In Every Issue
6 Editor's Note
8 Welcome Exchange:
Questions & Answers that Matter
48 Trade Show Calendar
50 Advertiser Index