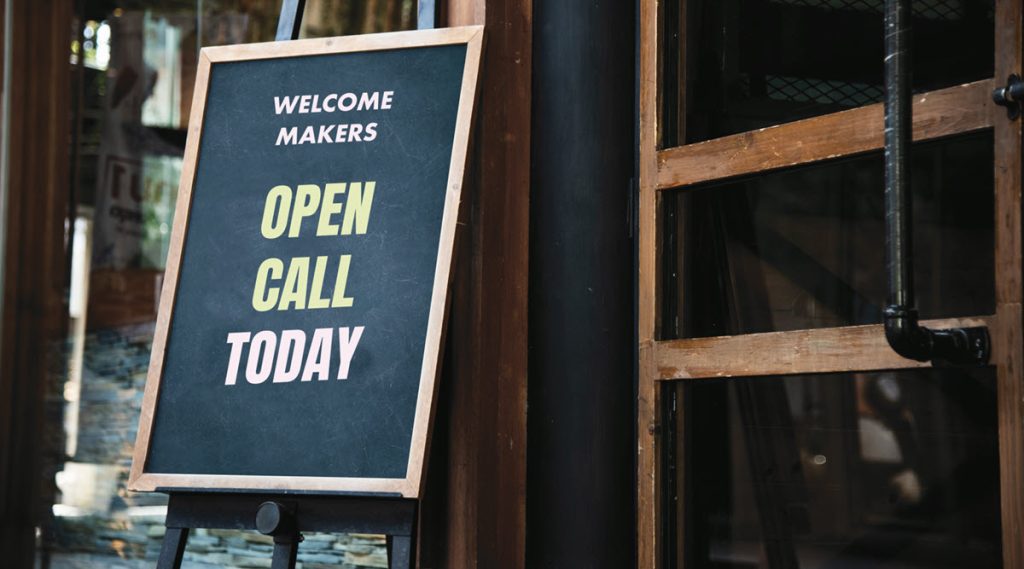 By Amber Christian, Stockabl
Each issue, I embark on a mission to bring you new ideas and perspectives for the handmade industry. We have all experienced so many challenges since the start of the pandemic. As we've moved from one challenge to the next, we all are feeling just a bit crispy around the edges.
One persistent topic that has come up several times in the last few months is how to find new makers. Online platforms are one way.
What do you do if you want to meet the maker and do a screening before you ever decide to have their products in your store? Or how can you find more local makers who might not show up on the platforms you use? An open call for makers might be what you should consider.
It is easy to lose sight of how scary it can be for handmade sellers to pitch to retailers. An open call event creates an invitation between the retailer and the maker community.
The open call event can create a structured forum for reviewing new products. It can also help a maker decide now is the time to get organized and make a pitch to your store.
What is it like to participate in an open call? Let's take a deep dive on the subject from the perspective of the maker. I interviewed Garon Kae from Lakeside Creative (lakesidecreative.co) about her experience participating in an open call event.
AC: What made you decide an open call was something you were interested in? How did they catch your attention so you would even consider applying?
GK: They posted on social media about having an open call for makers. I think that was what attracted me the most. I didn't have to fill out an application in advance and wait for a response. I could just sign up for a time that worked in my schedule. It was the least path of resistance.
AC: Was there a cost for you to participate?
GK: No, there was no cost to participate.
AC: What kinds of things did the retailer do to make the process easy for you?
GK: They did so many things to make this easier. They had an online scheduling form. They only needed your name, your business name, email, and phone number. All the slots were 15 minutes.
After you signed up for a 15-minute slot, they followed up with an email with all the details. They shared where to go and when to get there. They told us what to bring. They also provided a questionnaire that they wanted us to have pre-filled out when we got there. This helped get the conversation started.
AC: What was the hardest part about this process for you?
GK: Being a beginner and an introvert. The wait after presenting (two weeks) felt a bit long, as I know they were trying to work through 60 makers.
Presenting in an open call is a stretch for many of us and can be nerve-wracking. But they were very kind and made you feel very comfortable.
AC: Share anything else you think is important for retailers to consider.
GK: I wasn't selected during the open call. In the follow-up, they did offer other opportunities for up-and-coming makers (like me).
They have in-store pop-up opportunities or to teach a class in their store. Having additional opportunities is a win-win for both the maker and the business. It allows the maker and retailers to stay in contact. We can see how the product(s) fit with the retailer's shoppers. It also gives us an opportunity to grow the maker's business. We can start to build a relationship with the retailer.
This was one perspective about what it was like for one maker to be part of such an event. Next issue, I will continue the series by sharing more stories about open call events. I will also provide other creative ideas about how open call events can be managed without breaking the time bank.