Sponsored Content, submitted by Tundra.com. Get $50 at the bottom of this article.
Tundra is making it easy for retailers to shop wholesale with guaranteed best prices and on-time delivery
As a retailer, sourcing products can be a complex process. Whether you choose to work with sales reps, visit trade shows, or work one-on-one directly with brands, it can often be time-consuming, with multiple steps and complicated paperwork. As pricing, minimums, and delivery options differ by channel, it's often a challenge for business owners to feel confident about their buying decisions.
That's where Tundra comes in. Tundra is the modern wholesale marketplace that helps independent retailers easily discover and stock up on products from U.S. and Canadian brands. Cofounded in 2017 by husband and wife team Arnold and Katie Engel, the platform is designed to streamline the buying process and remove inefficiencies so businesses can buy with confidence.
"We know that for retailers, their biggest concerns when buying for their store are first, am I getting the best price so I can maximize my margin, and second, will I be able to get this on time so I can maximize sell-through," said CEO Arnold Engel. "That's why at Tundra we're focused on the fundamentals — guaranteed best prices and guaranteed on-time delivery."
Tundra's mission is to add value back to the wholesale ecosystem. Because it has an ad-supported revenue model, brands are not charged any fees or commissions on any transactions. As a result, brands offer their best pricing and lowest minimums on Tundra, often lower than what buyers may have been used to seeing in other channels. In addition, Tundra's powerful logistics software and algorithms help ensure it honors its commitment to on-time delivery for buyers. Most products ship for free directly to retailers and average lead times are less than seven days. "Tundra is an easy, no-hassle way to get quality products in my store in a timely manner," said Angela Sullins of RUBY: A Southern Tradition, a gift and home décor store in Springdale, Arkansas. "I place an order and they are shipping it out almost immediately!"
Over the last year, Tundra has grown rapidly to be the online destination for wholesale. Retailers can shop from Tundra's broad assortment of over 100,000 products in gift, home, baby, fashion, beauty, and other categories. The site also features real reviews from buyers as well as supplier metrics to help buyers with their purchase decisions. "Tundra makes it easy to keep our shop's shelves filled with quality products," said Stormi Nishimura, Store Manager at LA-based No Tox Life. "With their search tools, we can easily find new brands and products that will fit our vegan and non-toxic zero waste shop."
At its core, Tundra intends to help level the playing field for small businesses to compete with ecommerce giants and big box retailers. Small brands are able to get their products in front of thousands of buyers through one platform. Independent retailers can now shop from top brands on Tundra at low prices and minimums that they may not have been able to access in the past. To learn more about Tundra and its guarantee for best prices and on-time delivery, visit www.tundra.com.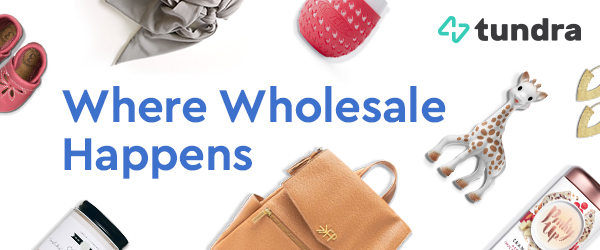 ---