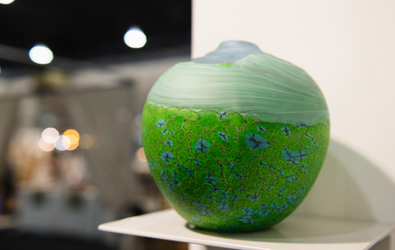 American Handcrafted Philadelphia
February 25-27, 2023
Pennsylvania Convention Center in Philadelphia, Pennsylvania
www.americanhandcraftedshow.com
Follow at: #AmericanHandcrafted
What should an attendee always do or visit at your show?
Purchase decisions — maximize your time by diving into the exciting brands participating at American Handcrafted. We have doubled in size from last year with 240+ artists (125+ are new)! Check them before you arrive at Market, so you can place plenty of orders onsite and secure your purchase decisions easily.
Explore our new section — Market Collection — a curated collection of products that are sought after by specialty retailers. Products such as cards, wellness, gourmet foods, books, and unique gifts are perfect for point of purchase and all made in North America.
Emerging Artists — discover our variety of Emerging Artists, who for the first time are displaying their handmade creations to the trade market world.
Enter to win! Stop by the Information Booth and take part in the Show Us Your Order Sweepstakes, with the opportunity to win five prizes from $100-$500 daily.
Celebrate with us! Join us to toast our 2023 American Handcrafted winners demonstrating innovation, authenticity, and sustainability in the market at the Happy Hour Awards Ceremony.
Design Heritage Gallery – this is a curated display of exhibiting artists' work that celebrates and preserves the art of handmade. These handmade artisans use their distinguished techniques to amplifying a voice that continues to inspire and provoke design innovation in all North America. This display reconnects the dynamic between cultural legacy and craftmanship heritage.
Understand the handmade mindset. Dive deep into the cunning craft of handmade design by attending our Educational Talks at Market.
Stay fueled. Experience 70+ different cuisines under one roof at the Reading Terminal Market, which is located directly across the street from the show.
Stay active. Keep up to date with the industry through our emails, newsletters, and social media for an inside scoop on the captivating brands at American Handcrafted. Dive into the makers, the people behind the brand, and their stories to learn what these brands are all about.
Discover Philadelphia. Whether it's your first visit or first in a while, the city is known for its rich history, can't miss experiences, and art scene.
What are the most common questions you answer from first-time attendees?
Question: How do I prepare properly for Market? Answer: Have your badge in plain sight; vendors will either ask you for a business card or to scan your badge. Have your resale tax number, credit reference sheets, and plenty of business cards handy. Know your store inventory needs by category / items / seasonality.
Question: How do I stay connected with American Handcrafted throughout the year? Answer: Follow our social media accounts to stay informed on our latest updates and news: Facebook.com/americanhandcraftedshow, Twitter.com/amhandcrafted, and Instagram.com/americanhandcrafted. Use #AmericanHandcrafted and tag us in your posts related to the Market. Follow #AmericanHandcrafted to see the newest exhibitors showcasing at Market. Subscribe to our American Handcrafted Newsletter to communicate and engage with us each month.
Question: What can I do to have a successful market? Answer: Discuss your product / themed sell-thru with your vendors. When possible, request literature and samples be sent. Keep track of your placed orders and important documents. Network! And engage in social media and create buzz— make sure to tag the brands and then #AmericanHandcrafted.
Give your best travel advice, "things to do" from a regional standpoint for first-time attendees.
For veteran attendees, what will they notice as being different and/or improved this year?
The American Handcrafted Market has doubled in size from the 2022 Market. We are bringing back our Happy Hour Awards Ceremony to the 2023 Market. We will have the Hotel Marriott as our host for the 2023 Market, for only $189++/night. The Hotel Marriot will provide an opportunity to network over coffee, happy hour, or late night.
What makes you excited about 2023's version of the show?
This year, American Handcrafted is back for the Great Reunion of Craft. We are ready to immerse ourselves back into the craft community with our artists and buyers. We are excited to introduce our new section, Market Collection, a curated collection of products that are sought after by specialty retailers. Products such as cards, wellness, gourmet foods, books, and unique gifts are perfect for point of purchase and all made in North America.