By Angie Landsverk
Trends, Highlights, and Takeaways
When Kim Williams traveled from Missouri to Texas to choose products for her gift shop, she noticed several trends. Among them were lots of navy, gnomes still being big, and baskets used as wall décor.
"My favorite was the natural-looking Christmas decorations," said Williams, who owns The Corner Cottage. She attended Dallas Market Center and said that more show and tell of prod­ucts was her biggest takeaway from a business standpoint.
She is not the only buyer who said gnomes are still trending. Rebecca Biddle of Washington Health System in Washington, Pennsylvania, said the system's volunteer gift shop manager attended Atlanta Market. The product trends the manager noticed were a continued focus on home items as the pandemic continues and an emphasis on home goods and decorations with gnomes continuing to be hot, Biddle said.
Biddle said supply chain demands are still causing wrinkles, and the increase in freight charges is affecting everyone not only at work but also at home. "We did end up purchasing large 'home,' 'fall y'all,' and welcome signs, as well as outside copper spinners, both of which are selling well. Again, the emphasis seems to remain on home decoration," she said.
Janie Tutewohl owns Market on Oak Boutique in Farmington, Minnesota. The product trends that stood out to her when she went to Dallas Market Center and
Minneapolis Mart were more kitchen items and more candles. Her favorite trend was sustainable products.
Something she learned at the markets she attended is that finding quality, American-made products that resell well can be difficult but using online marketplaces can make those decisions easier.
More Market Trends
Courtney Marcum's biggest takeaway from the regional show she attended was "more wood," and Gio Yarabek saw mixed prints in apparel. Yarabek went to Dallas Market Center, Las Vegas Market, and Trendz Show.
Brigid Beaubien owns Urbanum in Detroit. Among the mar­kets she attended were NY NOW and Shoppe Object. The trends she noticed were charcuterie boards still being incredibly strong, more barware, and items related to what people will need when they go back to working in the office.
She appreciated seeing more barware. That is a product category she carries in her store, and Beaubien said those items have been difficult to find.
The product trends she saw for people returning to working in an office setting were interesting. One was a square, flat water bottle that would fit in a bag and was available with different colored sleeves. "That stood out," Beaubien said. She also saw a fair number of new totes and bags, including a bag for women that had a computer case in it.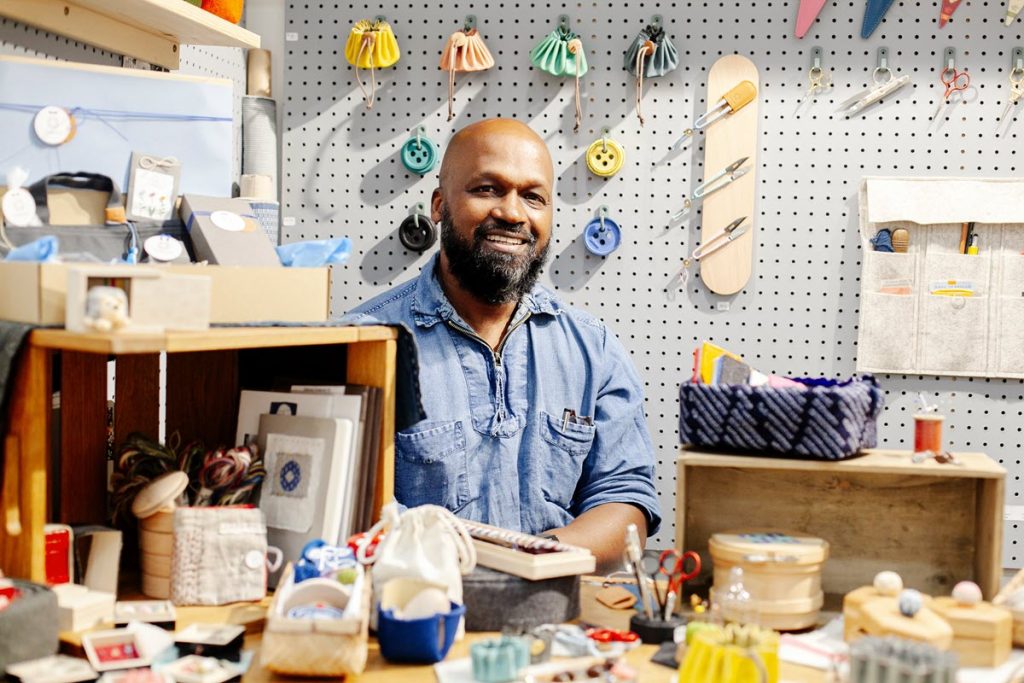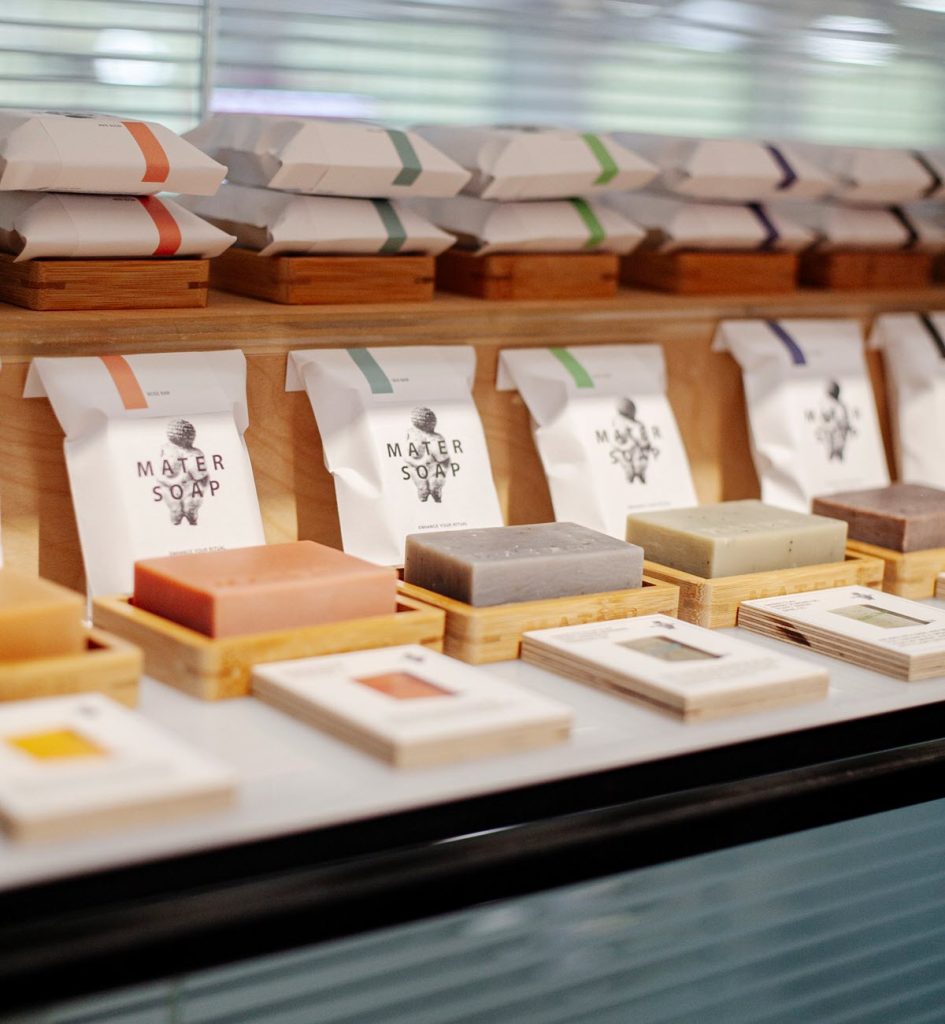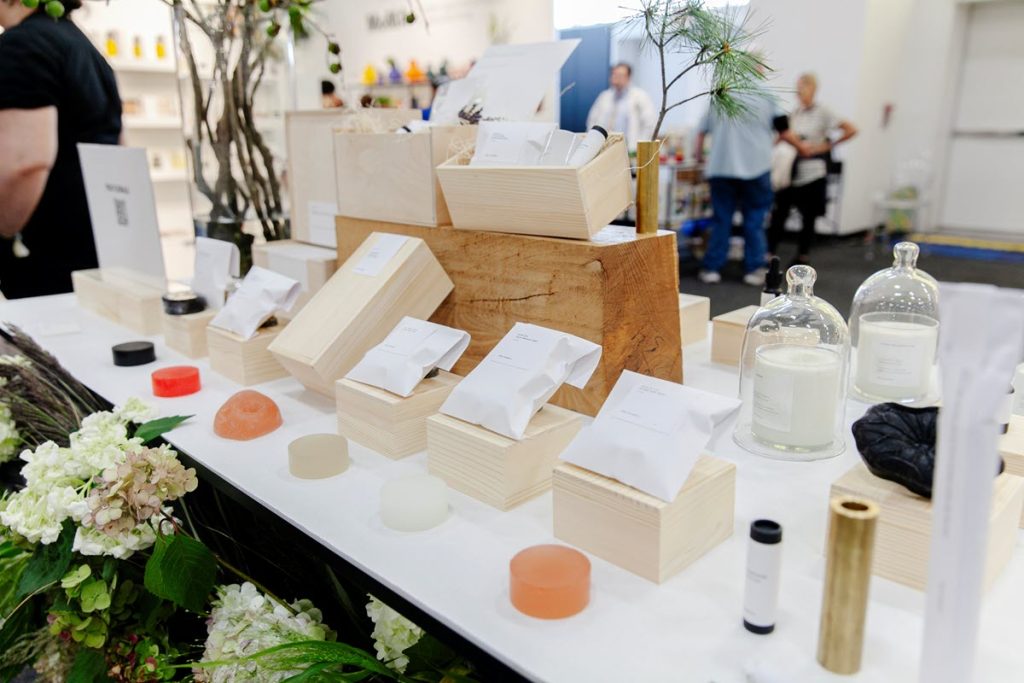 Industry Notes
Julie Smith Vincenti of Nine Muses Media is a trend fore­caster for International Market Centers (IMC). She said neutrals were a theme at the summer markets but with some texture and imperfections. "Neutrals also were trending in fashion and acces­sories," Vincenti said.
For fashion accessories, off-white colors hit bags, shoes, scarves, jewelry, and more, she said. In home décor, "trending neutrals capture an elegant mood by way of nuanced details, captivating textures, and intriguing forms with a nod to warmth and subtle luxury," Vincenti said. "They strike a minimalist/maximalism chord that's open, airy, livable, and reverential with linear patterns, bas-relief details, and complex textures."
The other trends she noted were plant parents/houseplants, pastel tabletops and housewares, beach-inspired products, purples, and meaningful imperfections. And of gnomes, Vincenti said they have "definitely been trending for a while. They started for Christmas and have expanded to other seasons."
She provided more details about the trends she saw. The popularity of houseplants shows no signs of slowing, Vincenti said. This means planters, tools, and accessories related to this product category remain hot.
The pastel party trend involves tabletops in a pastel palette, with milky or frosted glass, hazy finishes, and fine-stranded textiles, she said. The beach-bound trend of "luscious pastels, revitalizing aqua hues, and tropical mainstays make this retreat to water, sand, and sun look fresh and new for 2022 and beyond," Vincenti said.
She said the incoming purples and reds set a stage for a range of sentiments and moods, from festive and vibrant to regal and healthful. Here, tints and shades intermingle with classic and modern patterns, Vincenti said.
Meaningful imperfections include uneven shapes, unfinished edges, bare metals, unpolished wood, and stone, organic state­ment pieces, she said.
Themes the folks at Shoppe Object saw this summer were cordless lamps, anthropomorphic jewelry, stripes, vintage graphics, comfort, gravity defiance, handmade details, Y2K, and elaborate candles.
Market Highlights
Vincenti said an overarching trend right now is values-based commerce. Buyers are sourcing brands that are eco-friendly, support communities, and are owned by women and people of various racial and ethnic backgrounds.
Shoppe Object's representatives noted several market high­lights. One of them was an expansion of beauty and wellness products. Due to a growing demand for safe beauty and wellness products in the market, there was a record high number of these brands on the floor at Shoppe Object this season, from nontoxic, organic lipstick to dermatologist-approved hair cream, they said.
Shoppe Object's Black Lives Matter Action Initiative (BLMAI) grew this year. The initiative seeks to foster a better, more representative, inclusive home and gift market by subsidizing the cost of exhibition space to talented, independent Black designers and makers. It doubled the participation in that Shoppe Online space this season — from 10 exhibitors to 20. The increase in the number of partners in this program will apply to future seasons as well.
Shoppe Object said discovery is one of its core values, and 25% of the show floor was held for first-time brands. Many of these were in the Table and Home Decor space, which Shoppe Object aims to grow in the coming seasons.
The show's digital components saw lots of action on the floor, with a 30% increase in digital activity since the last market. Buyers and exhibitors alike were scanning away with the omnichannel QR Code system, allowing both to scan and save information to their profile pages on Shoppe Online.