By Dan Brownell
Photos Courtesy of Luke Collins
Fine Home Furnishings & Accessories Since 1994
In 1994, shortly after Polly and Don Heim moved from Kentucky to Door County, Wisconsin, Polly opened a small gift-focused retail shop in a rustic barn. While she was successful with the gift niche, she discovered another golden opportunity and pivoted to add it to meet shopper demand. "Customers kept wanting to buy our display pieces, and I realized there was a need for home furnishings, so we expanded the store to include more furniture," Polly said.
Don was a builder, which gave him the knowledge and experience to not only give new life to the old barn, but to add additions to the barn when needed. "Don installed a wood floor and took out the barn doors and added steps to the loft for extra storage. After three years, he built a large expansion on the barn, and three years after that, he did another expansion."
The couple have since taken over the building next door, which was once a lumberyard and then the town library, for their interior design business. Don's background in construction and home building came in handy for the window treatment and custom closet part of their business.
The Power of Picking the Right People
Polly has worked retail since she was 14, so it's in her blood. Her background is in corporate sales and training. She doesn't have an interior design degree but does have a master's degree in human resources. "My superpower is hiring great people," she said. "In recent years, we've made some great hiring decisions. We have an amazing store manager, Tammy, who has been with us for four years. We also have a great office manager, Katie, who handles all the paperwork. This allows us a little more time away and peace of mind."
In the beginning, Polly was the only employee and worked seven days a week during the peak season. "After the third year, though, we realized it wasn't just a small hobby store but could grow into something more. We made the investment in the building and began adding staff. We became a corporation, wrote a business plan, and started a simple plan for our employees and our retirement."
After 10 years, Don closed his construction business and joined the store full time. "We also branched off into interior design and opened Designworks next door. We also never stop learning and trying to improve our business. We have attended several training ses­sions by WhizBang Retail Training, and I think they give a lot of good advice."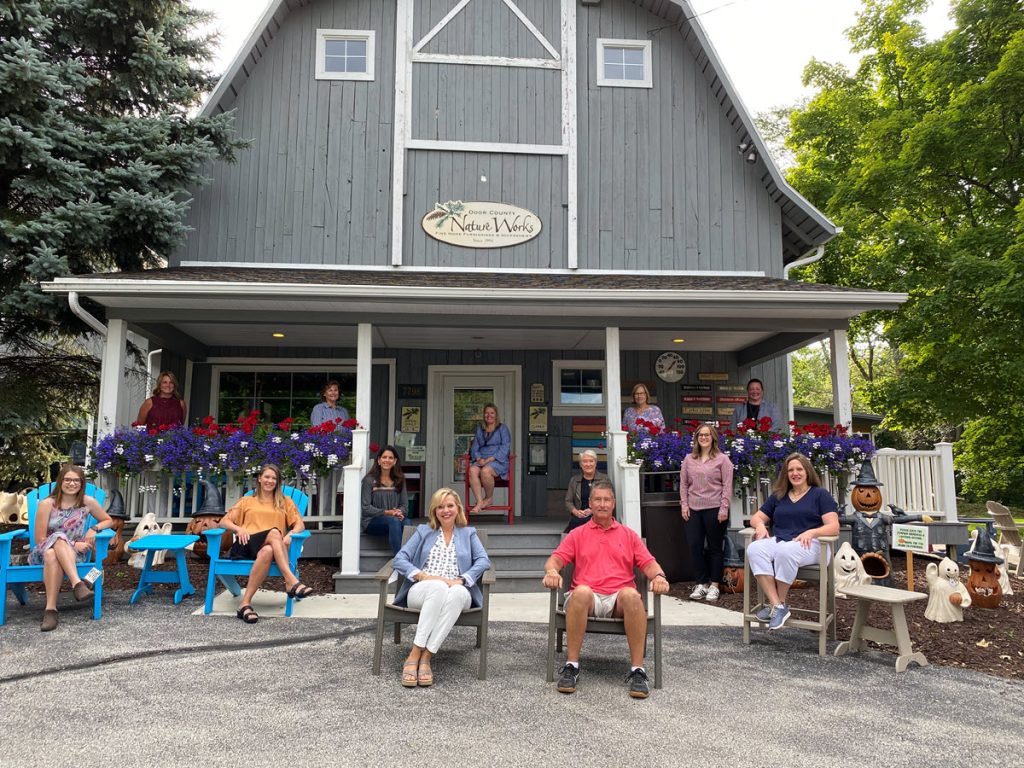 Building a Broad, Strong Foundation
Door County Nature Works offers a diverse range of product categories, which helps create business stability. "We have 28 departments in our store, for a broad selection, from children's items to outdoor furniture. There's a lot for new staff to learn! We do sell some local products, mostly cards and decorative items. Because we live in a tourist area, we're blessed with many art galleries, farmers markets, and pottery studios. Most of them sell own work in their own galleries, too."
Meeting Challenges Head On
Over the years, like other retailers, the Helms have had to deal with sudden, unexpected dips in the economy. "2008 was even worse than the pandemic," Polly said. "People really pulled back on their spending, and it was a scary time. It certainly made us evaluate every aspect of our business and operate very lean. We looked at everything from our phone bill to our insurance. I think you can learn a lot from hard times, and we made some important changes."
That experience made them more resilient and prepared to deal with the pandemic when it arrived in 2020. "We've been incredibly blessed with a loyal customer base, and that has gotten us through the tough times. The first week of the pandemic, we were shut down, and we all went home and cleaned out our closets and did projects around the house. By week two, I started to panic. We have employees who count on us to feed their families, so we got busy. We came up with a game plan to keep the business moving. We offered gift certificates with extra incentives, and we started doing Facebook Live events every week. Our customers reached out to us as well. They wanted to make sure we were OK, and they bought gift certificates to help us out and placed orders over the phone.
"We also worked on selling on our website. Luckily, our daughter was home from college. She helped us get things set up. We started our subscription boxes last year to connect with our customers who weren't traveling to Door County because of COVID. We offered a seasonal box four times a year and we had 100 customers sign up. I would say everyone who signed up was a customer of the store. We have a mailing list of about 5,000, and we promoted it through our newsletter. The customers seem to love it! We're doing the program again this year."
Improving the store is a continual, ongoing process. "Whether it's by listening to podcasts, reading articles, having staff brainstorming sessions, or rearranging our store, we're always trying to make our store better, and I think that's important," Polly said.
Going Above and Beyond Through Special Events
The Helms proactively reach out to customers rather than just waiting for them to come through the doors. One way they do this is by hosting events. "Pre-COVID, we had several events. The two most popular were our Derby Party and our Holiday Party. The Derby Party was held the first weekend of May, as a nod to our Kentucky heritage. I made Southern appetizers and over 300 mini-Derby pies. I also served mint juleps, and we let customers 'bet' on the Derby winner with tickets.
"At our Holiday Party, we offer holiday decorating tips and snacks and special gifts with purchase. The most important thing is that we have a connection to our customers. We usually know their names and their family and their children and grandchil­dren. Most of our customers have been shopping with us for years, and that's special.
"We also have an incentive program called the 'Barn Club.' After a customer shops with us six times, they receive a gift certificate to use in the store. We keep their information in an old card catalog, which is old school. We also offer gift wrapping so they know they can stop by and leave with the gift ready to present."
Digital Sales
"I think the biggest competition for a small retail store is the internet," Polly said. But the Helms have been able to compensate for that through their own digital initiatives. "Facebook Live has been great. We also are regularly active on social media. And we run an online store where we feature products that are easily shipped. We ship directly from our store, and when you order online you know it's in stock."
Supporting the Community
Both Don and Polly are very involved with the Door County community. Don sits on many boards: the YMCA, the Parks and Recreation, and the local school board. They started the Ellie Helm Foundation, which supports local mental health services, in memory of their oldest daughter. To date, they've given over $100,000 to the Door County community in her name. They also support many local nonprofit organizations and, once a year, they hold a Gift of Giving event, where they give a percentage of their sales to three local charities. They love giving back to their com­munity and building relationships, and they carry that attitude of service into their business as well.
Building Customer Connections
"Our typical customer loves Door County. I would say over half of our customers are local or have a second home in the area," Polly said. "The other half are tourists from all over the country. Both men and women seem to love our store, and I think that's part of our success. We often hear 'This is the only store my husband will go to.'
"We have amazing staff. They're kind and generous with their time. We're always happy to help a customer create a design look that's unique to them or select a perfect gift. We listen to our custom­ers. When we go to the market, we have a list of items customers have asked for throughout the year and we try to find them. We try to select products that are quality, as we want our customers to love their purchases for many years."
One of the Best Stores in Door County
"I think anytime you own a small business, there are chal­lenges: cash flow, POS systems, building maintenance, staffing. You name it and we've faced it," Polly said. "Through the years, I think we've become pretty good problem solvers and leaders. My husband and I are very involved in the business, and I think that helps the business succeed."
Not surprisingly, their years of perseverance and dedication to their customers is one reason that in 2016, the store was voted "One of the Best Stores in Door County." That's no small feat, given that Door County is one of the top tourist destinations in the country!
Facts at a Glance
Business Name: Door County Nature Works
Location: 7798 Highway 42, Egg Harbor, WI 54209
Website: shop.doorcountynatureworks.com
Email:shop@dcnw.biz
Phone: 920-868-2651
Employees: 16
Size: Approx. 7,000 sq. ft. (two buildings)
Trade Shows Attended: Atlanta, Dallas, and High Point
Product Categories: Upholstery, case goods, bedding, candles/fragrances, tableware, lamps, outdoor furniture, jewelry, and some clothing.
Social Media: Facebook, Instagram, enewsletters
POS System: Counterpoint