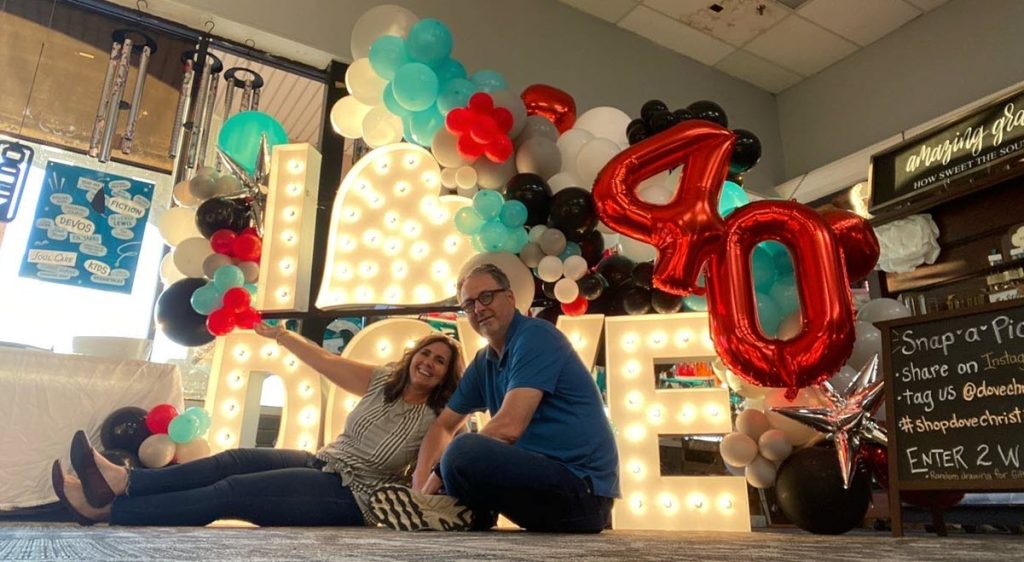 By Angie Landsverk
The business opened in Dothan, Alabama, on Sept. 2, 1982, which is Pete's birthdate and wedding anni­versary. But before that happened, Yvonne's initial response to the calling Pete felt was asking him to pray about it, Donna said.
She said Yvonne ultimately came around to the idea, and Dove Christian Supply began its journey in a small, 500- to 600-square-foot space. "According to my mother-in-law, they chose Dove Christian Supply (for the name) because they wanted to 'share God's love … on the wings of a Dove,'" Donna said.
Through those initial years, Dove expanded — including into a more spacious, 4,000-square-foot store. Chip joined his parents in the family business when they were about 11 years into their journey.
Shortly after Chip and Donna were married, Donna decided to leave her position at a national furniture franchise store and join them at Dove as well, initially working part time while exploring opportunities to use her degree in interior design merchandising. "However, part time turned into full time, and full time turned into years later," she said.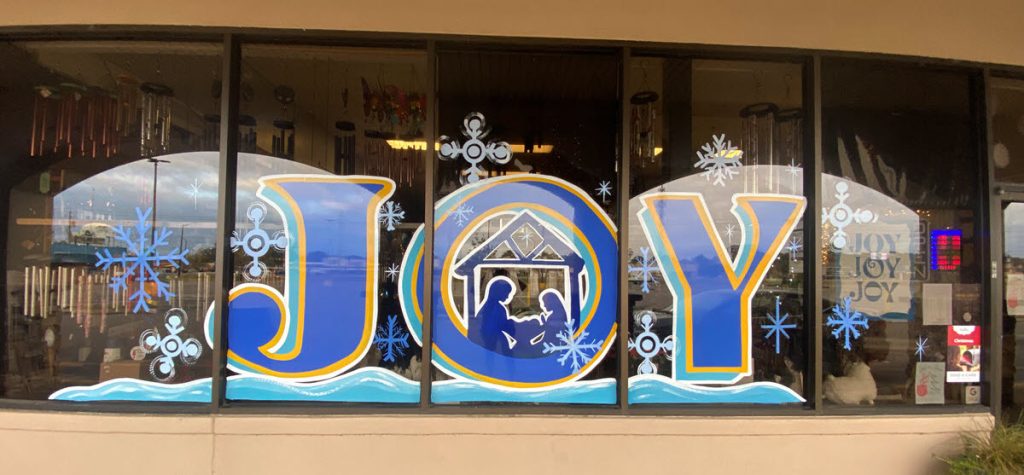 Two children and another store move later, Dove settled into its current location, which has about 7,500 square feet of retail space and an additional 1,500 square feet for office and warehouse use. "We've been fortunate to call this location home for the past 25 years," Donna said.
The space is in a shopping center, and she said their landlord has been exceptional at ensuring it maintains a modern and inviting appearance. When the center received a makeover about five years ago, Chip and Donna updated Dove's logo and had new signage installed on their storefront.
Last year, they updated the carpeting, and Donna said there is always a honey-do list for Chip. "I am constantly rethinking our displays and merchandising to create stories that people can identify with and that encourage them when they come in to shop," she said. "I love to repurpose old things and make displays out of them to get people's attention. We even have an upstairs warehouse space that I call my graveyard of displays where they go to die but end up reborn as something else."
Dove has had four different locations and once extended its reach to two additional locations in neighboring towns. "The most recent one remained open for a remarkable 17 years before we made the tough decision to close it upon my husband's parents' retirement," Donna said. "Staffing became a growing concern, and the closure was a particularly emotional moment for me, as I had poured my heart and soul into that location for the majority of its existence."
Embracing Change
"Over the past 41 years, we've witnessed numerous changes and embraced them wholeheartedly," Donna said. "In our dedica­tion to staying competitive with online retailers, we've diversified our product selection, all while remaining true to our core mission of nurturing faith and serving our community through the products we offer."
She said Dove offers a diverse selection of products to fit a Christian lifestyle. They like featuring companies that support missions or nonprofits that align with their own values and mission.
Their product categories include books (Bibles, devotionals, inspirational books, Christian fiction, reference books), inspi­rational and faith-based gifts (home décor, jewelry, apparel, keepsakes), church supplies (communion supplies, church bul­letins, candles, clergy apparel), entertainment (Christian CDs and DVDs), children's products (books, toys, plushes, games), apparel (Christian T-shirts, socks with faith-based messages, women's boutique-style tops and wraps), art and décor (reli­gious and inspirational wall décor, pillows, tabletop items), and food (specialty candies and sauces to go with their home and kitchen tabletop gifts).
Dove's typical customers are individuals and families with a strong Christian faith, spanning a wide age range. "They are passionate about nurturing their faith and sharing it with others. They seek spiritual guidance through faith-based books and appreciate meaningful gifts and home décor," Donna said. "They value personal connections and a sense of community. They value the idea that our products are more than just a gift but a meaningful reflection of their faith, making us their trusted destination for all things spiritual and inspirational."
The store recently celebrated 41 years in business, and Donna said the outpouring of encouragement, love, and gratitude from their customers is heartwarming. "They often express their appreciation for our warm and welcoming atmosphere, personalized recommendations, and the sense of community they find here. Many have shared that our store feels like a place where they can genuinely connect with fellow believers. We are so appreciative of their encouragement and kind words, and it fuels our passion for what we do every day," she said.
Dothan is a mid-sized city in southeast Alabama, and Donna said the community thrives on faith and family values, making it a welcoming place to live and do business. "Dothan's steady growth over the last several years is a testament to the incredible support and tight-knit community that have been integral to the success of Dove Christian Supply," she said.
Challenges, Turning Points
Running Dove has presented Chip and Donna with their share of challenges. "Initially, my husband and I had to navigate working together, which was no small feat given our differing management styles, especially since I had spent over 15 years working at a dif­ferent location prior to his parents' retirement," she said. "We often laugh about how frequently we both contemplated quitting in that first year. Having separate offices proved to be a valuable solution to maintain harmony."
During their second year of ownership, the closure of a store in Canada with a similar name resulted in some local confusion. "We decided to have a bit of fun with it and assured our community that we were here to stay. The local TV news channel even picked up on the story," Donna said. "But that wasn't the end of it. Later, when a national chain Christian retailer also announced their closure, some folks mistakenly associated it with us once again."
That happened right around the time their landlord decided to update the shopping center's façade, and they had to temporarily take down their sign. "You can imagine the thoughts that ran through everyone's minds during those years," she said. Chip and Donna found themselves saying, "We are not closing," multiple times to reassure the community.
Then came the curveball — the COVID-19 pandemic. While it brought widespread closures, Donna said they focused on improving their social media presence and connecting with the community. They learned the importance of authenticity on social media.
"Through it all, our resilience, creative thinking, and adapt­ability proved essential. We mastered the art of pivoting and persevering, focusing on what we could control and leaving the rest to faith," she said. "These experiences have taught us the power of staying true to our mission and staying connected with our customers."
Donna has a diverse background in retail and believes each experience uniquely prepared her for the journey they are on today. "It's interesting to note that throughout my career, I've exclusively worked for small, family-owned businesses. My educational background in interior design merchandising has been a significant asset in creating distinctive in-store environments that not only showcase our products but also convey meaningful stories and inspire our shoppers," she said.
Multichannel Marketing
The Parable Group, a marketing and data firm for independent Christian retailers, manages their website. "Because of our niche, people really want to do a lot of research on books and things of that nature, so our website features a lot of options that we can order if we need to, and it also shows if we have it in store," Donna said. "Our customers can reserve for pickup and pay in store. They can also pay online and pick up in store and pay online and we can ship it to them."
The pay-online feature is a recent addition, and they expect to see more people using that option during the fourth quarter. "We are growing and trying to make it easy for our customers to shop with us," she said.
A multichannel marketing approach works best for them, with catalog mailouts, email campaigns, and social media at the forefront of their efforts. Donna said their catalog promotions and active engagement on social media are the most effective for them, though.
"These strategies not only resonate with our existing customers but also help us connect with new audiences who are seeking faith-based products and inspiration. It's the combination of these approaches that has yielded the most significant impact in our marketing efforts," she said.
Dove's customer service approach is rooted in their faith — treat­ing others the way they want to be treated. She said what sets them apart from others is their genuine care for their customers and the personal connection they offer.
"We're not just a store. We're neighbors, friends, and fellow believers. We are passionate about helping our customers find the perfect item to nurture their faith or share it with others. Whether it's recommending a meaningful book, assisting with church sup­plies, or helping select a special gift, we take the time to understand their needs and preferences," Donna said. "Ultimately, our customer service is an extension of our mission to encourage faith, inspire change, and share life. We're here to walk alongside them in their faith journey, and we're honored to be part of their story."
What Makes Dove Successful
Donna attributes Dove's continued success and longevity to their mission, personalized customer service, and ability to adapt and change with the times while staying true to their Christian worldview. "Combined with our loyal customer base, the support of our community, and our dedication to giving back, these factors have been instrumental in making Dove a trusted shopping desti­nation for all things spiritual and inspirational," she said. "It's this combination that continues to drive our store's success year after year and keeps us committed to overcoming the challenges we face in running the business."
They distinguish themselves from other businesses by priori­tizing authenticity, personal involvement, and a surprising range of product offerings. "We're personally involved in the day-to-day operations, creating an environment where our customers can gen­uinely sense our care and dedication to them. Many are pleasantly surprised by the diverse range of items we offer, often remarking that they had no idea about the depth of our selection. It's these unique qualities that define us in a retail landscape where such connections and discoveries can be rare," she said.
Chip and Donna are usually found in the store, mingling with customers and connecting on social media. They like to give back and do so by teaming up with different nonprofit groups throughout the year for special events. "We like to think we aren't just a store, but a warm and welcoming space where faith and community come to life," she said.
For them, Dove Christian Supply is not just a business — it's a higher calling. "Dove is more than a store. It's a commitment to nurturing the spiritual journeys of our customers," Donna said. "When you step into Dove, you're entering a warm and welcoming community where faith isn't just a product, it's a way of life. We're here to walk with you on your path of faith and inspire positive change in your life."
She advises those who've recently opened a store to pray and to stay true to their mission and values. "Your store is an extension of your beliefs and passion, so let that shine through in everything you do. Personalize your customer service, connect with your community, and be open to adapt and innovate as needed," Donna said. "Surround yourself with a dedicated and supportive team, and don't hesitate to seek advice and mentorship from fellow business owners. Remember, it's not just about running a store — it's about creating a meaningful and lasting impact on the lives of your customers and community."
She loves having the opportunity to make a positive impact on people's lives through the store and the sense of purpose that comes with running a business rooted in faith and values. "Knowing that we're not just selling products, but fostering spiritual growth and community, is what truly drives me in what I do, and I'm very passionate about that," Donna said.
As a second-generation owner, she feels privileged to continue a legacy that began with a simple yet profound calling. "It's not easy to step in and carry on someone else's vision, much less develop your own for the business," Donna said. "In the world of retail, we've seen our fair share of ups and downs over the past 41 years, but we stay faithful to our mission and keep doing what we know to do while embracing new opportunities. Retail, in general, is a faith-based business, and we continually strive to blend the time-tested with the innovative, always moving forward with a deep sense of purpose."