Photos courtesy of Jennifer Raines and Thomas Gorman Photography
Jennifer Raines is a born party girl. If a rainbow appeared in the sky after a heavy morning of thunderstorms, Raines would instantly be on her cell phone, tweeting a message, and then posting a status update on her Facebook page to summon a crowd of friends and customers for a festive celebration. At the drop of a hat, Raines is set to enjoy her day and entertain in a big way.
Reasons for Celebrating
"When I ditched my lucrative corporate job and started a retail business, I set out to create a fun place to work and shop," the go-getter reveals. "My store, Quirks of Art, is a beloved and very unique place. We strive to inspire people and brighten their days. We bring our dogs to work and celebrate their birthdays. We wear tutus and feather boas to work every chance we get. We have a flexible 'pay what you can, when you can' layaway policy. Work should be fun, and white walls are boring!"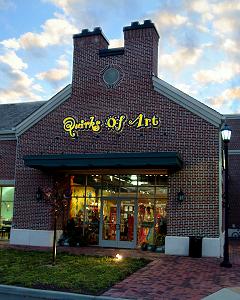 The colorful Williamsburg, Virginia, shop lives up to its owner's credo. It is a gathering place for town residents and tourists alike. "The locals pay the bills," she muses, "while the visitors are the icing on the yummy cake!" Her business philosophy of treating customers as friends and kin has earned her numerous awards and accolades. The 39-year-old shop owner was honored as a "Top 40 Under 40," a recipient of a "Women in Business Achievement Award," and the designation as a "Top Retailer."
Tooting Her Own Horn
Surveying her achievements, Raines feels exceptionally fortunate: "I have been blessed with some great awards, both personally and for the store. Quirks of Art has been named 'Best of Virginia' and 'Best of Williamsburg.' We've gotten excellent media coverage through the years, but we've also done our own promoting."
To that end, Raines and her colleagues became early proponents of all social media platforms. They steadfastly created a comprehensive e-mail list, built up a website and a blog, and found a home on all forms of social networking. In fact, their association with Facebook was the basis for one of their most recent bashes.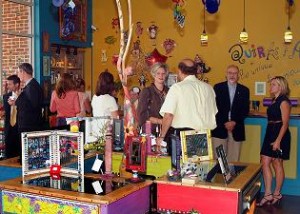 After reaching 10,000 Facebook fans, Raines decided to throw herself and her followers a huge blowout. Every party needs a cake, so the hostess turned to the Web and e-mailed a commission to Alice Cooke, the owner of Cakealicious.
Raines told the local bakery proprietor, "Let your imagination go wild. I want to see what you can do!" Cooke lived up to the challenge and chose the image of a whimsical wooden heart  and two wall tiles from the Quirks of Art shop as her cake motif.
"I squealed with excitement as Alice pulled it out of the case. The cake was stunning, and it tasted as good as it looked!" she recalls. After posting the photo of the cake on her Facebook page and trumpeting the achievement, customers flocked in to share their well wishes and nibble on the baked goods.
"Many people love our Facebook page," Raines admits. "They have watched us suffer through the poor economy, then regroup, and grow. We have celebrated smaller milestones over the years. So, in a way, this was a celebration for all of us. Folks came into the store and they wanted to see the cake, taste it, and congratulate us on it. It wasn't the biggest sales day ever, but that wasn't the intention. It was sweet to have a steady stream of some of our favorite customers wishing us well."
Keeping a Vision Afloat
A cheery optimist, Raines has known her share of disappointment, but she hasn't permitted it to keep her down. Over the past 10 years, she has spearheaded other variations on Quirks of Art, which didn't thrive as well.
"It started as Kinks, Quirks & Caffeine, which was a handcraft gallery that featured a coffee bar inside. Then I added on Kinks &  Quirks Contemporary Handcrafts in Yorktown, Virginia. When the economy turned, I closed down both of those locations. I morphed them into my gallery today, Quirks of Art," she reveals.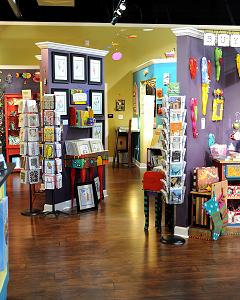 Her Williamsburg locale makes her stand out from the other souvenir and antiques businesses. "One of our first taglines was 'Contemporary, Not Colonial.' Just because we love the charm of Colonial Williamsburg doesn't mean that everyone wants his or her home or gifts to be styled that way. People visiting Williamsburg are just absolutely blown away when they walk into my shop. This store has so much personality and is just so different than anything else. Many customers confide that they have never seen a store like mine!"
Raines describes her shop and her inventory as "something for everyone—we have hip gifts and collectibles, whimsical art, clothing, home décor, handmade jewelry, and furniture. Over the years, I have earned vendor relationships with more than 1,000 artists across the United States. At any given time, we have 400 individual artists and studios represented in our retail store, and the online selection changes constantly. We have two relevant taglines. One is 'Be Unique . . . Buy Unique.' The other is 'Passionately Handmade by American Artisans.' My shop focuses on mostly American-made artisan goods that are funky, brightly colored, whimsical, and functional. They are 'Quirks of Art' as well as works of art!"
A Life-Altering Event
When Raines's beloved mother passed away unexpectedly in 2002, it was a wake-up call for the then-27-year-old. She reevaluated her career path, made drastic changes, and began her adventure in retail. It's a direction she has never regretted, and a choice she continues to celebrate to this day.
"I am so grateful I've been able to live out my dream. I've wanted to be a shop owner since I was eight years old. Well, I actually wanted to be a singer or a model, but those didn't pan out. Store owner was a close third! Owning a store like this allows me the great opportunity to enjoy art, music, and travel. My goal is to expand my store regionally and eventually help others franchise my concept so they can realize their dreams of owning a business. I am a true believer in giving and living fearlessly and constantly seeking new challenges."
Always on the lookout for a new reason to hold a soiree, Jennifer Raines won't wait until she reaches 15,000 Facebook fans to host her next get-together. "I'm already planning my dog Zack's party," she shares. "And who knows what else will catch my fancy?"
Venue Facts
Quirks of Art
The Shops @ High Street
1430 High Street, #709
Williamsburg, VA 23185
757-645-4366
www.kinksandquirks.com
www.facebook.com/quirksofart
Twitter, Pinterest, Instagram, YouTube: @kinksandquirks
5 Fun Questions
Do you have a personal philosophy or mantra?
"Happiness isn't about making a living, but about making a life."
What would a person be surprised to learn about you?
I'm a certified sailor and I've completed four marathons. I've just started electric and acoustic guitar lessons.
As a purveyor of quirky artistic creations, what do you create in your spare time?
This would be a big surprise to some of my customers, too, but I don't have an artistic bone in my body. I can't even draw stick people! One of my next goals is to take art classes and then begin an artistic hobby.
What is the take-away lesson you'd want a shopper to gain from your store?
When people buy from my store, they are also supporting the artists I represent. My business structure has a very positive "trickle-down" effect. The money spent here stays with small, independent business owners and artists. It stays in the USA.
Do customers have a favorite shop employee?
Of course! It's Zack, my nine-year-old Maltese. He is the store's official greeter.