When Ken and Jackie Feltz, of Stevens Point, Wisconsin, opened Feltz's Dairy Store in June 2017, they had no idea how important their food products would be to their business nearly three years later when COVID-19 struck. After the pandemic hit in March, 2020, many stores were forced to close, but the Feltzes were able to keep theirs open because they were deemed an essential service.
Much of the store's stock consists of perishable fresh foods, such as cheese, meat, milk, ice cream, and baked goods, which wouldn't be a good fit for a traditional gift shop, but the family also sells other products that fit well within a gift shop product line, making it a combination dairy and gift store. For example, the store carries locally made specialty gourmet foods packaged in decorative glass jars. They include jams, apple butter, apple and cherry pie filling, maple syrup, honey, pickles, olives, salad dressings, and barbecue sauces and spices. Shoppers can also find locally made dry gourmet foods like candy, pancake mixes, popcorn, pretzels, potato chips, dried cranberries, maple sugar, and bags of roasted coffee beans. In addition, the store carries traditional gift shop products such as décor, signs, paintings, candles, wax melts, soaps, room sprays, and children's novelty gifts. The store sells various sizes of empty black-and-white spotted cow-themed gift boxes that customers can fill on their own to make custom gift boxes.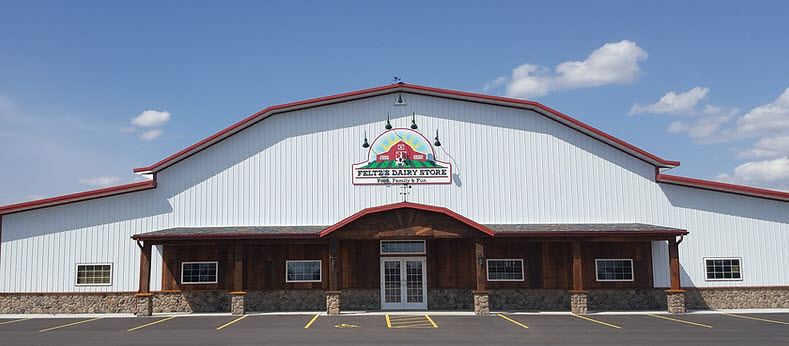 Gifts, gourmet foods, and local and handmade goods have helped diversify the store's business, bringing in more customers, and adding to their profits. "Specialty items have especially helped increase the number of customers and profits during the holiday seasons," Jackie said. "We have unique items that you can't find in a typical retail store that people like gifting to others. Plus, we ship gift boxes throughout the country in November, December, and January."
The Feltzes' store is attached to their farm, which has been in the family for more than a century. Wisconsin residents are famous for their fierce loyalty to the Green Bay Packers, so it's not surprising that locals love all things Wisconsin. "Our customers like how nearly all of our products are from Wisconsin," Jackie said. They also like the family values. "We offer many family-oriented activities, including a cow carousel and a fiberglass life-sized milking cow inside the store. During the summer and fall, we offer a petting zoo that's open every day."

Fulfilling a Family Dream
While the store has been a great success, the Feltzes had to learn the retail ropes by trial and error. "Opening a store was something we had been interested in doing for many years," Jackie said. "And with all the family coming back to the business, the timing made sense. None of the family had any retail experience, though. Farming has been in our family for over 100 years and is currently a fifth-generation farm. We've learned about retail as we go. With no retail experience, we didn't know what to expect, but at this point, our growth has exceeded our expectations.
"Our family has a strong faith and contribute a lot of our success to God. Our greatest successes come from failure. There is no better learning point than finding out how not to do something. We try to keep an open mind and continually try to find better or more efficient ways to do things. Keeping up on customer trends is also important to understand what people are looking for," Jackie said.
They've done well in spite of the virus. "After the pandemic began, our business was initially very inconsistent, but since then, we've noticed people supporting local businesses, which has helped," Jackie said. "It seems consumers are increasingly interested in purchasing local and handmade products from people within their own community and we expect that trend to increase."
Customer Service Is King
The Feltzes know they can't take customers for granted and that providing top-notch service is important. "Especially since we're new and trying to build our reputation, we go out of our way to do whatever is necessary to please our customers," Jackie said. "That includes carrying new items recommended by customers and simply carrying bags out to their cars.
"A comment we get often is how clean our store is. People are surprised since it's right on the farm! We get compliments on our customer service as well."
Unforgettable Experiences
In recent years, retail studies have shown a big increase in demand for experiences rather than just products. Feltz Dairy Store delivers memorable experiences both inside and outside. Inside, customers can eat ice cream in a farm-themed corner with picnic tables and the cow carousel. The family also offers farm tours to give visitors an opportunity to see a working dairy farm and get up-close to the cows. "We show visitors some of the newest technology in the dairy industry, which includes milking robots." The fascinating machines are a favorite highlight of school groups. They can be viewed in action in the video on the store's website feltzsdairystore.com.
"We host popular events such as taking pictures with Santa and the Easter Bunny. We also offer activities nearly every weekend in the fall relating to our corn maze and pumpkin patch. We even do a haunted corn maze during the last weekend in October.
Last year, the store worked out a partnership with Culver's, a Wisconsin-based fast-food restaurant chain with more than 700 locations and a major presence in the Midwest. The Feltzes created their corn maze featuring a gigantic Culver's logo using a computer program and GPS to plant the maze in the shape of the logo, rather than cutting it into the field after the corn was grown. It was the only Culver's-sponsored corn maze in the nation in 2019, and the story the made local TV news. But most importantly, the Feltzes' customers were thrilled with their corn maze adventures.
"The biggest thing we've learned is that repeat customers are built on good customer service and relationships. If people are connected to you and/or your business, they're so much more willing to support you."
Community Engagement
The Feltzes have built a strong customer base and repeat business through an emphasis on community engagement, partly from digital connection, but mainly face-to-face. The store has nearly 7,000 Facebook followers. "Social media is a fast and reliable way to get a message across to many people," Jackie said. "But the best connections are still made in-person, despite being such a technology-driven world."
Common Elements to Business Success
While traditional gift stores can't offer fresh food like Feltz's Dairy Store, many of their business strategies and principles apply to any retailer, such as creating a diverse product line, providing unforgettable experiences, and developing customer relationships and loyalty to help carry storeowners through tough times. With such a strong foundation after three years, no doubt Feltz Dairy Store has an exciting future ahead.
Facts at a Glance
Business Name: Feltz's Dairy Store
Location: 5796 Porter Drive, Stevens Point, WI 54482
Website: feltzsdairystore.com
Phone: 715-344-1293