Orange Tree Imports is a unique specialty shop in Madison, Wisconsin, that features a wide range of kitchenware, toys, specialty foods, jewelry, seasonal décor, candles, bath and body products, and more. This shop has been located at 1721 Monroe Street in downtown Madison for over 43 years.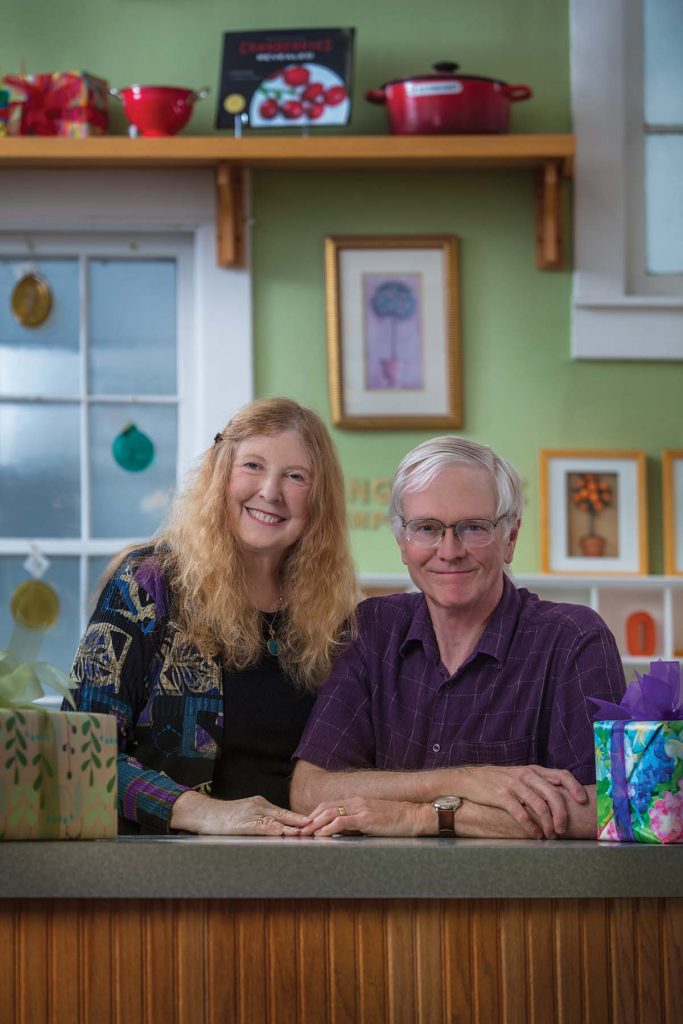 While studying in Europe, co-owners Dean and Carol "Orange" Schroeder were inspired by the enchanting specialty shops of Germany and Denmark. In 1975, they opened Madison Wisconsin Gift Shop: Orange Tree Imports on Monroe Street, Madison's charming shopping district.
They have been honored with over 30 "Best of Madison" awards, as well as many other local and national recognitions including being named one of the 10 best kitchenware stores in the United States by FoodNetwork.com. Perhaps most notably, Orange Tree Imports was named one of four finalists for Retailer of the Century, together with Etsy, the San Diego Zoo, and Norman's Hallmark. In addition, they have also been recognized by the American Red Cross for their involvement in the local community.
Orange Tree Imports originally opened in October of 1974 as a branch of Bord & Stol, a Scandinavian furniture and accessories store. "Orange" — as Carol is affectionately known — was the manager of this branch. In the spring of 1975, Orange and her husband, Dean, bought the branch, discontinued the furniture, and renamed the store Orange Tree Imports. In 1976, Dean began working full-time at the store, and the selection of cooking-related items expanded dramatically.
The shop, located two blocks from the University of Wisconsin's Camp Randall Stadium, is recognizable for its unusual leaded-glass bay window, built by an Englishman in the early 1900s. The adjoining tall building was originally a town hall and was moved to Monroe Street over 100 years ago.
By 1980, Orange Tree Imports had outgrown its original 1,000 square feet, so the decision was made to close for three months and add a two-story addition. The addition provided for the opening of the Orange Tree Imports Cooking School early in 1981 — just one month before their son, Erik, was born. Both Erik and his younger sister, Katrina, went to the store as infants, napping in a red crib in the upstairs office.
The store's second expansion took place in 1986, when they purchased the store next door — Cabrini Gifts, a shop that specialized in traditional wedding gifts and fine stationery. The two buildings were connected, and key Cabrini employees joined the Orange Tree Imports staff.
Dean and Orange pride themselves in a very unique management style that empowers their staff to use their talents in customer service, hiring, buying, and merchandising. The Orange Tree Imports approach to management can be described as "participative democracy." It gives all staff members a say in what goes on in the store, allowing everyone to exercise some control over their work environment. Employee input is always welcome, and they joyfully participate by suggesting policy changes, new items, advertising, display ideas, etc. Staff members are also invited to participate in the hiring and training of new employees. All those involved in the hiring process must adhere to a policy of not discriminating on the basis of race, creed, gender, religion, or sexual orientation.
Most members of the sales staff, even those who only work a few hours a week, have some area of the store for which they are responsible. This responsibility includes doing displays, restocking and dusting, and may also include taking inventories, reordering, and taking markdowns. The attractive appearance of the whole store is thus the result of everyone working cooperatively.
In honor of the store's 20th anniversary in 1995, Orange wrote a book for her fellow shopkeepers entitled Specialty Shop Retailing: How to Run Your Own Store. More than 40,000 copies have been sold to date, and it has even been translated into Russian. [Ed. Note: In 2018, the 4th edition was released, revised and expanded, giving you wisdom on how to succeed in today's market. Browse all of her books on Amazon here. For the newest (4th edition) click here.]
In 1998, they introduced their website www.orangetreeimports.com, which was designed to benefit from the shop being featured nationally on the PBS program Small Business 2000 with Hattie Bryant. The PBS program came about as a result of interest in Orange's book released a few years earlier. The revised and expanded 4th edition, Specialty Shop Retailing: How You Can Succeed in Today's Market, released in 2018 and offers expanded information about competing with Amazon, using social media effectively, and other important topics for today's retailers. It's available wherever books are sold as well as through the blog's website.
Q&A with Orange Schroeder of Orange Tree Imports
Smart Retailer (SR): What are some of the challenges you face in the gift industry?
Madison, Wisconsin Gift Shop: Orange Tree Imports (OTI): We have seen such huge changes in the 43 years we've been in business, so we've constantly had to adapt to the "new normal." It's a hard fact that Amazon, and other online retailers, are here to stay. We have to offer customers a reason to come into our store to shop, through a wide and unique selection of merchandise, great customer service, and engaging events. Other retailers have chosen to sell online as a way to compete, but we love the in-person engagement with customers that comes with running a brick-and-mortar store.
SR: What would you identify as an important turning point in your business?
OTI: Many years ago we heard a University of Wisconsin Extension professor speak about management by participative democracy, and we immediately put that into place in our store. That means that major decisions, including hiring, are made by consensus, and that everyone on our staff is in charge of a department in the store. This "intrapreneurship" opportunity helps keep our employees engaged, and we would not be where we are today without their skills and talents. One of the reasons that I wrote the first edition of Specialty Shop Retailing 20 years ago was to share this idea.
SR: What are you most passionate about?
OTI: I have had the opportunity over the years to mentor both craftspeople wanting to get into selling wholesale, and budding entrepreneurs starting a retail store. I love sharing my knowledge of the gift industry, speaking at gifts shows, writing articles and a weekly blog for retailers (www.specialtyshopretailing.com), and through the four editions of my book. It's a real joy to think of helping shopkeepers around the world.
SR: What traits do you have that make you successful in this business?
OTI: I enjoy interacting with people, both in person and on social media, and I think it helps to have someone be the public face of the business. But I co-own Orange Tree Imports with my husband, Dean, and we each bring special skills to the store's operations. Dean is a very skilled buyer of kitchenware and food-related items, and I try to be on-trend in the gifts and seasonal merchandise that I buy. We are both good at delegating — which was not easy at first — and have a wonderful team of employees who share all aspects of running the store, including doing some of the buying.
Madison, Wisconsin Gift Shop: Orange Tree Imports
Facts at a Glace
Location: 1721 Monroe Street, Madison, WI 53711
Website: www.OrangeTreeImports.com
Phone: 608-255-8211