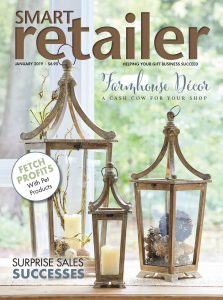 The digital magazine can be seen only by subscribers who are logged in.
Have a website login already? Log in and start reading now.
Never created a website login before? Find your Customer Number (it's on your mailing label) and look for First Time Registration top-right after clicking the link above.
Still have questions? Contact us here.
ON THE COVER:
With a look of salvaged wood, Melrose International's set of three large lanterns features a tapered design, glass side panels, and curved, open tops. Decoratively scalloped feet lend added charm.
Product Focus
New & Noteworthy:
14 A Color Explosion
From hand-painted glass ornaments to handmade artwork, jewelry, greeting cards, gift packaging, and upcycled products, you'll find eye candy for every customer.

Trend Watch:
18 Bet the Farm on Farmhouse Décor
Consumers love the nostalgia and neighborly values of farmhouse décor, so despite shifting trends, they remain a reliable cash cow.

30 Garden & Outdoor Inspirations
When the holidays are over, it will already be time to be thinking about spring and outdoor décor.
40 What's Cookin'?
Food is always a main attraction at any get-together. Offer your customers choice selections from these appetizing pages.

50 Fetch More Profits With Pet Merchandise
Chock full of gifts for pet lovers, this article will get you purring.

Business Sense
60 Gift for Life to Host 27th Annual "Party for Life" AIDS Fundraiser
Gift for Life will hold its annual "Party for Life" fundraiser at NY NOW. Proceeds will go to HIV/AIDS service and education programs around the country.

62 Surprise Sales Successes: Smart Retailer Readers Reveal Unexpected Sales Hits
In a recent Smart Retailer survey, readers shared some of their best-selling products. Consider this a surprise gift from your fellow readers. Merry Christmas!

64 Can a POS System Boost Your Business?
Learn the pros and cons of a Point-of-Sale (POS) system and whether your store would benefit from switching from a cash register to POS.

72 Specialty Shop Retailing: How You Can Succeed in Today's Market
Discover tips on employee best practices and surviving personnel problems in this excerpt from a top gift shop retailing book.

76 Play Retail Sales Games with Employees to Put Money in the Cash Register
Motivate your salespeople with fun, creative sales games that set a high bar without high stress.

Display & Design:
78 Signs of the Times
The first impression a customer will have of your business will be the exterior signage on your store. Learn best practices for putting your best foot forward.

84 Business Briefs:
Battling cyber threats; extras for employees: handle with care, but make sure you provide them; tiny ripples, big effects; take it from us: word of mouth works.

Retailer Spotlight:
88 Orange Tree Imports
Orange Tree Imports of Madison, Wisconsin, has been delighting customers for 42 years. Its carefully curated products, superb customer service, and "participative democracy" management style has made it so successful that it was nominated for a "Retailer of the Century" award.
In Every Issue
8 Editor's Note
12 Welcome Exchange:
Questions & Answers that Matter
92 Trade Show Calendar
98 Advertiser Index