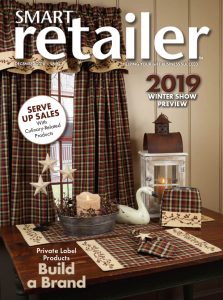 The digital magazine can be seen only by subscribers who are logged in.
Have a website login already? Log in and start reading now.
Never created a website login before? Find your Customer Number (it's on your mailing label) and look for First Time Registration top-right after clicking the link above.
Still have questions? Contact us here.
ON THE COVER:
The Country House Collection's new linen, Lancaster Berry, brings warmth to any home. The collection's timeless design features an embroidered berry vine motif.
Product Focus
New & Noteworthy:
10 Gifts Galore
Just in time for the holidays, this lineup is chock full of thoughtful gifts — from lotions and jewelry to décor and more — plus gift packaging to wrap presents in style.

Trend Watch:
12 Cook Up Fresh Sales
There's nothing like home cooking and gourmet goodies to bring family and friends together around the holiday table. These mealtime accessories will add spice to your special occasions.

16 Create a Legacy Brand With Private Labeling
What better way to advertise your business and create a long-lasting positive impression than by selling a brand that's uniquely yours or merchandise showcasing your store logo? Those products will be on display in someone's home or office year-round, reminding them to visit your shop again and again.

18 Treasured Travel Keepsakes
Whether your customers are frequent business globetrotters or just take an occasional vacation, they're sure to collect mementos and appreciate clever travel gadgets.

22 Take a Coffee Break
The humble coffee bean is an American favorite. Since it's so popular, you have a "latte" good reasons for stocking coffee-related products.
Business Sense
26 2019 Winter Show Preview
Here's a heads up on upcoming winter shows. Make plans to attend at least one so you can see new products firsthand and get inspiration and expert business advice to boot.

34 Surviving a Natural or Manmade Disaster
The Carolinas are still working to recover from Hurricane Florence. While you can't stop tragedies from occurring, you can be better prepared to recover from one, so you won't be forced to close your doors for good.

38 Business Briefs:
No tryouts needed; the upside of downtime; show me the money — or the debit card; a toolkit for advocacy; take time to train.

Display & Design:
40 Let's Go Shopping!
Next time you "shop till you drop," make it a fun trip to stock up on the display supplies you need for inspiration. When the muse strikes, you'll have a wide range of materials on hand to create a head-turning display.

Retailer Spotlight:
42 Pride and Country Village
Barb Schian started her business in her basement because she didn't have money to buy Christmas presents. Now, nearly 30 years later, Pride and Country is Michigan's largest country store. Each store in the village features a unique personality and product lineup to delight her loyal customers.
In Every Issue
6 Editor's Note
8 Welcome Exchange:
Questions & Answers that Matter
46 Trade Show Calendar
50 Advertiser Index