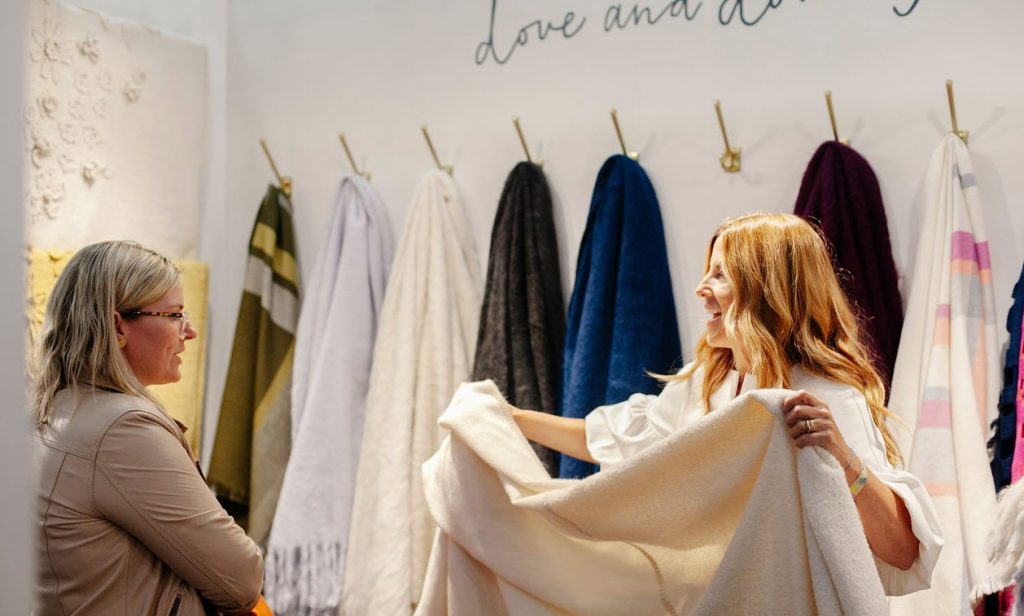 Shoppe Object
February 5-7, 2023
Pier 36 in New York, New York
shoppeobject.com
Follow on Instagram @shoppeobject
What should an attendee always do or visit at your show?
Arrive early each day for our free breakfast! A hearty way to start the day before shopping the show –– available for the first hour of each morning.
Get into the groove with Shoppe Object's custom playlist, curated anew each season and available on our Spotify channel.
Keep your smartphone or tablet handy to save favorite brands within your Shoppe Online account while walking the show, and draft or place orders using our hybrid technology.
Visit our popular country highlights, including Showcase Japan and Made In Ireland, among others new ones this season!
Explore the Nourish section –– a collection of artisanal beauty and wellness brands hand-selected by Vogue contributing editor Dr. Maria Geyman.
Discover Black-owned businesses, including 20 up-and-coming brands through Shoppe Object's Black Lives Matter Action Initiative (BLMAI).
Look out for breathtaking views of the Manhattan and Brooklyn Bridges from the waterside promenade just outside our home at Pier 36.
Stay warm and feel the hygge vibes as the sun goes down with a nice deep red mulled wine from the Shoppe Bar.
Save space on your dance card for our always epic seasonal party, held in memorable spots throughout the city on the Monday night of each show.
Make friends with some of the most innovative, exciting, design-driven brands and makers from around the world, at the leading show of its kind in America.
What are the most common questions you answer from first-time attendees?
We are often asked how to pronounce the name. Many people seem determined to put a spin on it –– "Shopēē Objét," for example. We are delighted to hear all interpretations and will happily answer to any of them, but I'm afraid it's just Shoppe as in shopping, and Object as in Objects of Desire!
Give your best travel advice, "things to do" from a regional standpoint for first-time attendees.
Take a walk over the Brooklyn Bridge, explore South Street Seaport for large scale art installations, and shop the boutiques and galleries of the Lower East Side.
For food, explore the sprawling new Jean-Georges culinary destination in the newly renovated Tin Building, grab traditional dim sum in Chinatown, or dig into the world's best pastrami sandwich at Katz's Delicatessen on Houston.
After the show, head over to Dimes Square for a drink at the lobby bar of Nine Orchard, see a movie at Metrograph, or catch a performance at Joe's Pub.
And if you're in the mood to head uptown, you can't beat dressing up for New York City Ballet at Lincoln Center. We're particularly excited about the Justin Peck, Sufjan Stevens collaboration, Everywhere We Go, which performs on Feb. 8 –– the night after the winter edition of Shoppe Object wraps.
For veteran attendees, what will they notice as being different and/or improved this year?
After last season's sold-out show, the BIG news will be our expansion; we're adding 30% more floor space by constructing an adjacent pavilion that will be directly connected to our home at Pier 36. It's a game-changer. It provides space for many of the brands that have been waiting patiently to join Shoppe Object, and it gives us the room we need to expand our curated country highlights, expand our focus on tabletop and gathering, and continue our journey as the premier market for Curated Home and Gift in New York City.
What do longtime attendees list as their favorite things about your show?
"Shoppe Object achieved the impossible: surpassing the last edition. Each and every show sets a new gold standard for trend, taste, and triumphant creativity. It's the one show I just cannot afford to miss!" Yon Hudson SITE Santa Fe, New Mexico
"This show keeps getting better and better every year. It's great going to a show that brings in new vendors and offers new experiences at each show. From the amazing playlist that is at a perfect volume in the background, to the fresh food choices for lunch, the clean maintained bathrooms and aisles. I always leave this show with display inspiration and so many cool new vendors for our store." Laci Combs MONGREL Richmond, Virginia
"Shoppe Object is the can't-miss show of the season. The Crate&Barrel design team attends every year to take in the trends and colors of the season, and scout for up-and-coming makers and illustrators. We are always looking for opportunities to collaborate and connect with the artisan community." Aja Aktay CRATE&BARREL Northbrook, Illinois "
"It's the best place to find the most interesting designers right now. It's very colorful and happy. I come for the whole three days. I have to say that, honestly, it's the best show." Christiane Celle CLIC California, New York, St. Barth
"If we had one tradeshow to attend, Shoppe Object would be it. We pass on attending other shows because we know we will find great and unique products for our stores and will have a lovely experience. The energy is good at SO." Mary Hennesy URBAN MATTER St. Louis, Missouri