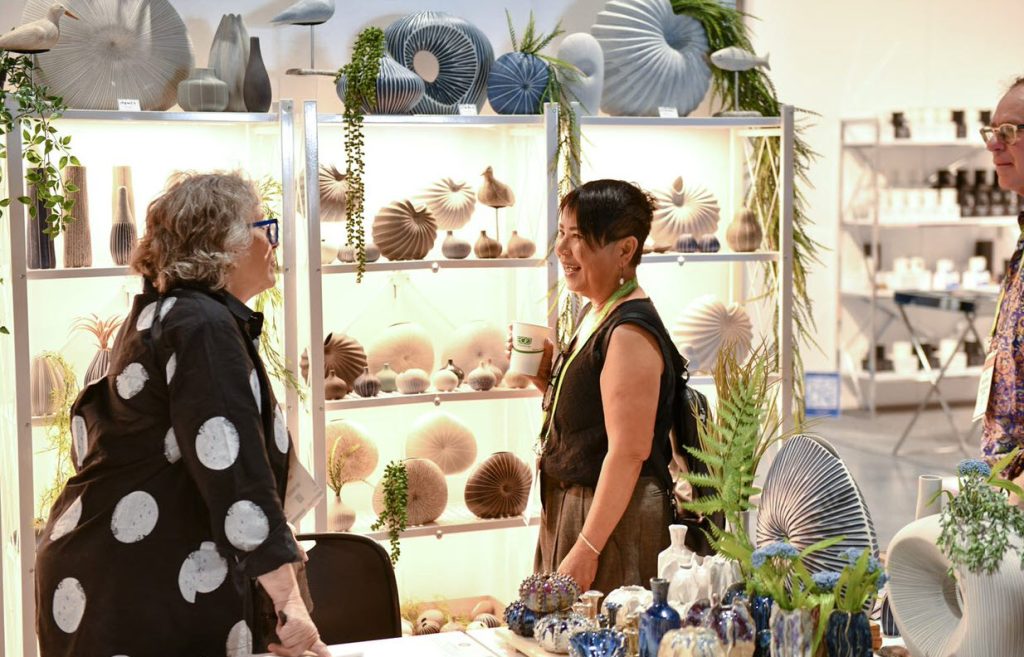 Las Vegas Market
January 29-February 2, 2023
World Market Center in Las Vegas, Nevada
www.LasVegasMarket.com
Follow at: @lasvegasmarket on Facebook and Twitter and on Instagram #LVMKT
What should an attendee always do or visit at your show?
Make your market manageable. Preregistering (www.lasvegasmarket.com/Market-Info/Registration-Details) for Las Vegas Market expedites the arrival process plus gives you access to book hotels at exclusive rates and opts you in to receive relevant market communications. Upload your business information to the Registration Resource Center and have it reviewed before you arrive in Las Vegas to avoid onsite delays.
Book the block. Reserving your hotel through Las Vegas Market comes with perks beyond guaranteed lowest rates. Each market, buyers who book through Travel Connections, Las Vegas Market's official housing partner (www.lasvegasmarket.com/Attend/Hotels), are entered to win prizes including dining credits, show tickets, and free nights for future visits to Market.
Connect with Juniper. IMC's new B2B wholesale digital marketplace is the must-have tool. Sign-up, source, and even reorder best-sellers — before you get to campus to make the most of the integration of IMC's physical and digital markets.
Map out your market. With more than 5 million square feet of exhibit space in four buildings; more than 4,300 furniture, home décor, and gift resources; and scores of events, seminars, and celebrations, it's important to make a plan before you get to World Market Center Las Vegas. Luckily, Las Vegas Market's tools include the comprehensive LasVegasMarket.com, the Preview guide and active social media channels. On campus, pick up the Market Resource guide for the full list of events and resource locations, the quick reference Pocket Guide, and EXPLORE – The Gift & Home Temporaries Magazine, a guide to the 600+ temporary exhibits in the Expo at World Market Center Las Vegas.
Shop the showrooms. Las Vegas Market presents 600+ branded and sales agency showrooms across 37 floors in Buildings A, B, and C. Building A features home décor, furniture, and bedding including the Las Vegas Design Center with designer-focused brands. Building B presents furniture, home décor, and bedding including the Home Furnishings temporary exhibits. Building C is a full lifestyle destination with seven floors of gift, seasonal, gourmet, and tabletop anchored by the C1 high-end collection; three floors of home décor and furniture; and three floors of furniture/ bedding resources. In winter 2023, Las Vegas Market showrooms are open Jan. 29 to Feb. 2.
Explore the Expo. Las Vegas Market's newest destination is the Gift and Home temporary exhibits in the new Expo at World Market Center Las Vegas. The expansive trade show floor features hundreds of brands in six categories: Gift, Home, Design, Handmade, Luxe, and Immediate Delivery. Las Vegas Market's temporary exhibits are a discovery destination with an engaging presentation of trend-driven, international, and emerging brands. In winter 2023, Las Vegas Market showrooms are open Jan. 29 to Feb. 1.
Source across categories. Las Vegas Market is the only U.S. buying event to offer access to the full spectrum of product from gift to furniture to home décor. This unique combination of products gives buyers the opportunity to explore new categories and revenue streams while they source in their primary categories. Don't leave Las Vegas Market without exploring new complementary brands and cross-market opportunities.
Find inspiration on social media. Las Vegas Market's active Instagram, Facebook, Twitter, and YouTube channels are a must-follow with trend and market information. Design and retail tastemakers share top market finds and sourcing tips through "Market Pro" Instagram takeovers. Also on the channels are top new product introductions showcased in the Market Snapshot program plus video testimonials from market attendees.
Participate in programming. Las Vegas Market offers scores of events, seminars, tours, and more over four days of market. Explore the market with a guided tour, attend business education, learn about trends through IMC's FIRSTLOOK trend presentation, and get inspiration from design and retail tastemakers. Attend happy hours and parties in the beautiful World Market Center Courtyard and plan to stop by exhibitor parties, all with a classic Las Vegas vibe.
Don't overschedule. While having a plan helps you make the most of Market, don't commit all your time. Plan to spend time sometime exploring both on campus and in greater Las Vegas. Take in a show, visit a casino, or explore the beauty of the west, all near Las Vegas Market.
What are the most common questions you answer from first-time attendees?
What are all the products you have at Market and where can I find them?
Las Vegas Market is home to gift, décor, and furniture, presented in four buildings — three multi-story permanent showroom buildings and a tradeshow venue. The Preview guide, Market Resource guide, Pocket Guide, and EXPLORE – The Gift & Home Temporaries Magazine are fantastic tools to use to locate vendors onsite.
Do you have on campus events?
We have many events as well as seminars, product displays, photo walls, and amenities.
Las Vegas Market offers food vendors, coffee stations, and market-themed snacks and beverages in all four buildings and in the Courtyard. Food trucks in the Courtyard are a key destination at Market with a variety of food options. Visit LasVegasMarket.com to find locations and keep an eye out for signage directing you to food and amenities.
Give your best travel advice, "things to do" from a regional standpoint for first-time attendees.
A city that offers something for every age, interest, and budget, Las Vegas is a world-class destination with a selection of entertainment and dining options second to none. With a Sunday-to-Thursday schedule, Las Vegas Market is the ultimate work-with-benefits locale, offering one-of-a-kind bucket list dining experiences, entertaining shows, and signature experiences that make it easy to have fun! Visit www.lasvegasmarket.com/Explore/Things-to-Do for a guide for things to do in Las Vegas including restaurant recommendations and more.
Exciting Experiences
Cirque du Soleil is back! Intermission of Cirque du Soleil is over! Four performances will be open, including "O" at Bellagio Hotel & Casino, Mystère at Treasure Island, Michael Jackson ONE at Mandalay Bay Resort and Casino, and The Beatles LOVE at The Mirage Hotel and Casino.
Titanic Artifact Exhibition: Featuring more than 250 authentic artifacts, as well as breathtaking replicas from the famous ship, the Titanic exhibit truly brings history to life. Located inside the Luxor.
Meow Wolf Omega Mart: Meow Wolf's second permanent installation, Omega Mart, is an interactive, mind-bending art experience. Participants explore an extraordinary supermarket that bursts into surreal worlds and unexpected landscapes.
Outdoor Activities
ATV Hidden Valley Fun Run: Experience some of the best views of the Mojave Desert! This two-hour ATV ride explores the scenic outdoors of Nevada.
Hike in the Valley of Fire State Park: If you're a lover of the great outdoors, do not miss hiking the Valley of Fire State Park, a truly remarkable destination just under an hour from World Market Center.
Tee Up: Golfing A relaxing outdoor activity that makes social distancing easy is only minutes away from the World Market Center — golfing! Please check with individual golf courses for hours and availability.
Red Rock Scenic Drive: Enjoy breathtaking Red Rock Canyon from the comfort of your car! Red Rock Canyon is open for a 13-mile scenic drive and a few other options, including Red Rock Overlook.
For veteran attendees, what will they notice as being different and/or improved this year?
Las Vegas Market is quickly recovering to pre-pandemic resource levels — new and expanded showrooms are set to open and the temporary exhibits continue to grow in their new home in the Expo.
Launching in Winter 2023 is a new design-driven gift and lifestyle collection on Floor C11 anchored by a new 30,000-square-foot showroom for celebrated Los Angeles-based sales agency Stephen Young. Young plans to show some 60 brands in the new showroom including many that are new to Las Vegas Market. Additionally, innovative gift and holiday brands GlitterVille and One Hundred 80 Degrees, which are represented by Young, will have a significant presence on the floor in their first-ever Las Vegas Market showroom.
What makes you excited about 2023's version of the show?
Las Vegas Market is the ultimate Winter Market destination where new product introductions are as exciting as the opportunity to escape to sunny Las Vegas. We look forward to continuing to welcome buyers and sellers back to Market.
For gift buyers looking to explore other categories, Las Vegas Market is running concurrently with the International Builders Show, Kitchen & Bath Industry Show, National Hardware Show, and The International Surface Event — all happening in Las Vegas during Las Vegas. Registering for Las Vegas Market will qualify buyers to attend the trade show portions of the four shows. Additionally, Las Vegas Market will offer shuttle service to the other convention centers.
Also in winter 2023, Las Vegas Market continues its partnership with The Greeting Card Association (GCA) to present the *Noted @ Atlanta Market pavilion.