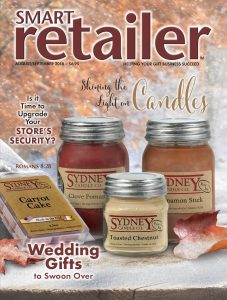 The digital magazine can be seen only by subscribers who are logged in.
Have a website login already? Log in and start reading now.
Never created a website login before? Find your Customer Number (it's on your mailing label) and look for First Time Registration top-right after clicking the link above.
Still have questions? Contact us here.
ON THE COVER:
Surround yourself in the rich, warm scents of the season with Sydney Candle Co.'s fall and winter candles.
Product Focus
New & Noteworthy:
12 Right at Home with Baby, Kids, Kitchen, and Décor
Great products to keep both kids and parents happy.

Trend Watch:
16 Chic Candles With Fresh Fragrances
Shoppers will light up with delight at this exquisite selection of candles.

22 Home Sweet Home Wall Décor
Eye-pleasing wall decorations sure to brighten and transform a single room — or a whole house.

28 To Love and Cherish for a Lifetime
Find a wide array of wedding gifts for the special couple.

34 Las Vegas Market's FIRST LOOK Showcases Trends
Get a sneak peek at trending merchandise that will be featured at the Las Vegas Market summer show July 29–August 2.

38 NY NOW® Takes NYC by Storm
Get set for an even better NY NOW show August 12–15, where you'll see top products in its HOME, LIFESTYLE, and HOMEMADE Collections.
Business Sense
36 Improve Your Store's Security
Shoplifting and employee theft has reached epidemic levels, so it may be time to get a security upgrade. Discover the shocking retail-loss statistics, the features available in current security systems, and the best practices to avoid losses.

Display & Design:
40 Do You Need a Visual Merchandiser?
First impressions really do count. A trained visual merchandiser may be just what you need to give your store a more dynamic and inviting professional presentation.

44 Business Briefs
Current wedding trends; the best way to reach Millennial women with wedding-related products; UrbanMain goes to bat for retailers in older, historic, and less affluent urban areas; top podcasts for retailers.
In Every Issue
6 Editor's Note
10 Welcome Exchange:
Questions & Answers that Matter
46 Trade Show Calendar
50 Advertiser Index