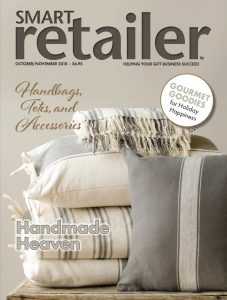 The digital magazine can be seen only by subscribers who are logged in.
Have a website login already? Log in and start reading now.
Never created a website login before? Find your Customer Number (it's on your mailing label) and look for First Time Registration top-right after clicking the link above.
Still have questions? Contact us here.
ON THE COVER:
Grain sack striped pillows and bedding from Home Collections by Raghu.
Product Focus
New & Noteworthy:
12 Cozy Comforts
From an unbelievably comfy sweatshirt to hand-painted ornaments, heartwarming crosses, baby swaddles, and heart pillows and pins, these gorgeous gifts will give you the warm fuzzies.

Trend Watch:
16 Functional Fashion
Bag new customers with these fabulous handbags, totes, and accessories.

20 Bon Appetit
Guests look forward to delicious goodies at holiday party tables. These gourmet treats are sure to delight.

24 Simply Stylish Floor and Fabrics
Rugs, window treatments, and more for the well-dressed room.

28 Holiday Homestretch
Help harried shoppers by offering a handy selection of Christmas gifts for everyone.

32 Set Your Heart on Valentine's Day Sales
It's easy to put thoughts of this fun February day on the back burner while you're dealing with the holiday hustle. All the more reason to think about this special day now, before the craziness begins.

34 American Made Collective Vendor Highlight
Sabbath-Day Woods and 1818 Farms offer top-shelf handcrafted products to wow your customers.
Business Sense
36 Industry News:
New cash and carry warehouses have popped up in the Midwest. Packed with vendors and open Monday to Friday 9–5 for your convenience, these shopping destinations will allow you to inspect products in person as well as avoid minimum orders and hefty freight charges.

38 Business Briefs:
Get ready for Small Business Saturday; shrink is shrinking; brush up on your social skills for free; Chicago experiments with pop-up shops in refurbished shipping containers.

42 Convert "Showrooming" Into Sales
Nothing's more frustrating than shoppers using your shop to research prices, but then purchasing online. Discover the secrets to turning showroomers into in-store buyers.

Display & Design:
46 V is for Vignette
Learn how to create compelling product groupings to add visual excitement to your store.

Retailer Spotlight:
48 The Nautical Dog
At just 20 years old, Amanda Wilbourne began building a doggone amazing pet store business from scratch — no bones about it. Find out how her shop became top dog in Williamsburg, Virginia.
In Every Issue
6 Editor's Note
8 Welcome Exchange:
Questions & Answers that Matter
45 Trade Show Calendar
50 Advertiser Index