The Nautical Dog's business strategy is quite simple. It all comes down to two things, said store owner Amanda Wilbourne. First is ensuring that the shopping experience makes pet owners happy. Second is making sure the store offers merchandise that contributes to pet health.
An Emphasis on Healthy Nutrition
Wilbourne described how a healthy diet can improve the health, wellness, and longevity of pets: "You are what you eat. If you eat fast food every day, you can survive, but you won't thrive. Pet owners have a duty to feed their pets the best they can. They rely on us to not feed them "junk" dog food that's full of chemicals, dyes, byproducts, and things that you couldn't even imagine. Sometimes consumers believe they're buying a healthy product, but in many cases, they're not. Many diseases and ailments can be prevented by feeding pets a healthy diet. It's very sad when pets are dying of cancer, kidney disease, and other diseases at very young ages."

Wilbourne's aim is to provide pets only healthy, natural food. "I'm very picky about what we sell, including not selling any treats or food made in China," she commented. She finetunes her knowledge of her customer's needs by interacting with them. "We talk to every single customer and try to find out about their individual pet's needs. Instead of pushing a certain product, we look for the ones that fit their pet. We hold events to discuss nutrition and are constantly giving out samples, brochures, and information to help," she said.

In addition to the healthy pet nutrition products, the store also offers a wide variety of merchandise for pets, as well as for their owners. Customers will find food, treats, a dog bakery, collars, leads, gifts for the pet lover, and more. Wlbourne is the proud parent of two dogs and five cats. She describes herself as an "extreme pet lover," so she knows exactly what pets need to stay healthy and sells only items that she would personally give her own pets.

From the outside, The Nautical Dog may look like thousands of other pet stores across the country, but once inside, it becomes clear that Wilbourne has set her business apart by consistently delivering best-in-class service to customers. In fact, it was for this high level of service that Coastal Virginia Magazine awarded it gold for Best Pet Store in the Peninsula in 2014.
The Launch of the Nautical Dog
The store, which opened in 2006, was located near the river, so it was named The Nautical Dog. Wilbourne was just 20 years old at the time, graduating from high school just a year before. In 2008, she moved the store from Mattaponi, Virginia, to Williamsburg, Virginia, where it is currently located.

The store has continued to grow in Williamsburg and has expanded its line of pet items to include the best of the best in pet nutrition. The turning point in business, however, occurred five years ago when Wilbourne decided to focus more on food, so she brought in more lines. "The pet food is what brings our customers in, as it's something they cannot go without and usually they pick up treats, toys, chews, and accessories along the way. This was the smartest business decision I ever made," she said.

Wilbourne has always loved retail and has been associated with it since she was a teen. "I got my first retail job at 16 and I loved it. Later, I moved to a different company at 18 while I was in high school and started to help manage the store. It was a high-end woman's clothing store. I originally started working there just so I could have a job through high school, but I really enjoyed it."

Still, the thought of opening her own store never crossed her mind until she got her first dog. "And then it all began. I got my dog Roxy, a Pembroke Corgi, and she forever changed my life. Before I even got her, I started shopping for her everywhere. I wanted the cutest clothing, accessories, collars. You name it, I had to have it. Every time I went out of town, I would look for dog boutiques to go shopping. One day I was in a dog boutique and it hit me that I could do this." And she set out to do just that.
Unmatched Customer Service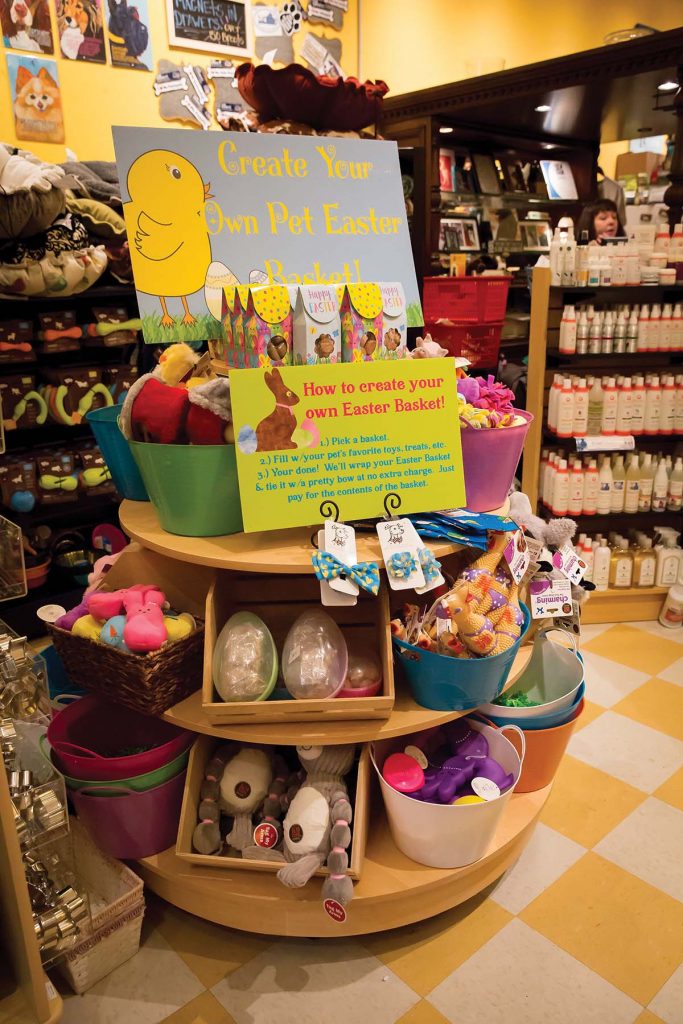 Providing a high level of customer service may be the lynchpin of Wilbourne's success, but to maintain success, great attention must be paid to the latest trends in the market and, of course, the competition. When it comes to competition, she considers online retailers a major threat because their low cost of doing business allows them to sell products at discounted prices. "Our biggest challenge is online retail. In the days of free shipping, it can be very convenient to have your dog food shipped directly to your doorstep. We continue to combat that daily with our knowledge and customer service," she explained.

The Internet isn't just competition, however. It's one of the most powerful tools when it comes to advertising the store and reaching the customers. Wilbourne effectively uses the store's website and Facebook page to keep customers updated with the latest products, events, and promotions. The blog on the store's website is another useful asset for the pet owners for learning important information about the health and nutrition of their pets.
Community Support and Outreach
Wilbourne's love for animals, which dictates nearly every aspect of her business, is perhaps most visible in her wide variety of community outreach programs. Through a range of fundraisers and adoption events, she demonstrates a firm commitment to supporting animals throughout the community. She's an avid supporter of local animal charities in Williamsburg and regularly works with shelters to find loving homes for unwanted pets.

"I'm very involved in the rescue world. I personally rescue senior animals that usually come from dire situations. We hold many events and fundraisers in the store to benefit animals in need." The proceeds of all events go to the local shelter and rescue organizations.

Of Wilbourne's seven pets, the store cat and four other animals are from the shelter. "I have a shop cat, Schwartzy, who is 16 and we adopted him at the age of 12," she said. He is our ambassador for adopting senior animals and is a customer favorite."
A Bright Future
Wilbourne is preparing to move to a larger space next to her current location where she's looking forward to offering even more quality foods, treats, toy, and accessories for pets. With her creative and community-focused approach to pet retail, The Nautical Dog has become Williamsburg, Virginia's, favorite store for people and their pets.
Location: 5104 Main St., Williamsburg, VA 23188
Phone: 757-220-2001
Website: www.nauticaldogwilliamsburg.com