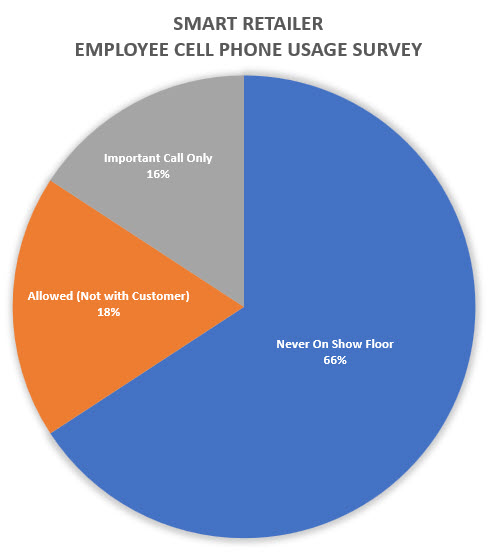 Summary of Responses
The responses to this question fell into three categories:
• No cellphone use at all (except during breaks and lunch). 66%
• Cellphones can be used when not with a customer. 18%
• Cellphones can be used for important calls only (conditional based on the situation that day). 16%
All storeowners seemed to agree that cellphone use is distracting and hurts customer service. Virtually all had relatively strict rules about cellphone use, ranging from requiring employees to leave their phones in their car or in a locker to allowing phones but in limited situations for important calls and out of customer earshot. Some storeowners asked that their employees receive urgent calls only through their store phone. None mentioned the employees using their phones as a sales tool to help customers. One mentioned that sometimes employees claim to do this with their phones, but that the claim often turned out to be false.
"No cellphones on the shop floor! Store phone number should be given for emergencies. In our store, the no cellphone rule also applies to visitors (friends of owner or employees), who may be mistaken for employees. For instance, they may be hanging out behind the cash register and on their phone. That one is harder to enforce but necessary for us!"
Samantha Moore
Simple to Sublime
Summerville, SC
"All phones should be locked in lockers during all work shifts. Landline is available at workplace for emergencies. Makes for a better working atmosphere and employee isn't distracted."
Tessa Wilson
Alice's Cottage
Hagerstown, MD
"I don't mind them using them while on the job. Ringers off and never in front of customers, mainly to receive calls."
Carol Keith
Equi-Mart
Goldsby, OK
"When you clock on for the day, the time is not yours. It belongs to the person or company that hands you the paycheck. Only in a rare case of extreme emergency should an employee have a personal call on a cellphone. This should be made quite clear right from the beginning of the employee's hiring. Zero tolerance or zero job."
Nancy Iams
Holly Hut
Eatonville, WA
"I don't allow cellphones on the main floor. Employees can use them during their break or meal time. it's not appropriate for customers to see employees distracted by their cellphones."
Marie Galate
A Cut Above
Hopatcong, NJ
"Cellphones should only be used on personal time. Should there be an emergency, employees can be contacted on the business' landline. I've had employees' kids call to ask where their peanut butter was, to tattle on their siblings, etc. Employees didn't think it was an issue since calls were brief. For me this is unacceptable."
Maryrose Clow
Whatnot
Park Rapids, MN
"Employees must leave their cellphone in their locker or car while on the clock. They are able to use them on their lunch only. Family members may call the store if needed for anything urgent."
Leanne Mack
Mt. Lemmon General Store & Gift Shop
Mt. Lemmon, AZ
"Minimal…. family emergencies or kids checking in with mom are all right. Otherwise, there are plenty of things to do to keep busy, and we aren't paying our employees to be on their phones."
Marlene LaRose
Simpler Thymes of Nisswa
Nisswa, MN
"Employees can use them before work, at break and/or lunch, and when they leave work. In case of an emergency, the work number can be called."
Pat Hutchinson
The Twelve Months of Christmas
Bedford, IN
"Keep in purse, use only during a break or lunch. Exception would be to have available ONLY if expecting a call regarding a health issue."
Nancy Keenholts
The Country Trunk
East Greenbush, NY
"When being hired, new employees are told they are not to be on their cellphones while working. If there is some reason they need to be, they are to clear it with me. Exceptions are always ill family, doctors, etc."
Cheryl Barczak
The Gift Box & Boutique
Hales Corners, WI
"Definitely no cellphone use while working with customer or customers in store. Only use of cellphone is if clerk is talking with customer who contacted them directly on their cellphone — and only when they are not on the floor with customers. In store, customers come first."
Karen Rose
Prairie Rose Emporium
El Campo, TX
"I appreciate the need for cellphones, especially with children or sick family members I ask that they step outside or to the back room of the store if they NEED to place or receive a call. I ask that they leave their phones under the counter by their purses while at work."
Sue Graham
Oakhurst Giftworks
Oakhurst, CA
"No cellphones during work hours. They can check their phones during breaks."
Liz Krogh
Liz's Salon
Faribault, MN
"No cellphones allowed. They may be used when on break. Customers are often ignored while employees are checking Facebook or chatting with friends. Break time is an appropriate time for use. Some say they use them to look up stuff pertaining to work, but that is often untrue."
Julie Shimek
Vintage Iron Co
Cedar Falls, IA
"Our staff who are customer-facing on the sales floor aren't allowed phones on them, but can have them at front counter, since the office is offsite. We text them regularly. We also produce products for our store at an offsite location. Employees have their phones on them for listening to music/ podcasts. Because of our family atmosphere, we rarely have to address overuse of phone."
Jason Gerber
Blue Pomegranate Gallery
Omaha, NE
Help with this week's question
"Leave in car. If there's an emergency, have family call the shop. I had my watch repaired last month and the shop owner told me the young people entering the workforce are buying watches now because they are not allowed to use their phones or even 'have them in sight' while on the job."
Robin Brisson
Appleberry Fabrics
Westminster, MA
"Employees keep their phones with their jackets and other gear. They can check messages on break. Any emergency call can be phoned into the business landline for immediate response. Employees using phones around customers are considered rude and not available by customers."
Georgeanne Richards
Sea Meadow Gifts
Essex, MA
"Our company provides lockers for our frontline retail employees, and they are asked to keep them locked up except during break periods. It provides a safe place for their phones and other personal items."
Shawn Painter
Luray Caverns
Luray, VA
"I think they should not have it on the sales floor. I ask my employees to let their family know to call the store if it is necessary to reach them. It is hard to enforce, especially if they have the Apple Watch."
Katherine LaLonde
Little House
Bay City, MI
"No cellphone use while on the clock. Keep it in your lunchbox or locker."
Lisa Johnson
Shawnee Springs Market
Cross Junction, VA
"Need to keep them in their purse in the breakroom. Unless there is an emergency situation, they have no business being on the floor with one. I find it extremely irritating when I'm in a store with the clerk having a cellphone. Granted it may be an emergency and/or work-related, but I have no way of knowing that and find it rude of them."
Pam Gentz
Cards 'n Such
Topeka, KS
"I let them use their phones. If they abuse the privilege, we'd talk about it. I have a boutique and only about five part-time employees. Only one employee works at a time."
Lauren Woods
Cracker Jax
Dekalb, IL
"Allowed during break times and lunch, not 'on the clock.'"
Rhonda Christensen
Alamo Craft Company
San Antonio, TX
"Not on the sales floor. Unless they are working on social media for me, the phones must be in the back room. If I could only get the customers off theirs when we are trying to help them!"
Susan Agiewich
Texas Gift Outlet
Round Rock, TX
"They should not have them on the floor during business hours. However, that being said, there are reasons they do need them. Many schools now require that a parent can be reached at any time. Family members with medical conditions may also need to be reached at any time. So it almost has to be decided on a case-by-case basis. It has to be stressed that personal phone calls are only for emergency situations if the person keeps their phone with them while working."
Tricia Supinski
18th Century Merchant
Chesapeake, VA
"Absolutely NO personal phone calls except emergency ones during working hours. Enforce employees leaving desk or work area for breaks so they can make calls then."
DJ Phillips
DotJDesigns.com
Texarkana, TX
"We discourage our employees from using cellphones while on the sales floor, but to use their lunch break time to make calls or answer emails or texts. We have made exceptions when they have family concerns, such as elderly parents in a health crisis or children/grandchildren having personal issues that may need immediate responses."
Anita Stulen
Mill Pond Mercantile
New London, MN
"I prefer that employees do not use their cellphones while on the clock. I think that it isn't professional. When employees are using their mobile devices in a store I walk into, I am tempted to walk out again without purchasing anything. There is always something that needs to be done during slow periods in a shop."
Elizabeth Betteil
The Brooklyn Women's Exchange
Brooklyn, NY