Spreading Inspiration Through Retail
Jen Harkness believes the exchange of gifts is the language of love, so she's always gone to great lengths to give meaningful gifts that match the recipients' personality and that stand out from others. Now she's putting the same effort and expertise into running her gift shop, The Market on Washington in Clarkesville, Georgia. With a solid resolution to stand out in the crowd, the store specializes in unique goods filled with tradition, charm, and a hint of whimsy.
Key Product Lines and Merchandise
When asked about some of her favorite product lines, Jen said, "We have a beauty bar featuring organic, all-natural lines such as RMS Beauty, Little Seed Farm, French Girl Organics, and Farmhouse Fresh. Similarly, our jewelry bar hosts brands such as Kendra Scott, Gorjana, Olivia Burton, Lenny and Eva, and The Horse. We carry art prints by my favorite artist, Janet Hill, a Canadian artist whose prints are whimsical and beautiful and somehow still traditional."
Jen regularly attends AmericasMart in Atlanta, but also said, "I keep a running list of products to carry in the shop (beauty, gifts, jewelry, and children, mainly). She added, "I research and research until I find companies I like and that meet my standards of tradition, charm, and a hint of whimsy."
She recently expanded the shop's children and baby section, which she affectionately calls 'The Little Market" (a derivative of her store's name). The expansion has been a great success. The section offers children's books and baby gifts. "It is all selectively curated and full of so much charm!," she commented. "The kids have loved it. We also introduced storytime for kids of all ages and it's been such a success, so I'm looking forward to seeing how that grows in the future."
Inspiration on Display
Jen loves what she does — or more accurately — does what she loves. For her, the best part of running a store is having a platform to inspire others. It's the best reward she can get from her business, she said. "I love seeing our customers standing under one of our displays and talking amongst themselves, at first wondering what it is, then hearing their collective sigh of, 'oh! It's just paper!' and then turning to me and asking for more detail," she said. Jen tries to use simple everyday materials to create something unique. The way she does it gives people a new perspective. The best compliment she gets is when someone leaves the store saying, 'I feel so inspired when I leave here.'
Community Support
Jen credits the local community for being an instrumental part of making the shop successful in the two short years since its opening. They give back to her way more than she could have imagined. The love and support the people show is phenomenal. Getting such a great deal of success in such a short time is something really spectacular. She explained that it wouldn't have been possible without the help of the mentors she had, and she has incredible respect for all those who helped her get where she is now.
She recognizes Crichton Bentley, owner of The Nest, as her biggest mentor in business. Jen worked for her store for about a year before opening her own shop in the space that The Nest had occupied. Jen acknowledges that the experience she got working at The Nest and all the assistance from Bentley as a mentor and a friend are among the major factors that contributed to her success in retail. Bentley remained by Jen's side through all the phases of her business right from the inception, and it was Bentley who gave plenty of contacts of suppliers to make sourcing easy for her.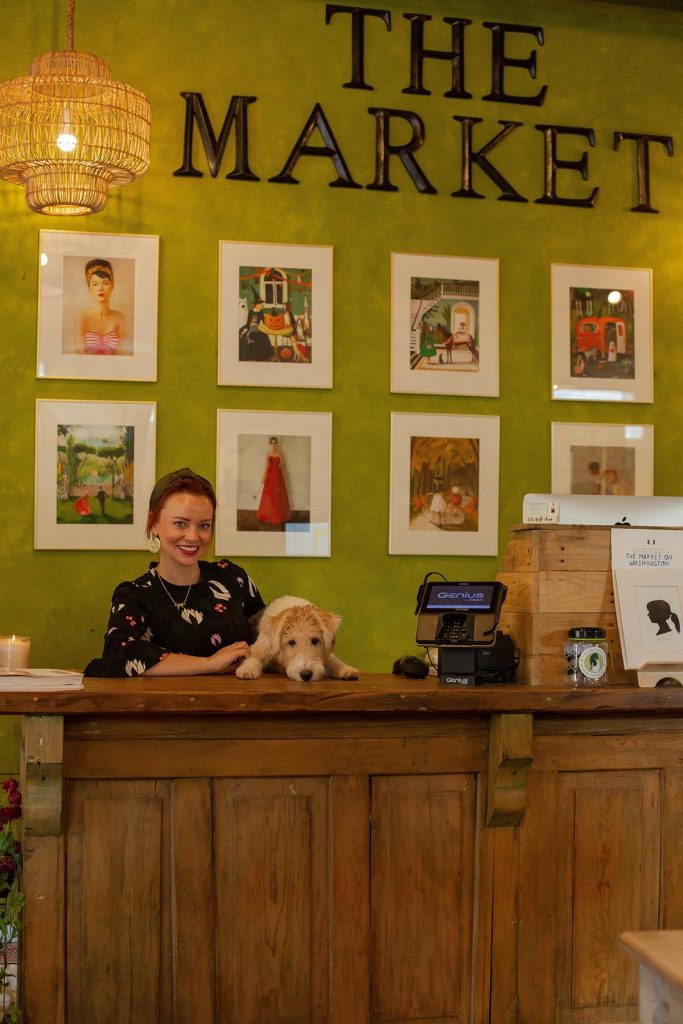 A Winning Team
Passion and mentors alone aren't enough to create a profitable business, however. Jen was fortunate to get a great group of employees in place, which played a big part in the store's success. "I seriously have the best team," Jen said. "It's so important to surround yourself with people who understand you and your vision." Jen said that every one of her team loves her, her store, and the idea behind the business. And Jen returns their affection and loyalty.
Jen's employees are comprised primarily of the staff Bentley had when Jen worked for her. "When we transitioned from The Nest, I kind of inherited the Bentley's team and I thank my lucky stars every day," she said. Everyone in Jen's team is a star. For instance, Terri, who Jen says is the best person she's ever met, puts in way more effort in her work than she's supposed to. When the workload is high, Terri happily stays for hours after midnight and even shows up on her free days to lend a helping hand in case Jen needs it.
Haleigh, also from Bentley's team, is a calming influence. Jen's sister, Jess, loves to work at the store as much as she can. She's a creative thinker and gives Jen great advice. She also said her parents are always there to help her as much as possible. And then there is Jen's husband, Adam, the backbone of the store. A defense attorney by day, Adam tirelessly works to bring Jen's "crazy ideas" to life. "He makes countless trips to the hardware store and spends hours in the garage building whatever I dream up." Besides the work he does for the store, he encourages Jen every single day. This motivation is what keeps Jen going at times.
Sources of Inspiration
Jen's admirable team and supportive family aren't the only factors behind her success. The inspiration behind her business is also what sets Jen's store apart. Jen believes inspiration is everywhere. You just need a keen eye to detect it. She says even simple things like traveling, taking a walk, and reading a book can inspire her. She has a lot of inspirational information stored on her phone, including color palettes, textures, and material. She even notes down how she feels at some places and strives to translate that feeling into something tangible, something that can recreate the feeling for her customers. According to Jen, inspiration happens when you put enough effort into an idea to make it unique — to make it your own.
When asked about her longer-term goals, she said, "One day, I would love to have a team solely dedicated to displays. Also, I love to illustrate and paint, so I would love to have exclusive products featuring my illustrations. That's a big goal of mine in the next few years."
"I feel like success looks different to each person," she said. "My idea of success isn't having five stores in five years or being the most talked-about shop in town." Instead, she wants her business to be a positive reflection of herself. Nothing less, nothing more. She wants to have a place she can go to and be happy. "My biggest goal is to never lose the feeling I get when I unlock the doors in the morning."
Facts at a Glance
Business Name: The Market on Washington
Location: 1358 Washington St
Clarkesville, GA 30523
Website: themarketonwashington.com
Email: themarketonwashington@gmail.com
Phone: 706-760-5003