Unique, Locally Sourced Items With a Personal Touch
by Angie Landsverk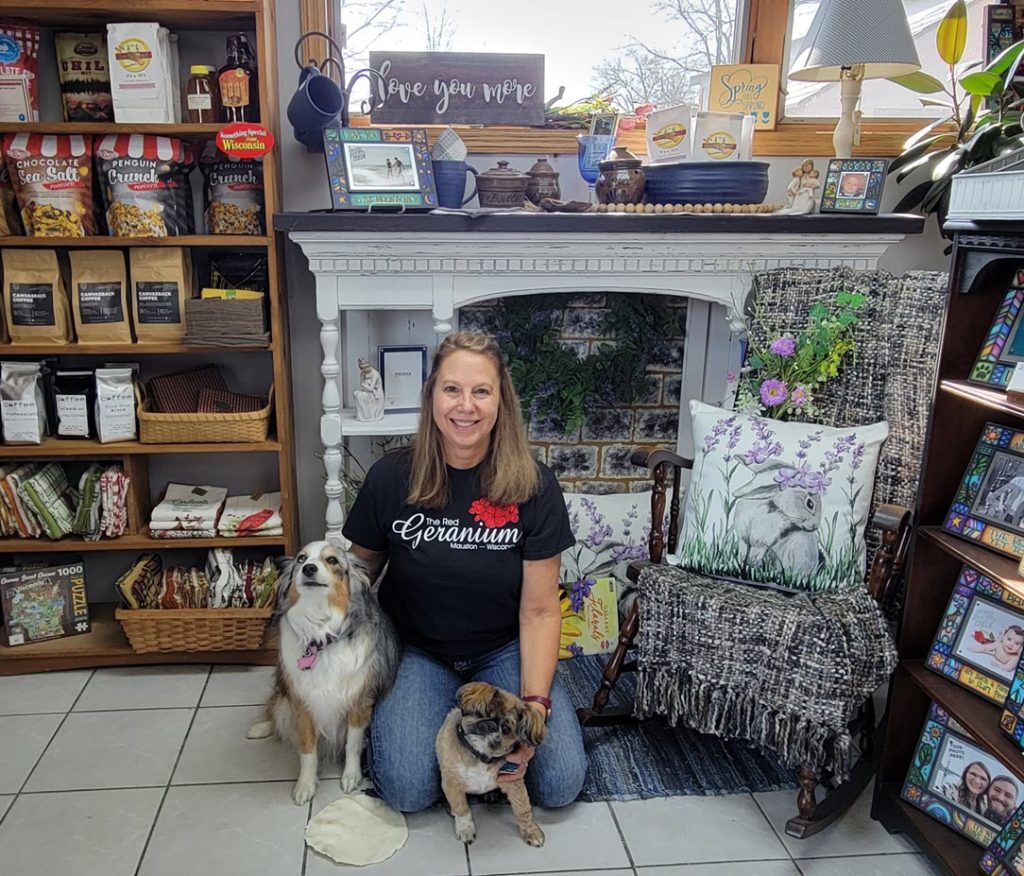 In an Upper Midwest com­munity, Beth Pusel has been choosing just the right mix of merchandise for her customers for almost 30 years.
"I try to carry as many Wisconsin-made products or companies as I can find," she said. "Customers seem to really appre­ciate the niche I've created with supporting our home state."
Beth is the owner of The Red Geranium Framing & Gifts, in Mauston, Wisconsin. The rural community of about 4,300 people is approximately 20 miles from the Wisconsin Dells — one of the state's major tourist destinations.
"Many of the smaller retail shops have struggled to stay in business," she said. "I am located just on the edge of the downtown district. We attract a lot of seasonal tourists to our local lake area."
Beth grew up in Mauston and opened the shop with a business partner back in October 1994. "I bought my partner out after 10 years together and have been solo for the past 18 years," she said.
While Beth runs the business by herself, she is not alone when there. Her two dogs — Rylie and Fred — go to work with her.
The Red Geranium is in its third location and has been there for four years. Beth leases the space.
When Beth and her business partner chose The Red Geranium for the shop's name, they thought it was a unique one. "We found out after opening that it really wasn't," she said. Other businesses in Wisconsin and other Midwestern states share that same name.
She uses a variety of marketing strategies and said Facebook and Instagram are the best places to market her shop. "I am very consistent on posting, so customers can continually see what's new and going on. It keeps my name and products constantly in their view — even when they haven't come in," Beth said. "I have done custom picture framing in the area for 38 years, so word of mouth has been very successful at bringing new customers in."
Customer Care, Community Support
Beth cares about her customers. "I offer local pickup and deliv­ery if needed. I will also open up the store on evenings or weekends if my hours aren't convenient for a customer to come in during regular business hours," she said.
Prior to the pandemic, she offered paint parties at The Red Geranium. Once business resumed, Beth decided to not start them again due to such events popping up at so many other businesses.
The Red Geranium has an online store. She said customers can order online and pick up locally, or she will ship items anywhere in the U.S.
Beth connects with her community by participating with other local businesses in special, city-wide events like Small Business Saturday, Holiday Night Markets, and Parking Lot Sales. "I am also a pickup location for a local farm CSA share, so it brings customers in weekly throughout the year," she said.
When it comes to customer service, Beth said, "My golden rule is to treat customers the way that I would like to be treated. I am a problem solver and people pleaser at heart, so customer service doesn't seem to take a second thought for me. I like to greet cus­tomers by name and ask about their families or previous purchases. I am able to bring my two dogs with me to work so customers have an extra special greeting when they enter."
Her typical customers are 30- to 65-year-old women and men. They love Beth, her two dogs, and the selection of merchandise in the gift shop.
Customers describe The Red Geranium as beautiful, inviting, warm, and friendly. "We feel welcomed and as the most important people in the world when we set foot in The Red Geranium. Fred and Rylie assist Beth in welcoming old friends and new! We so appreciate Beth and her small-town spirit!" said one customer.
They say Beth has a great sense of design, is talented as a framer, and goes out of her way to help people find a gift. Her customers like the unique items made by Wisconsin artisans that are in the shop, and they say the business is a staple in the community.
"Plus, it's a wonderful place for dog treats and The Red Geranium's dogs are there to pet and vouch for the quality of treats," said another customer.
Beth appreciates the community support. And what does she like best about what she does? "I love my customers!" she said. "I love that each day has a new way for me to be creative and do what I love to do!"
After 28 years in business, she continues to learn. "Times and trends change and so must I," Beth said.
Her advice to those who have recently opened a store is, "Find your niche and be the best at it. Offer a service that sets you apart from your competitors. Give yourself grace while you are learning how to be your own boss and run a business. And absolutely never stop having fun!"