At Orange Tree Imports in Madison, Wisconsin, shopowner Carol Schroeder holds an annual Matryoshka Contest, in which customers enter to win prizes by decorating a set of authentic Russian nesting dolls. You might say that Schroeder's shop is somewhat like these classic wooden dolls.
When customers walk in, they immediately notice the large displays, but as they walk around, they notice that every nook and cranny holds a small gift, accessory or kitchenware piece that catches the eye. Similar to the nesting dolls, the shop is vivid in color, design and detail. And ultimately, just like the Matryoshka sets, Orange Tree Imports has continually grown into something bigger while keeping the original spirit of the store. Schroeder has expanded and improved the business while moving ahead in her path to becoming a successful proprietor, community leader, author and respected advocate for vendors and artisans.
From a Tiny Seed
The first step in that path began 38 years ago, when Schroeder opened Orange Tree Imports in a short building with a unique leaded-glass bay window. The name of her shop didn't stem from a fresh orange tree, although that has become the store's icon. "It's based on my nickname, which is 'Orange' for my hair color," recalls Schroeder. After the first year, her husband, Dean, joined the business. Since then, they've expanded the store twice, building an addition in 1980, and then in 1986, expanding into the space next door, a taller building that was a town hall a century ago. Today, the store encompasses 2,800 square feet.
As Orange Tree Imports grew, it also evolved, along with the neighborhood itself. "When we were starting out, we were one of the first specialty shops here. The other stores mainly served the area, like a hardware store and grocery store," Schroeder says, noting that her stretch of Monroe Street is now home to a variety of shops, eateries and businesses.
Orange Tree Imports has made a name for itself, then and now, as a shop specializing in gourmet cookware, bakeware, cutlery, coffee and tea accessories, artisan foods and candies, and home entertaining pieces. It's still a destination for foodies throughout the region and beyond, but in addition to its culinary offerings, the store attracts customers for its unique soaps, candles, jewelry and toys (including those Russian nesting dolls, of course).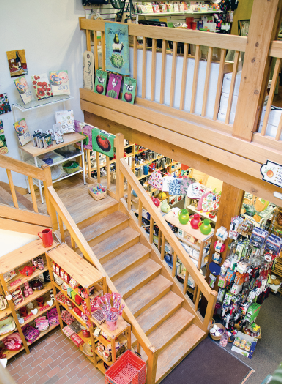 To find distinctive items for the store, Schroeder scours trade shows at the beginning of each year. "I've been to over 150 gift shows over the years," she reports. "I'm always looking for new lines and a chance to see new products from existing vendors. I like to talk to people from companies about what they see coming up and what are best-sellers."
She underscores the importance of talking face-to-face with vendors and artisans and, when that's not possible, over the phone. "We always want to support sales reps because they are a vital source of information on what's selling," she declares, emphasizing that the role of sales representatives is even more important in the digital age, when some retailers have begun to think they aren't as needed.
Branching into the Community
Given the fact that Madison—the capital of Wisconsin and home to the University of Wisconsin—is known for its thriving artistic scene and rich cultural offerings, Schroeder has long supported local artisans as well as local food purveyors. "We try to work with them to develop wholesale lines that will work in the store. We have the word 'imports' in our name, which seemed like a good idea back in 1975, but it's also important for us to not only benefit from the buy-local movement but to also buy local ourselves," she explains. Many items in the shop have a Madison or Wisconsin flair, from state-shaped gourmet cheese boards to a Madison mailbox children's toy, among others.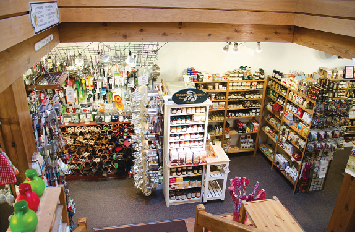 As the buy-local movement has emerged in recent years, so too has a different notable trend: online merchandising. While e-commerce and online stores are typically viewed as competition for an independent retailer, Schroeder says an Internet presence can help a proprietor like her. "On the plus side, people are learning about merchandise online and coming to us to find it," she points out, noting that she doesn't have an online store for purchases but uses her website to showcase what's in the actual shop. Another bonus has been Orange Tree Imports' online wedding registry, which also guides people into the store as they pick out items for a happy couple. Information about the store's popular series of cooking classes and other special events held throughout the year is also posted online.
Always Something Growing
As she has seen trends and merchandise come and go in her years as a storeowner, Schroeder has shared her experience through another one of her talents: writing. She is the author of the book, Specialty Shop Retailing, and also writes a blog on retailing (www.specialtyshopretailing.com).
A key to Orange Tree Imports' success is its tight-knit staff, both in the past and now. Many employees have been with the store for several years, and Schroeder holds a reunion every five years for all store employees hired all the way back to 1975. Turnout, she says, is always strong.

She is also proud of the stores' system of management. "It's called a participant democracy—it's not just one person who does displays or windows. We have a lot of different talent on the staff, and we enjoy seeing what people come up with."
Because much of the store is seasonal—particularly in a town with four distinct seasons such as Madison—Schroeder is always thinking ahead. Not long after the holidays, and in between buying trips, she is busy planning the store's annual egg decorating contest, a tradition for 35 years and similar to the Russian doll decorating contest. And, in the spirit of entrepreneurship and constant creativity that has driven her and the store to become a Madison "must-see," there is hardly a dull moment in this Orange's life. "I also write medical terminology textbooks, and I am translating articles and recipes for Danish foods for a cookbook," she reports. Another bit of successful nesting, you might say.
---
5 Fun Questions
What is the most unique sale or promotion you've ever had?
"We did a bridal promotion that was unusual, hand-stuffing slips of paper—including a few that were gift certificates—into fortune cookies that we included with every wedding gift."
What one item were you unsure of when you ordered but then it sold much better than expected?
"Happily, there are many items that have sold better than we expected! A recent one is kits to make globe-shaped ice lanterns from Wintercraft."
What fun things do you do for your staff?
"Every year, we take our staff to a couple of performances at American Players Theatre, an outdoor, classical theater in nearby Spring Green, Wisconsin, with a potluck picnic beforehand. We also host a holiday party in our home that includes some enthusiastic carol singing and occasionally also charades based on store products. The pasta machine was one of my favorites!"
Have you ever had a celebrity come into your store?
"We are friends with the Canadian singer Raffi, and the British a cappella group The King's Singers, so they come in our store when they visit Madison."
Knowing what you know now, what would you have done differently in your business?
"We added on to our store in 1980, and I've often wished that we had done that a bit differently, with more outlets, wider aisles and a larger area for our Cooking School."
You can find more images of Orange Tree Imports HERE.
Visit www.specialtyshopretailing.com for Carol's blog.
Photography by Ryan Wisniewski