Customers stepping through the doors of Artemisia in Geneva, Illinois, will find a carefully collected assortment of goods to adorn themselves and their homes, most of which they won't find anywhere else.
The shop, located in an 1867 building in the heart of the bustling downtown shopping district, takes its name from 17th-century Italian Baroque painter Artemisia Gentileschi. Just like its namesake, a female artist at a time when there were few others, Artemisia the shop aims to be unconventional.
Owner Debra Koertge is always on the lookout for artists, designers and craftspeople from across the country and around the world who produce everything from jewelry and clothing to furniture and home accents. "What makes my store really unique is the mix of artisan goods, antiques and free-trade/fair market, responsibly manufactured items," Koertge says.
Stories to Tell
Looking around the store, customers see a mix of old and new—a primitive step-back cupboard stocked with luxury candles, a carpenter's workbench set with Portuguese stoneware, or a vintage dress form draped in clothing made from recycled fabrics. Architectural salvage pieces, such as ironwork, shutters, columns and street signs, rub elbows with hand-forged light fixtures and handwoven throws.
Every product has a story to tell, and Koertge and her well-versed employees are ready to share those stories with customers, through inventive displays, signage, special events and casual conversation.
Telling those stories drives sales, says Koertge, pointing to a display of sandals as an example. Tanzanian women make the hand-beaded footwear, and then the proceeds are returned to them. A stack of glossy brochures about the organization is included in the display. "The customer needs to know why they should pay $55 for those sandals," explains Koertge. "Any time you put the artist's picture and story out there, it helps to sell the product."
Koertge's interest in the artistic and handmade might be traced to her beginnings in the business. She did not set out to be a storeowner. She has a degree in healthcare and worked in that field for many years. In her spare time, however, she created herbal oils and vinegars using the bounty of her backyard herb garden. She packaged them in antique bottles and gave them as gifts to friends and neighbors at the holidays. One neighbor told her that she ought to sell them, so Koertge leased a booth at an antique mall and later sold them through a friend's shop. Eventually, she opened her own place.
Prime Location
Artemisia has now been in its Geneva location for five years; prior to that, the store was in a shopping district in a neighboring town for four years. The previous location did not generate a lot of foot traffic, and Koertge now looks back on that time as "playing store." The business has grown tremendously since moving to Geneva, and Koertge opened another store in downtown Chicago—Artemisia on Grand—in 2011.
The light-filled second floor of the 3,000-square-foot Geneva store makes for the perfect gallery space. "It reminded me of Santa Fe," Koertge says, noting that it was one of the features that sold her on the space.
That, and its address on Third Street within Geneva's downtown shopping district, which is just down the street from the commuter train station. The easy access to transportation allows visitors from Chicago to travel out to the suburb for a stress-free afternoon and evening of shopping and dining.
"I have opened businesses in four different communities, but Geneva is the best," Koertge says. "The Chamber is great at recruiting and supporting independent businesses and promoting the many events here."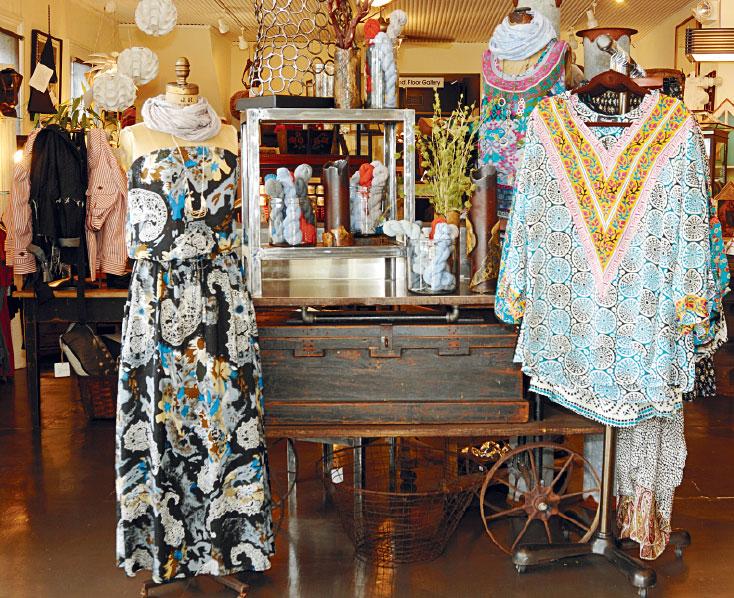 The Chamber of Commerce hosts several large festivals every year, including Swedish Days, which draws 2,000 visitors to town in the summer. But, it's the smaller festivals, like Festival of the Vine and the Geneva Arts Fair, that generate more sales for the shop because the visitors are a better fit for what Artemisia offers. Though some might think an art show would draw customers away, Koertge has found that is not the case. "We sell more art that weekend than any other," she says. "It's one of my favorite events."
Reaching Out
Social media is the backbone of Koertge's marketing plan. She has one employee who focuses her time on updating the blog, website, Twitter and Facebook. "For the most part, newspaper and magazine advertising is a waste of money for us," Koertge says. "We've switched our budget to social media."
Because of the one-of-a-kind nature or limited quantities of the products she offers, it's not feasible to sell merchandise through the website. "By the time we get it on there, it's gone," she observes. But, posting new arrivals on Facebook or the blog gets people to come in and check things out.
The shop also uses social media to advertise special events, including artist visits at the downtown Chicago store and promotions held in conjunction with other Geneva merchants, like the springtime plant-themed Gardenology event.
"We love cross-promotion and working with our neighbors," Koertge says. Some of those neighbors are closer than others—Koertge leases space to Odalisque Beauty Apothecary, which sells skincare, makeup and fragrance, and the two shops team up for events like a holiday open house.
Treasure Hunt
Koertge buys products she loves at price points that she would feel comfortable paying. "I don't do gimmicks or coupons. People think we have an exorbitant markup, but the margin is so tight—we just can't offer discounts. We are very conscious of pricing; I am always asking, 'Would I be willing to pay that?' "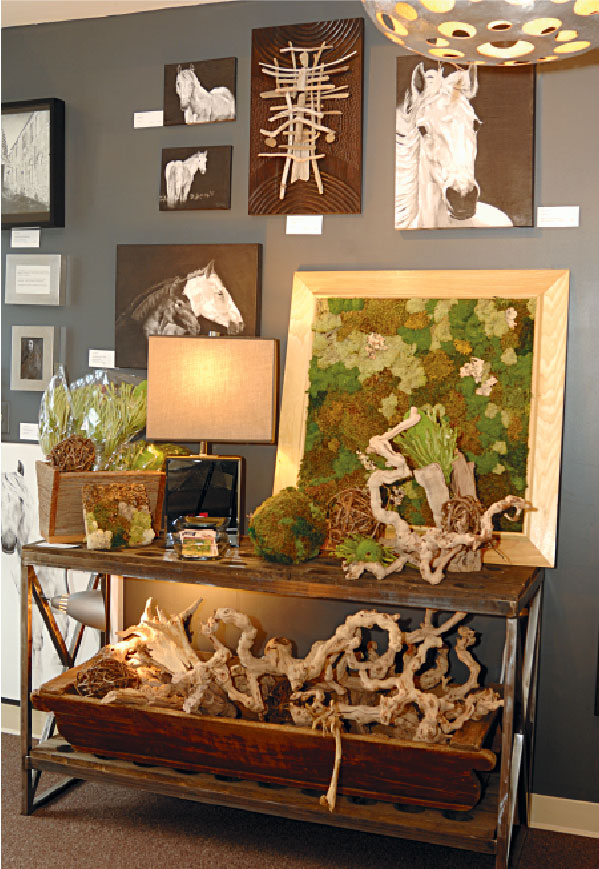 She is not afraid to try new things. Clothing is a recent addition, and she will soon add a shoe line, something she calls a "big step" for the shop. The shoes, manufactured in Chicago, feature wood platforms and have interchangeable ribbons and laces that allow the customer to alter their look. The shoes are currently being sold only in Canada and Europe.
When it comes to finding goods, conventional trade shows are not Koertge's cup of tea. She might spot an item she loves at an art fair, antiques show, farmers' market or specialty shop. "Anywhere I travel, all over the world, I look for new vendors, artists and designers," she says. "And my girls [employees] know to bring back something when they go on vacation."
Koertge does, however, enjoy the One of a Kind Show held in Chicago every December because it brings together hundreds of artists and crafters. She says that sometimes artists hesitate when asked to sell wholesale. "You need to educate the artists. Let them know they will have exposure and a steady check. Sometimes, you need to give them a safety net in the form of a large opening order," she says, noting that such an investment can pay off because the artist will be more likely to allow you to be an exclusive seller in your geographic area.
From time to time, she also sells some of her personal collections through the shop, from miniature alabaster birdbaths to Victorian purses. "At home, I have a strict rule that if something comes in, something goes out, so I bring it here, where I get to see it and enjoy it, and others do, too."
Displays in Motion
Art, from paintings and photographs to sculpture and glass, is one of Artemisia's top sellers; Koertge says it accounted for 30 percent of sales last year. Inviting displays are partly responsible for that number. "I like to place art with furniture and lighting so customers can envision it within their own space at home," she says, noting that some customers end up buying the entire vignette.
One of her favorite display tools is lighting, whether it's overhead fixtures and lamps for sale or clip-on spotlights aimed at various products. "People underestimate the importance of lighting," she says. "It brings the eye to spots people would otherwise not notice. I have probably spent hundreds of dollars on lighting."
Most of the displays are created by Koertge's "right hand," Kim Zachary, who worked in the corporate retail world for many years before retiring and joining the Artemisia team. She's responsible for the inventive juxtapositions, such as delicate jewelry atop rugged stones and organic cotton animals peering from a primitive cupboard.
And things are constantly in motion on the sales floor. "Every time you come in, it's different. If we are not checking out customers, something is being moved," Koertge says. "Things change daily. If it is not selling, you need to highlight it in a different look or a different setting."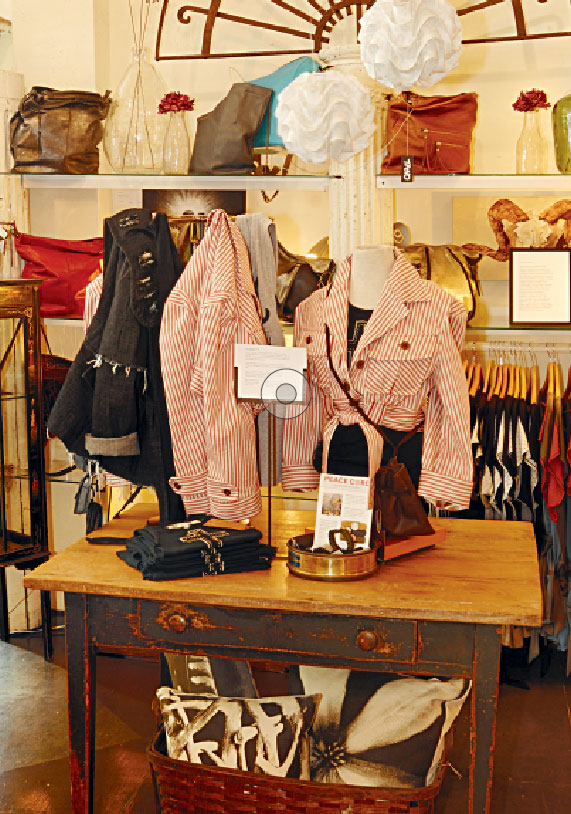 What is your most unusual display piece or prop?
"Organ pipes, antlers, wood, coral—there's nothing we won't use for a display."
Knowing what you know now, what would you have done differently in your business?
"I would have added women's clothing and accessories sooner. It's done well for us. Also, staffing—bringing in mature people from the beginning."
What new technology do you use in your business that you are most thrilled with?
"I don't know what I would do without the iPhone and iPad. We keep an iPad at the sales desk so we can show customers pictures of items at our other location or have customers sign on and "like" us on Facebook."
Have you ever had a celebrity in your store?
"Chicago newscaster Kathy Brock in the Geneva store; musician Jack White of the White Stripes at the downtown location."
What is your favorite spot in the whole store?
"It changes, but I love the gallery (upstairs)."
Photography by Maurice Victoria
Learn more at https://artemisiastyle.com/