Fig & Flower Natural Beauty started in May 2014 by lawyer-turned-retailer, Sara Lamond. The idea was born out of necessity. Lamond was ordering her natural beauty products online from other boutiques because most of her favorite small brands weren't carried in Atlanta. She knew from personal experience that with beauty products, consumers want to be able to feel, smell, and test them. Essentially Lamond created a place where she would like to shop.
Lamond's initial goal was to fill the void in the Atlanta area for natural, nontoxic beauty and home products. Less than two years later, her shop is thriving and benefiting from being one of the first of its kind in this niche industry.
Fig & Flower provides only natural products with strict quality and ingredient standards. Lamond thinks the thing that really sets her shop apart is its approachability. From her experience, she found that many makeup and beauty stores felt intimidating to navigate. The employees might be too "dolled up" or even condescending, and she believed that many people felt alienated from that environment. Lamond thought even the bath and body sections of large retailers felt overwhelming at times, "because of the sheer number of products and lack of personalized care." At Fig & Flower, Lamond focuses on offering attentive, knowledgeable service without any judgment or pretension. Inside her boutique customers will find hand-selected, quality products for body, skin, hair, baby, home, and select products for men. The products are certified organic, cruelty-free, non-GMO, gluten-free and vegan approved.
Smart Retailer (SR): What inspired you to start your business?
Sara Lamond (SL): Research shows an increased correlation between disease and environmental factors, including the chemicals we are exposed to on a daily basis. Many people are starting to clean up their diet, choosing foods that are less processed, or paying attention to organic or non-GMO labeling. Food is only part of the equation. There are potentially dangerous chemicals in our bath and body, makeup, and home cleaning products. I wanted to provide Atlanta with a one stop shop for all things natural and beautiful. Of course, we are online too.
SR: If you were given $100 to invest in your business, how would you use it? What about $10,000?
SL: With a small investment like $100, I would find a way to pay-it-forward to the customer. A good retail store shouldn't focus on selling product. Instead, it should focus on creating a positive experience for the customer. When you do that, the product sells and the customer remembers the feeling they had when they came to your store. That's what will keep them coming back. With $100 I would purchase champagne and orange juice and have complimentary mimosas one Sunday, or I would put together a gift basket of bestsellers and have a giveaway.
If by some stroke of good fortune I received a higher investment, l would love to expand my business to include services. People are constantly asking me about natural, nontoxic hair, nail, and skin care service providers in our area. Currently I make referrals, but it would be great if we could incorporate that stream of income into our business model, while truly providing a one stop shop for all things natural.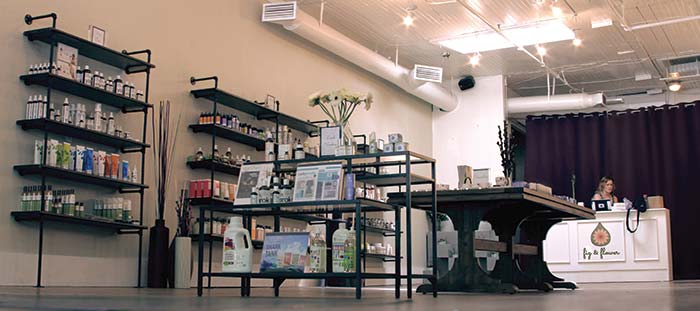 SR: What are your three favorite product lines and why?
SL: My favorite brands are the ones that provide my customers with a positive user experience, by making phenomenal products—plus provide me, as the retailer, a positive user experience by providing vendor support. 100% Pure makes amazing, beautifully packaged products that are high quality and are priced competitively. The brand also provides me with a substantial free gift with purchase (GWP) for orders over a certain amount. That kind of incentive allows me to offer GWP deals to my customers, or I can resell the product to help increase my overall margin. That kind of support is crucial to small businesses.
One Love Organics creator Suzanne LeRoux offered to host a workshop for our customers when we were first getting started. Her products consistently fly off the shelves and I use a number of them in my own routine. Vapour Organic Beauty makes a beautiful line of natural makeup that really makes the skin glow. They also provide one free unit per six units ordered, which is an added benefit for my business.
SR: What would you identify as an important turning point in your business?
SL: In October 2014, my business partner, who I started Fig & Flower with, received an awesome opportunity to work with a startup company that focuses on diabetes prevention. At only five months of being open, I offered to buy her share in the business. I think this was the most notable, major turning point for Fig & Flower. It was a critical time in our development, and I took on a lot of extra responsibility, just before the holiday season. It was intense! Going from a partnership to a sole proprietorship allows the business to develop a little quicker. There isn't a need for the same sort of discourse regarding business development. It also means all the successes and failures squarely rest upon my shoulders, which is a heck of an incentive to work hard and make good, sound business choices.
SR: What is the best idea you ever had, and how did that work out for you?
SL: Marrying my husband—and so far it's working out great! While it may not seem related to my business, having the support of my husband has been critical. I left my chosen career path as an attorney, which is one I spent many years working towards, to open a retail store—something I have no experience in. Despite having to make sacrifices, like selling our home to open this business, my husband has been endlessly supportive and encouraging. Any small business owner knows there are times when you worry that the light at the end of the tunnel isn't going to materialize. When those moments come, there needs to be a voice of reason and strength reminding you why you started and why you should see it through. For me, I'm lucky enough to get to call that voice of reason my teammate.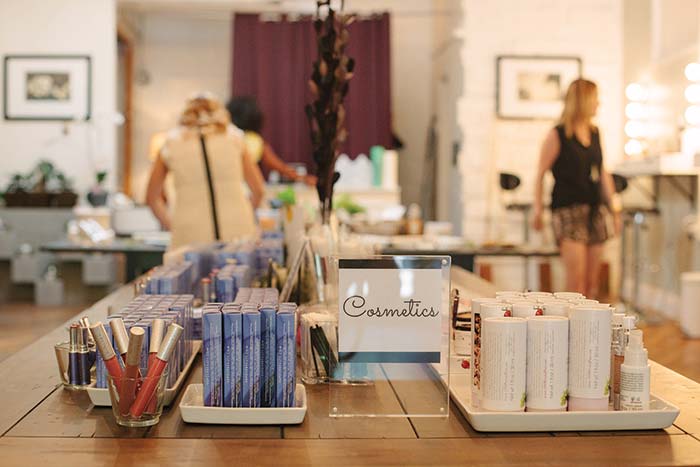 SR: What are you most passionate about? How do you inject that passion into your business?
SL: My business is built around my passion for wellness. To me, wellness is a broad term encompassing mind, body, and spirit. We cater to the mind by offering education about ingredients used in personal care products and the effects of those ingredients. We have hosted workshops on topics related to everything from how to get glowing skin, to raising a holistic child. To nurture the body element of wellness, our products adhere to strict ingredient requirements. You can rest assured when you shop with Fig & Flower that everything has been tested for performance, and each ingredient has passed muster. We have also opened our space for yoga classes and seasonal cooking demonstrations. Finally, we enhance the spirit by providing a lovely, relaxing, and friendly atmosphere for our customers. I learn my customer's first names and offer to hold their babies while they shop. My regulars have become friends that I look forward to seeing and catching up with. So long as I can create a positive, genuine experience for each person who walks through my door, I feel like I'm doing my job well.
SR: What traits do you have that make you successful in this business?
SL: I think the two most important traits are being detail-oriented and genuine. My attention to detail, especially when it comes to the numbers that make my business run, really helps us grow at a steady pace—without overextending my business. Growth, especially for a new business, needs to happen at a pace that is appropriate for the business. I think many small businesses can get into trouble by over spending and digging themselves into a hole. That never happened with Fig & Flower, which is why we are doing so well in only our second year of operation.
Being genuine is what makes this business trustworthy for my customers. I have used these products. I know how they perform and I am knowledgeable about their ingredients. When I tell a customer why I love a product or why I recommend it for them, I don't oversell it. I give my honest feedback, even if that means telling a customer about a product we don't carry or an ingredient they can find at any grocery store. Likewise, I am genuinely happy to do what I love and to engage with my community in such a positive, serene place. I think the customers feel that I genuinely care about them, because I do.
SR: Do you have a creative process, or some method that helps you think outside the box?
SL: I generally marinate on my ideas, and then procrastinate, and then procrastinate while I marinate, and vice-versa until the very last minute when I feel the impending doom of failure and somehow—in that haze
of fear and anxiety—I produce something I'm proud of. It's true that when I have too much time on my hands I will find flaws and second guess myself. I'm very hard on myself. I suspect a lot of people who open their own small businesses might identify with being a little too "Type A." But when I have a relatively short period of time to make things come together, I tend not to get too caught up in the minutiae. So oddly enough, procrastinating sometimes helps me be more productive.
SR: What are some of the best or worst things about your location? What would you change if you could?
SL: We are in a hip neighborhood of Atlanta called Poncey-Highland. We are on a strip of cool shops, including an indie jewelry boutique, a dapper barber shop, and an antique furniture store. I think the vibe in this area is perfect for Fig & Flower. The slightly younger crowd seems to have embraced the belief that chemicals can lead to serious health risks. The mindful young professionals in this area aren't too skeptical about the products working as well as, or better than traditional products. That makes this area conducive for our concept. There are two new live/work/play developments going up within walking distance, which will bring more potential customers to the area and even more walkability than currently exists.
Unfortunately, my particular store front on the strip has less visibility from the road than the other shops. Our parking can be problematic at times, which is an issue for a destination store like ours. These are relatively normal store owner gripes. The bigger frustration for me is that my customers, being young professionals, value competitive price points. I work hard to source high quality, natural products that perform beautifully, but don't break the bank. At some point, I would love the opportunity to introduce a few high-end luxury lines to Fig & Flower—but at this point in our development I've kept our brands fairly affordable. There are areas of Atlanta where disposable income is higher, however, those customers may hold on to the belief that in order for a product to work, it has to have chemicals.
Facts at a Glance
Business Name: Fig & Flower Natural Beauty
Location: 636 N. Highland Ave. Atlanta, GA 30306
Phone: 404-998-8198
Website: www.shopfigandflower.com
Facebook: Facebook.com/figandfloweratl
Twitter: @figandfloweratl
Instagram: @figandfloweratl
Pinterest: figandfloweratl