As a child, Helga Soave wandered the fields around her village in Germany, searching out plants and feeling their texture, rubbing their leaves, and smelling their unique scent. She went on to study chemistry, finding that herbal medicine was her biggest interest.

After spending some time as a chemist, Helga ventured out and became an esthetician. She started to see a wide variety of skin issues, and while the products used on her clients were certainly of the highest quality, they did not always address the wide variety of issues she was seeing. Trying to find a better way to help her clients, she would make a custom cream for each customer, using only ingredients suited to their particular need.

Helga officially created Choices Bath and Body natural skin and body care products in 2009. At that time, she was dealing with her husband's lymphoma. She had eliminated virtually every stress factor in their lives, and only had personal care products left to deal with. These types of products were highly regulated in her home country of Germany, and she assumed that would be the case in the U.S. as well. She quickly learned that was not the case, and she installed a laboratory in the basement of her home and went to work.

She set out to eliminate the chemicals, dyes, fragrances, and even natural ingredients that are known allergens such as beeswax and lanolin. It took many years of testing, and she faced numerous challenges along the way. She had to figure out how to add additional ingredients without causing the product to separate, and how to ensure the ingredients would not react with each other. She found that nature provided all the answers. One thing led to another, and before long, she started selling her creations at farmers markets, then started wholesaling locally, then across the country.

Being a licensed esthetician, she knew that education is a large part of providing quality skin care. That led her to open the first Grosse Pointe Michigan Gift Shop: Choices Bath and Body retail location. A few years later, Helga now serves her customers through two Michigan-based retail stores. She has dedicated her career to creating products using only natural, organic, healthy ingredients while avoiding any chemicals that could damage skin. She strives to use only organically grown ingredients and pure essential oils, while still offering an affordable product.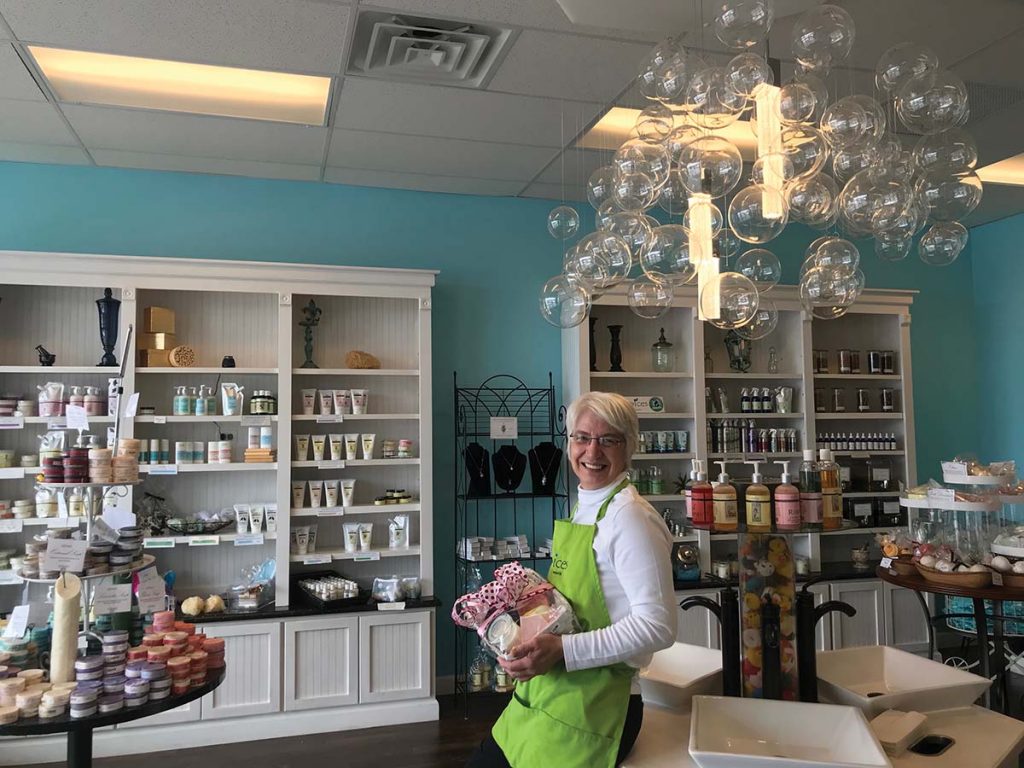 Q & A with Helga from Choices Bath and Body
Smart Retailer (SR): What sets your store apart?
Choices Bath and Body (CBB): We provide information and education. Selling the actual products is secondary. When customers leave our store, they have a thorough understanding of their skincare needs.
SR: What shows do you attend as a buyer? Do you have a favorite?
CBB: I like to go to regional shows and I frequently attend Michigan shows. My favorite show is the ACRE show. I try to catch one or two per year.
SR: What are some of the challenges you face in the gift industry?
CBB: My customers want to purchase Made in America. It's even better if the item is made in my state. They want to get as much information as possible. I find it difficult to sort through the offerings that are out there and find the items that are completely made in the USA, not just foreign parts, packaged or assembled in the U.S.
SR: If you were given $100 to invest in your business how would you use it? What about 10,000?
CBB: With $100, I would purchase new roadside banners. They have been very effective. If I came across an additional $10,000, I would use it to open a third location.
SR: What are your three favorite product lines? Why?
CBB: I absolutely love the Duke Cannon line of men's products. Men are difficult to get into a skincare routine. Duke Cannon makes their products very "manly," and my customers feel comfortable buying them again and again. Himalayan Salt provides us with their very popular salt lamps, which allows us to make a good margin. We produce a line of shower fizzies, and it has helped us increase the average sale per customer. The fizzies are inexpensive and a great add-on item. They sit by the register and draw the customers with their scent.
SR: What would you identify as an important turning point in your business?
CBB: Moving my business out of my home and opening a retail location with production in the back. That was a very big, scary step for me. I was strictly wholesale at the time and my overhead was very low. I had no idea how the retail customer would accept my concept. It worked out well and it validated my ideas.
SR: What's the best idea you ever had, and how did that work out for you?
CBB: I wanted to be able to personalize every product in the store for each customer. This idea has allowed me to be different and unique. Our customers do not want to shop anywhere else. By buying products that are personalized to their specific needs, our customers get what they want, when they need it.
SR: What are you most passionate about? How do you inject that passion into your business?
CBB: We start with the highest quality ingredients we can find. Cost does not play into this. Our employees not only know the products and what they are best used for, they know the ingredients and can explain where they come from, what makes them better, and how that applies to the customer.
SR: What traits do you have that you find makes you so successful in this business?
CBB: I never give up. If things don't go right, I analyze , strategize, and learn.
SR: Do you have a creative process, some method that helps you think outside of the box?
CBB: It helps me to get away from everything and take a walk through nature. It clears my mind and inspires me.
SR: Tell us about your locations. What are some of the best and worst things about them?
CBB: I have two very different locations, each with their own challenges. Our first location is in a strip mall, with no anchor on a high traffic road. It serves local customers from about a five-mile radius. Even after three years, we still have customers say they didn't know we existed. We do TV advertising, roadside banners (very effective), email, and Facebook, but most of our customers come from word of mouth.

The employees understand the lifetime value of our customers and work hard to create relationships with them. The newer location (one year old) is in an affluent downtown area. Trust is a huge issue. Many customers ask us if we will stay. There has been a lot of turnover in town, and it will take time to be accepted as a permanent business. The demographics there are different, as we draw mostly walk-in clientele. Young adults are also a good part of our customer base. As in the first location, word of mouth is our best advertisement.
SR: Any advice you would give to fellow retailers?
CBB: Retail is undergoing a huge change. As people purchase more online, we need to offer a better in-store experience. Having a well-functioning website is paramount. Work hard to build relationships with your customers.
Grosse Pointe Michigan Gift Shop: Choices Bath & Body Facts at a Glace
Locations:
17112 Kercheval Ave., Grosse Pointe, MI 48230
313-395-5252

45633 Hayes Rd., Shelby Charter Township, MI 48315
586-262-6288
Website: www.choicesbathandbody.com
Email: helga@choicesbathandbody.com