"Alyssa's Antique Depot," "Alyssa's, Etc.," and "The Refinery @ Alyssa's" form a campus of three stores with a combined 50,000 square feet of shopping excitement in northwest Florida. Located in the center of the village of Pace, near Pensacola, the award-winning shops draw customers from all over the Gulf Coast. The stores feature furniture, lighting, rugs, home décor, gifts, antiques, jewelry, fashion, and more.
Owner Alyssa Schepper opened the main store, the Antique Depot, in September 2003 in a small 1,000-square-foot building. But by 2008 it had expanded into a 25,000-square-foot antique mall and has continued growing over the past 17 years. The growth includes the two offshoot stores "Alyssa's Etc." and "The Refinery @ Alyssa's," which are packed with furniture, lighting, and home décor in contemporary, shabby chic, rustic, industrial, farmhouse, and other styles.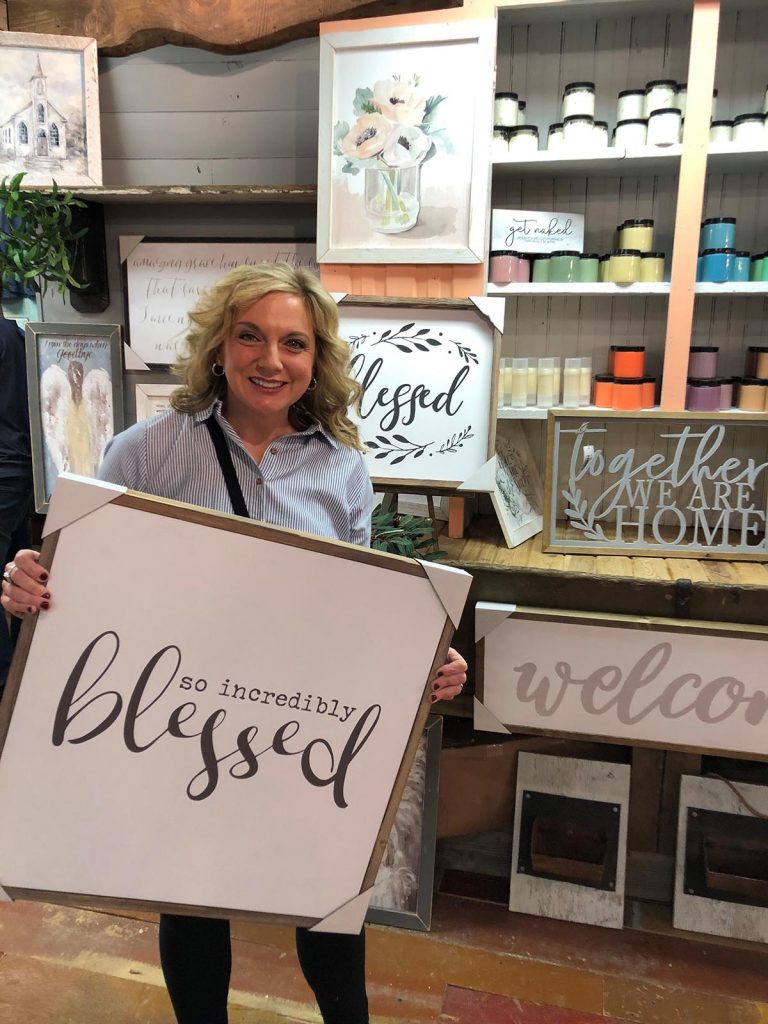 A Huge Range of Merchandise
Alyssa's motto is "If it's not here today, we'll probably have just what you're looking for tomorrow!" With fresh merchandise coming in daily sourced from nearly 300 vendors, many customers visit at least once a week to see what's new.
The stores sell a large selection of brand-name products, but a large part of their business includes locally made items, including decals, clothing, handcrafted signs, wreaths, and other décor. "In this market, handcrafted furniture and décor have been huge," Alyssa said. "We also love to offer unique gourmet food and ladies boutique items."
The store provides a major outlet for local artisans. "We're honored to house over 200 local artisans in our market store, where more than half of the store is occupied by booth renters," Alyssa explained. "Whether handmade children's petticoats or rustic farmhouse consoles and tables, we have the best quality and selection in the tri-state area and beyond."
"We love merchandising and inspiring our guests with trending finds that are uncommon to our area," Alyssa said. "Our store hosts over 200 independent retailers, which means that we have a lot to offer from just about any category imaginable. We work very intentionally with our vendors and guests to offer the best of market and the most unique handcrafted items that are true to our standards of quality and value.
"Our customers are widely varied because of our eclectic offerings," Alyssa added. "You may see a 6-year-old girl with her 75-year-old grandpa wandering through the store, as well as a group of 30-ish soccer moms out for a girls day."
How It All Began
Alyssa has been in retail almost her entire adult life. Working as a Walmart manager for 13 years, she fell in love with the interaction of fast-paced business. But over time, a desire grew in her "to find a niche where I could serve the community and make a living by doing what I loved," she said. "Giving life to items others thought were well past their prime was a hobby I had enjoyed in my spare time. I married the two by providing a store where others could create, treasure hunt, and make a profit by selling their wares alongside me." With a love of people and a desire to be a backbone of the local community, Alyssa continually seeks ways that the three stores can give back by creating a family-friendly environment.
A Community-Minded Mission
Alyssa's mission is to serve people, be a part of the community, and help drive the success of fellow small businesses and local not-for-profits. In fact, generosity is so central to their mission that they named "Alyssa's Etc." with this in mind. The "Etc." in the name stands for "Embrace The Community." Alyssa's Etc. commits a portion of its sales each month back to the community and usually adds quite a bit more on top of that from the other two stores.
Nearly every event Alyssa's hosts has a dual purpose. The first is business related, as it is with any company: increasing foot traffic, improving sales, managing expenses, and making a profit. But the second purpose is partnering with other small businesses and local makers. They offer mentoring and training to vendors in their store, just as if they were a part of their own staff. Alyssa's encourages all the vendors in their building to be charitable and community builders, whether it's volunteering at a local not-for-profit or donating a portion of daily sales to a local charity.
Alyssa's annual #MissionFest event is a great example of community teamwork. Every spring, it challenges its team and vendor partners to invite representatives from local not-for-profits to set up temporary booths in the store. That helps connect guests with several dozen vital local charities. Guests learn about resources they often don't know exist, and the charitable organizations gain valuable support in the form of volunteers and funding. In addition, Alyssa's #MissionInMotion teams volunteer at many local charitable organization events.
Becoming Like Family
"Our guests often become part of our family. We've been known to rally around special customers who have family problems or situations that need prayer," Alyssa said. "We house a local contract postal unit that serves our area, and just 20 steps from the counter is our prayer post where anyone can post their prayer needs for us to cover in our morning prayer meetings before we start our day."
Alyssa's events inspire family and friends to schedule vacations around them. "We love to see the smiles on the faces of our guests when we hold our famous Five & Dime Weekends, Ladies' Nights, and Mission Fest," she said.
Incredible Growth
When the recession hit in 2008, Alyssa's was prepared to weather the financial storm. "Thankfully, in 2007, right before the crash, we chose to expand into a much larger building and provide an expanded offering for our community," she said. "I believe that in doing so we added just the right recipe to offer our customers affordable ways to decorate and furnish their homes. We went from one 5,500-square-foot building on the main highway to two stores, the second with 8,800 square feet."
Alyssa's strategy for growth and success is as much about relationships as it is financial. "We take every comment, suggestion. and request to heart, whether in person, over the phone, through email, or social media," Alyssa said. "The decisions we make are driven by and filtered through our mission statement, which prioritizes God and people. We've learned that if we're willing to ask our guests what they expect and how we can improve, they're happy to provide feedback."
Stellar Customer Service
Alyssa's provides a wide array of customer-friendly services, such as financing, layaway, assembly, delivery, home interior design, and custom orders. Shoppers can even order a custom, handcrafted farmhouse style table. The store makes "experience" a high priority, so it offers classes — everything from painting signs and furniture to making wreaths and home decorating.
"We don't have a full online store, as it has always been most important for us to take care of the many in-store guests we've been blessed with. However, we're revamping our website in order to offer some of our best-selling items to out-of-state shoppers who have visited many times and requested that they could shop online," Alyssa said. "We're happy to mail any shippable item."
Alyssa's calls its customers "guests." Being located in the Florida panhandle, the staff treats all its guests with an abundance of Southern hospitality. In fact, they believe that if a visitor doesn't leave the store happier than before they arrived, they haven't achieved their mission, which is "to provide superior merchandise with excellent customer service and a Christ-centered atmosphere, all while impacting the community by being the hands and feet of Jesus."
An Award-Winning Destination
Alyssa's has won numerous awards, including "Best of the Bay," "Best of the Coast," "Best in Florida," as well as Trip Advisor awards and more. "Although these are things we're proud of the smiles and loyalty of our customers are gold and matter most to us," Alyssa said.
One customer summed up the store this way: "Alyssa's is an awesome place to shop. The staff is always friendly and there are so many goodies in that store that if you don't take your time you'll miss something. It's like everything you could ever want to buy all in one block of stores!"
Facts at a Glace
Business Name:
Alyssa's, Alyssa's Etc. & The Refinery
Location:
4586 Chumuckla Hwy. Pace, FL 32571
Website: www.shopalyssas.com
Email: shopalyssas@gmail.com
Phone: 850-994-9114