Located in Omaha, Neb., the Blue Pomegranate Gallery is a colorful, unpretentious, relaxed-yet-lively gallery featuring a wide variety of American handmade art from jewelry and sculpture to paintings, with an emphasis on glass and metal. The gallery was founded with a focus on fun, reasonably priced goods. To compete with the big box retailers, the Blue Pom, as it's affectionately known, dazzles customers with products that can't be found anywhere else and presents them in unique, creative ways.

Being an artist herself, owner Sondra Gerber's original goal was to find a working studio space to share with another friend, glass artist Anne Nye. The friends simply wanted to make a living creating art and had no plans to be in retail. Their concept evolved, however, to create artwork on site, to engage gallery customers in the creative process, and to carry the work of local artists, including Sondra's.

In 2001, the partners found a building large enough to accommodate space for both a studio and gallery. Fortunately, Sondra's husband, Jason, had experience in retail. Their original gallery fixtures and displays came from the gift store that Jason's grandparents started in the 1950s. Jason also had owned a skateboard shop in college.

Omaha Nebraska Gift Shop: Blue Pomegranate Gallery customers can find everything in the gallery from thoughtful and unique gift options to gorgeous fine art that's perfect for home or office. The Blue Pom goes to great lengths to avoid the mass retailer look. The Gerbers frequently build their own displays and use vintage props, group items by colors and themes, and create vignettes to show visitors how multiple pieces of art can work together. They're always changing displays and merchandise to give a fresh look for returning customers. They also carry several designs that artists create exclusively for their store. The couple value the environment, so guests can discover artwork made from upcycled items like gift cards, street signs, laser-cut record clocks, jewelry made from clock parts, and more.

In 2010, the gallery became successful enough that it took over the working studio space and Sondra moved her workshop to their home. They filled the newly empty studio space with work from artists from all across the country, providing customers with more selection.

In 2012, Jason left his career to work full-time alongside Sondra and began developing their website. Their web store launched in 2013 and they've continued to work on improving and updating it. Jason built the site with Lightspeed POS system and Shopify web store, creating a seamless system that uses in-store stock as online inventory. When something sells online, it registers at the gallery as "sold" and vice-versa. To compete with the online retailers, they pore over the details of the web store to make it stand out.

In 2014, they realized that their target market no longer matched their location and they made a bold move to a high-end shopping center in a more suburban area. This was in the ZIP code area where the majority of their customers lived, providing more convenient shopping for them and lots of foot traffic for the gallery. It was an expensive risk, but it worked.

In 2015, they opened a second location in suburban Dallas, Texas, but closed it in 2017, as they found this location not to be successful due to a lack of foot traffic and connection to the community.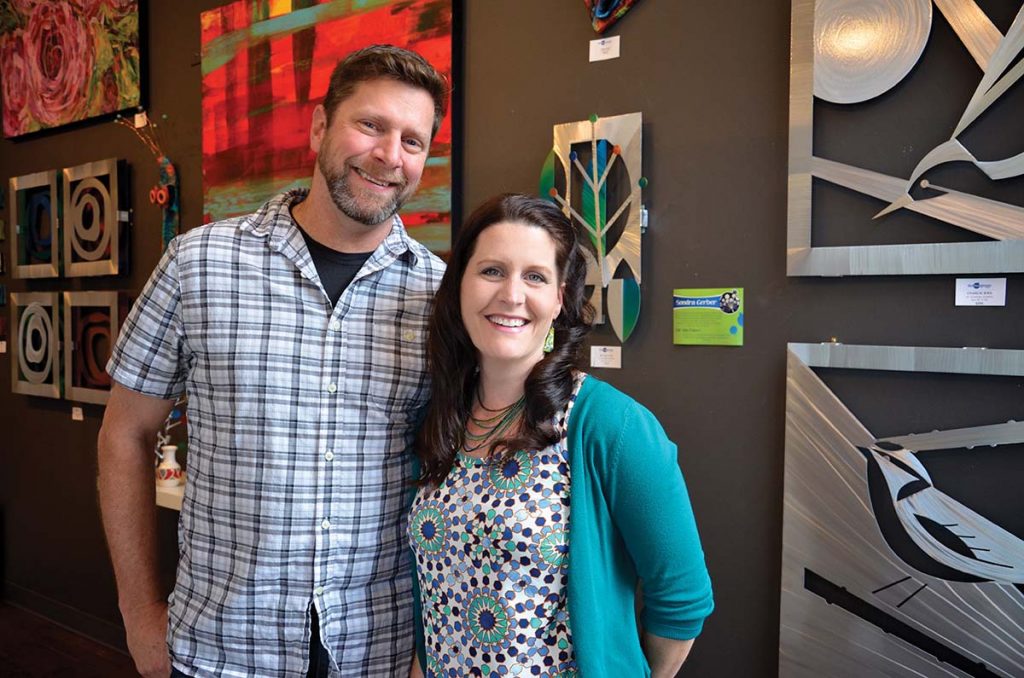 Q&A with Sondra Gerber
Smart Retailer (SR): What's the best idea you ever had, and how did that work out for you?
Blue Pomegranate Gallery (BPG): Every Memorial weekend, we open our gardens at our home for a public art tour and sale, featuring various works of art for the outdoors, created by different artists each year. This sale has turned into a wonderful annual event over the past seven years, attracting thousands of people over the course of the weekend. This event is not only about art and craft, but the art of gardening. Jason and I have built extensive gardens on our acre of land over the last 12 years. Each year we add a new feature. Believe it or not, this weekend has grown to be a bigger sales event than the entire month of December at the gallery!
(SR): What shows do you attend as a buyer? Do you have a favorite?
(BPG): We attend American Handcrafted Philadelphia (Emerald Expositions), American Handmade market, which has been a wonderful source to buy as a gallery owner but also sell wholesale as an artist
(SR): What are you most passionate about? How do you inject that passion into your business?
(BPG): We have a passion for people. I believe it's why we are put on this earth — for each other. We are also in the business of people. The handmade products we carry are created by artists, makers, jewelers, and crafters — people, like me, who want to create for a living.

We're located near a medical campus and have many customers who visit regularly who are undergoing cancer treatments or painful therapy sessions. They say they come to the gallery to feel uplifted. We love that!
(SR): What are your three favorite product lines? Why?
(BPG): Metal Petal Art is our best-selling line. We also do well with recycled and environmentally friendly products such as Vinylux record clocks. I love Hardwear Handbags by Renee; I own two of them and I can't keep them in stock! We also love the artists who create and sell exclusively through our gallery or who create exclusive lines for us. This sets us apart from other stores.
(SR): Do you have a creative process or some method that helps you think outside the box?
(BPG): We strive to remain open to change or to trying something different. I can have biases when it comes to certain trends or ideas because of my generation or lack of experience or education. I am open to hearing other's ideas, especially people who are different from me. I try to open my mind to their ideas to help influence my creative flow. This isn't always easy for me, especially when I think I've already landed on an idea.

I pay attention to mass merchants and marketing, watch what the big companies are doing, and stay aware of what's out there on the market and the trends that are being pushed. As an artist and gallery owner, I try to stay ahead of the trends but understand that trendy is what sells. Unfortunately, we don't have the advertising budget that mass merchants do, so we sort of ride on their coattails that way.
Omaha Nebraska Gift Shop: Blue Pomegranate Gallery Facts at a Glace
Location: 17305 Davenport St. #103
Omaha, NE 68118
Website: www.bluepom.com
Email: info@bluepom.com
Phone: 402-502-9901