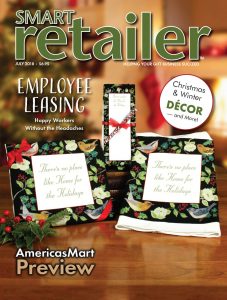 The digital magazine can be seen only by subscribers who are logged in.
Have a website login already? Log in and start reading now.
Never created a website login before? Find your Customer Number (it's on your mailing label) and look for First Time Registration top-right after clicking the link above.
Still have questions? Contact us here.
ON THE COVER:
Home For the Holidays collection features an elegant look by Alice's Cottage. The new collection is available in a variety of home décor and gift items such as flour sack towels, scented hot pads, and mug mats, tote bags, wine caddies, stationery, tea products, and more.
Product Focus
New & Noteworthy
14 Family Friendly Gifts and Hot Wares for the Home
Whether customers are looking for high-quality products for family members, friends, or themselves, they'll be sure to find something that tickles their fancy here.

Counter Culture
22 No Kidding!
Kids will love these fun, educational, and hands-on toys and collectibles.

28 AmericasMart Preview
Don't miss AmericasMart's scoop on seven hot trends.

34 The "Presents" of Joy
Help shoppers find just the right Christmas gifts, even for those hard-to-buy-for relatives.

44 Welcoming Occasions
Host a party like a pro with these games, décor items, and serving and beverage accessories.

48 Tastefully Done
The holidays are the busiest time of the year for family get-togethers, office parties, and potlucks, so make sure you've got the gourmet treats and accessories your customers need.

54 Man Up!
Women have a hard time shopping for the men in their lives. Make the task easier with these man-cave faves.

62 Unexpected Delights
Be ready for last-minute Christmas shoppers with an array of fun stocking stuffers and impulse gifts.
Business Sense
68 Employee Leasing: Happy Workers Without the Headaches
Overwhelmed by administrative burdens? Consider using an employee-leasing solution, which is different from hiring from a temp agency. You maintain day-to-day management control over employees, but your co-employer, a Professional Employer Organization (PEO), takes over the HR headaches.

Display & Design
70 The Paths to Success
Create a path to sales success by ensuring that your store's floorplan guides your customers on a route that maximizes product presentation.

Retailer Spotlight
74 Harriet's General: Carrying on a Legacy
This Culpeper, Virginia, store attributes its success to its focus on a carefully curated selection of American-made, nostalgic, and hard-to-find merchandise.

76 Business Briefs
Keep customers happy when you're sold out of an item; leverage social media for more sales; celebrate Independent Retailer Month; make your online and in-store marketing work together; how to find and recruit senior workers.

Vendor View
78 Bethany Lowe
Bethany Lowe began her booming business in her home in 1985. This talented, self-taught artist has created captivating Santa Clause figures and holiday decorations that have delighted Christmas revelers for a generation.
In Every Issue
8 Editor's Note
12 Welcome Exchange:
Questions & Answers that Matter
80 Trade Show Calendar
82 Advertiser Index