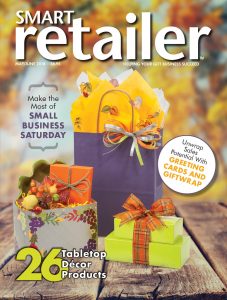 The digital magazine can be seen only by subscribers who are logged in.
Have a website login already? Log in and start reading now.
Never created a website login before? Find your Customer Number (it's on your mailing label) and look for First Time Registration top-right after clicking the link above.
Still have questions? Contact us here.
ON THE COVER:
Nashville Wraps (www.nashvillewraps.com) offers a wide range of wholesale giftwrap and packaging.
Product Focus
New & Noteworthy:
10 Products to Please the Young and Young-at-Heart
Thoughtful gifts to please moms; fun playhouses and cuddly, animal-shaped blankets for the kids.

Counter Culture:
14 Novel Gifts and Décor Galore
BigMouth unveils quirky and comical novelties; Full Moon's fair-trade goods are a hit; Epiphany Glass offers a clear choice in hand-blown glass décor; and more!

Trend Watch:
18 The Trick to Treating Your Shoppers
Halloween is one of the top-spending holidays in the U.S., so cash in with a full line of Halloween and fall-related items. The profit potential is downright scary.

22 Décor Treasures for the Bed and Bath
Freshen up bedrooms and bathrooms with a splash of new décor.

26 Wrapped in Memories
Help your customers take their gifts to the next level with top-of-the-line cards and wrapping paper. After all, you want gifts purchased in your store to represent your store well!

30 Say Hello to Relaxation
Both men and women are looking for high-quality bath and body products. Check out our lineup of soaps, creams, lotions, skin cleansers, bath fizzers, and more.

34 A Touch of Elegance and Charm
A strategically placed décor piece can create a dynamic focal point to bring a space alive.
Business Sense
40 Small Business Saturday: A Holiday Shopping Event to Make You Smile
Learn how to make the most of Small Business Saturday, one of the most important selling days of the year.

Display & Design:
42 Are You Getting the Hang of It?
If you're running out of space or innovative ideas for product display, don't get discouraged. Just look up!

Retailer Spotlight:
44 Choices Bath and Body
Chemist and licensed esthetician Helga Soave created her own natural skincare products. But the in-depth education and information she provides is what really turns her clients into repeat customers.

46 Business Briefs:
Disaster planning for your store; positive steps for online reviews; the benefits of setting up shop in a mall.
In Every Issue
6 Editor's Note
8 Welcome Exchange:
Questions & Answers that Matter
48 Trade Show Calendar 50 Advertiser Index