Susan Evans and Phil Morgan opened Seagreen Gallery eight years ago in a 1946 building located on the famous beach road in scenic Nags Head, North Carolina. After purchasing the decades-old building, the first challenge they faced was to restore it and revamp its sandy backyard. Repurposing the vintage structure into a hands-on gallery was just the beginning of a remarkable journey not only for them but also for their children: Will, Sam, and Michael. The store is a labor of love for the family and it shows. And family, here, doesn't mean just them. Their definition of family includes their hardworking staff and the local artists, who provide many of the many masterpieces featured.
Their enterprise specializes in the art of reuse. Not only do they support local and national artists who create with found and reclaimed materials, the family crafts many products and artistic installations in the gallery themselves. They create driftwood archways in their famous and whimsical garden, complete with bunnies, a fishpond, and winding path behind the gallery. You'll often hear the sound of hammers and drills from the workshop upstairs as they create new masterpieces. Their creativity and dedication provides the perfect blend needed to create not just a store but a destination for art lovers — a destination that truly reflects the Outer Banks and its traditions of beachcombing, recycling, and repurposing.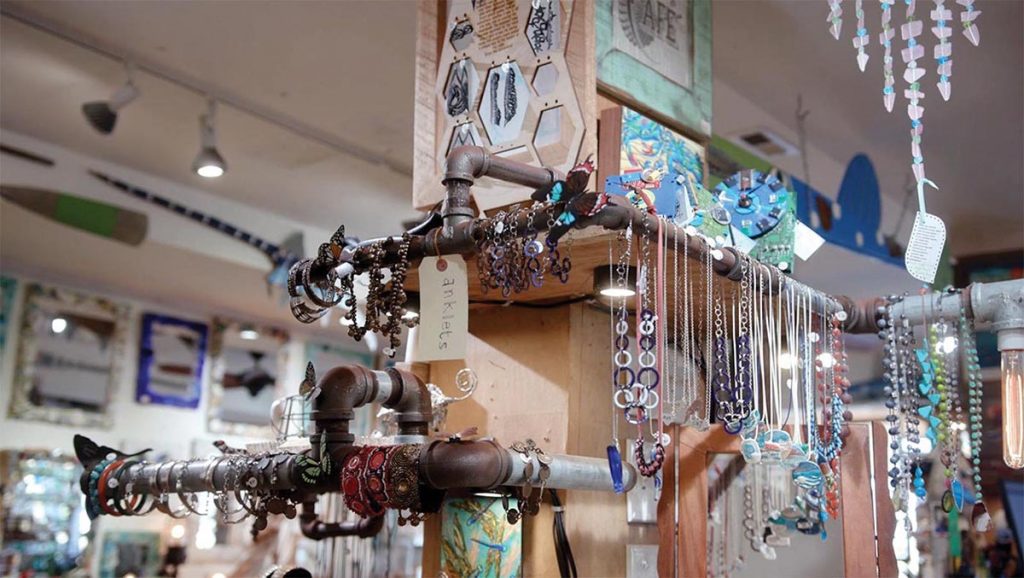 Susan and Phil's Early Years
Susan was a child when she visited the Outer Banks for the first time with her family in 1961. "I remember a shack of a cottage, bonfires on the beach, shooting stars, finding a whole tumbled bottle, sand dunes, and hushpuppies," she recalled. She returned to the Outer Banks at 17 after leaving her "delightfully Bohemian household" with one of her friends. The two girls started working as maids and rented a room at a local boarding house for accommodation.
Just two years later, Susan enrolled in an art and photography program at College of the Albemarle. During her time at the college, she worked at a local Christmas Shop and Island Art Gallery. "I absorbed my sense of design and display from the owners, known as 'the decorating kings,'" she recalled, adding how they artfully used antiques and stories to create a memorable experience for the visitors.
At 23, Susan met Phil Morgan while working with him at the Seafare restaurant. Phil went on to become the director of the Carolina Population Center at UNC Chapel Hill. Because of his career, they had to travel a lot, but they never stopped visiting the Outer Banks. It was during these visits that the idea of starting the gallery first emerged in Susan's mind. Their ocean-lover son, Will, had always dreamed of opening a store beside a beach. Susan had always wanted to create things from the items people discard. And Phil really liked the idea of finding an outlet for all the vintage and antique pieces he and Susan had collected over the years. To put it succinctly, the whole family was excited to forge a lifestyle out of their hobbies.
The Dream Takes Shape
So began the search for an appropriate place, something like a small cottage. And it wasn't long before the couple found just the ideal spot — a building used by Walter and Stella Gray for Gray's Department Store. Susan and Phil bought the spacious location in 2011 and continued their 60-year-old legacy. At the time Seagreen Gallery opened, the locals had little money to spend, and the island was lacking in retail. Repurposing was, in fact, a necessity at the time, as locals would make things from the materials available to them.
Even though the situation has now completely changed on the island, Seagreen has continued the tradition of "reuse" by featuring and promoting the artworks of artists like Kim Jacoby, who specializes in making whimsical fish from driftwood and jewelry from sea glass; Mike Tames, who uses vintage housewares and farm tools to create colorful sea creatures; and Rebeccah Rogers, who paints lifelike nature scenes on old windows.
A Family Affair
Susan herself is an expert artist, specializing in resin and glass products. She can skillfully take bottle parts, glass shards, and objects found in poured resin and convert them into stained glass for old windows. She also uses old glass and pottery shards to make mirrors and whimsical birdhouses. Phil is the official picker for the gallery, and Susan often helps in the hunt for antiques. The couple recently returned from East Coast and brought back a truckload of maritime treasures collected from the Carolinas to Florida.
Will, a surfer, contributes aquatic items and art installations that reflect his connection to the ocean, such as the marvelous 9′ x 12′ license plate he recently made. As a multiskilled artisan, he can create art and furniture from nearly anything. He also serves as the gallery manager, as well as the electrical wizard, gardener, and carpenter. He also continues the island's tradition of collecting building materials that have been washed up on the beach after storms. The wood for the fence and walkways in the backyard garden was all salvaged from the debris left by Hurricane Irene in 2011. Michael contributes his computer skills to the gallery and specializes in curating "Susan's house music." And he makes scented candles, as well as beautiful clocks from vintage record album covers.
Sam and his family aren't a part of the team but they regularly visit the store to provide all the intangible support they can. "Every time we come, I'm curious to see what's new in recycling," Sam said. Even though Susan would like to have Sam join their team, she still appreciates working with her other two sons. "I didn't anticipate how much I would enjoy working with my sons," she said. "Watching them grow as artists and as people, that's the best part."
The family's dedication toward their enterprise is evident from the store as well as the items it carries. Just the four of them — Phil, Susan, Will, and Michael — create nearly 40% of the store's inventory. The rest of their merchandise comes from about 60 local artisans.
Like Visiting a Beachcombing Museum
No matter what sort of a person enters the store, they get an experience of a lifetime. Because of the variety of artifacts displayed, visiting Seagreen is like walking around a beachcombing museum. The place is filled with original, creative, and whimsical items, such as mirrors, maps, Mason jar lamps, glass fishing floats, repurposed and antique furniture, interesting jewelry and candles, birdhouses made of tumbled vintage glass, signs made of assembled license plate letters, and much more.
A wide range of rocks, minerals, crystals, sea glass, and aquatic artworks such as oyster shell decorations are also available to satisfy the people looking for unusual gifts. For the visitors who have had enough shopping already, they can always step out to enjoy the mesmerizing garden art and maybe snap a photo or two.
Although Susan and Phil buy from independent artists around the globe, most artworks featured in the store are locally made. Almost all the inventory comes from the people and companies that create products made using their own local version of repurposing. Their passion for "repurposing"— shared by every member of the family — has made Seagreen Gallery not just a store but a destination. A place that, according to Susan and Phil,"lets the imagination grow and the soul wander."
Facts at a Glance
Business Name: Seagreen Gallery
Location: 2404 Virginia Dare Trail
Nags Head, N.C. 27959
Website: seagreengallery.com
Phone Number: 252-715-2426
Email: seagreengallery143@gmail.com