Western & English Sales Association (WESA)
August 23-26, 2023
Dallas Market Center in Dallas, Texas
wesatradeshow.com
Follow on YouTube, Instagram, Facebook, Twitter, and LinkedIn under @WESAtradeshow and #WESAtradeshow
What should an attendee always do or visit at your show?
Register in advance at wesatradeshow.com to skip the lines and receive your badges via mail.
Request to add new buyers, if applicable.
Read the WESA directory to learn more about the upcoming January WESA Trade Show.
Reach out to exhibitors to schedule appointments,
Learn more about exhibitors by listening to interviews on Wisdom by WESA.
Familiarize yourself with the floor plans via wesatradeshow.com, the WESA directory, and the WESA Trade Show app.
Check out daily events and plan to attend whatever suits you via wesatradeshow.com, the WESA directory, and the WESA Trade Show app.
Learn about retailer perks via wesatradeshow.com, the WESA directory, and the WESA Trade Show app.
Download the WESA app for a complete list of events, shuttles, up-to-date exhibitor listings, and more.
Bring your badge to the WESA Trade Show to join us at Where the Industry Meets.
What are the most common questions you answer from first-time attendees?
First-time attendees are usually worried about not having enough time to visit all the exhibitors they'd like to buy from. Our recommendation is to spend a little preparation time and familiarize yourself with the exhibitor listing, the product lines, the events, and the floor plans. You can use wesatradeshow.com, the WESA Trade Show app, or the WESA directory to do so. On-site, most questions are either about how to find a certain exhibitor or how to find food outlets. We publish a Where's the Food flyer in the app, and there are additional signs on-site.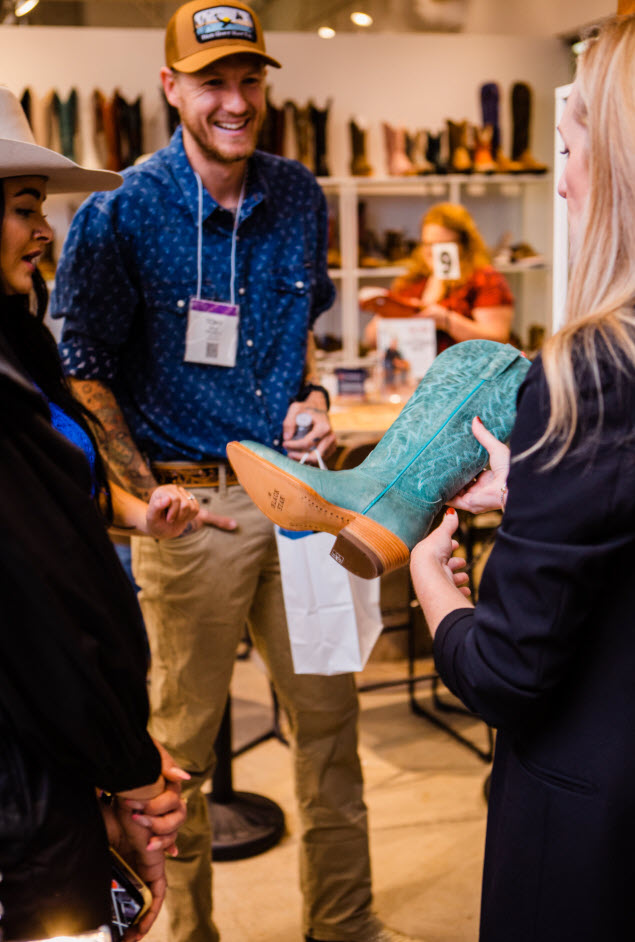 Give your best travel advice, "things to do" from a regional standpoint for first-time attendees.
The Dallas Market Center lists recommendations on its website for great restaurants in Dallas. To make traveling itself a little easier and cheaper, utilize the free hotel shuttles between selected hotels and the Dallas Market Center.
For veteran attendees, what will they notice as being different and/or improved this year?
Many of our returning retailers are still amazed by the new location, the DMC. The vibrant colors and the electric feel are a great welcome as soon as you enter. Retailers will also notice that the number of exhibitors increased; we have started the space assignment for the booth allocation and have sold out every location. Lastly, many of our exhibitors have requested a bigger booth as they are planning on bringing more products and product lines. Thus, retailers can expect to see even more products of the Western and English equine industry.
What makes you excited about 2023's version of the show?
After moving to a new facility and overcoming the pandemic, I am especially excited to welcome more international attendees. We had successful shows in the past years and were fortunate enough to include highlights for every show. In 2021, we hosted the first WESA Trade Show in Dallas, Texas; in January 2022, we celebrated our 100th anniversary; and in August 2022, we hosted a new version of our WESA Benefit Golf Tournament at Topgolf to support scholarship funding for National Little Britches Rodeo. Now, we're excited to move forward and continue to be the place Where the Industry Meets while growing the industry together.