Holly Williams, a Nashville-based singer/songwriter, granddaughter of Hank Williams Sr. and daughter of Hank Williams Jr., grew up in the spotlight of country music legends and spent years on the road with her own music career.
However, a very serious car accident in 2006 almost took the lives of Holly and her sister Hilary. She was left shaken and uncertain if she would ever be able to play guitar again. Her sister endured over 30 surgeries on her personal road to recovery. Not wanting to leave Nashville, she needed to have a "backup plan" in case she wasn't able to continue her music career. That is when Holly's life started to take on a new direction.
A year after the accident, she decided to open her own clothing shop called H. Audrey, featuring some of her favorite designers and showcasing her own incredible sense of style, described as modern-day chic. It has since grown into one of Nashville's most beloved clothing boutiques.
In 2013, Holly was itching for another retail project, so she opened the doors of White's Mercantile, which she describes as a "general store for the modern-day tastemaker." She named the store after her maternal grandparents and drew inspiration from the mercantile that her great-grandfather once owned in a small town in Louisiana. "My grandparents had an amazing sense of style and appreciated good craftsmanship. They are always in the back of my mind when I'm choosing items to buy for the stores," she said lovingly.
The original White's location is in a beautifully restored old gas station in the trendy 12South District of Nashville, on a road coincidentally known as Granny White Pike. "I really lucked out with this location. The building wasn't even for lease. I just called up the owner and asked him to meet me at Whole Foods where I begged and pleaded for him to let me rent it. He finally caved. I got really lucky," she said.
Holly may be from a long line of country royalty, but don't expect to see rhinestones and cowboy hats. The entire shop is completely curated and stocked with Holly's favorite items that she has discovered on the road. Both of her beloved stores show off her "exquisite taste," as described by gal-pal Gwyneth Paltrow.
In December 2015, Holly opened a second White's Mercantile location in Franklin, Tennessee. "With this location being larger than our other one, I'm able to carry items that I'm not able to carry in 12South, which I'm really excited about," she said. Glassware, candles, cozy throws, dog treats, and even beard oil are just a sneak peek of what is offered on the shelves at the Franklin shop.
Holly says she loves retail and music equally because they are a nice relief from each other. She even has a lifestyle blog called "The Afternoon Off," which brings together her love of fashion, food, and travel.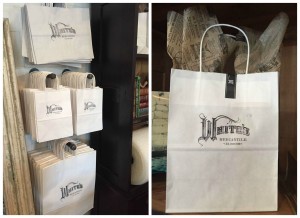 "I love beautiful packaging," says Holly. "I'm a packaging freak!" She proudly says that Nashville Wraps has been her choice for her retail packaging from the beginning. White's Mercantile uses their white kraft bags with a hand-stamped logo, newsprint tissue, and finished with a black satin ribbon.
Today, Holly is still playing the guitar and touring, and has released three critically acclaimed albums.
Q&A with Holly Williams
Smart Retailer (SR): How do you balance your time between your music career and your retail locations?
Holly Williams (HW): "It's a constant roller coaster! But at the same time I love how each provides me a complete break from the other and I come back to either creative outlet refreshed and filled with more ideas. Some days are super stressful, and some days work out perfectly with the blending together. I find many items that I carry at my general store while out on tour. I get to meet the makers and discover so many things I would have never discovered because of my music career."
SR: What advice do you have for other retailers who are considering branching out into another genre of retail, or opening a second location?
HW: "My advice is to ONLY do it if you are truly passionate. If you own a retail store you know how unglamorous and chaotic it can be! Broken toilets, sewage overflowing (a personal favorite), employee, landlord, and vendor issues, etc. But if you truly have a passion for what you are doing, and you get to spend a little bit of time on the fun and creative part each day, then it makes it all worth it. Do not pursue growth for the money, for which there is no guarantee. Your customers know if you are creating a space with passion and it will naturally bring them in!"
SR: Do you have events in your stores? Are there ones that you love that you would share with our readers?
HW: "We have many events, including really amazing trunk shows with our favorite designers at H. Audrey roughly once a month. At White's Mercantile, we are blessed with a huge parking lot so we can have really large-scale events. We have a food truck at least three days a week from local s'mores to organic taco makers. We do doggy adoption days and local jewelers and florists come to the parking lot for pop-up shows. Then bigger lines like Woolrich will come in the fall with fire pits and cozy blankets. I love offering these events to our customers! We are a very family-friendly place, so our customers can also bring their dogs and kids to the events."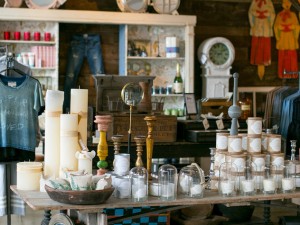 SR: What are some of the challenges you face in the retail industry? How do you address those challenges?
HW: "There are all of the day-in and day-out stressors, but the other thing that no one tells you when you open a business is that you better be a part-time accountant. Even though I have great accountants, there are still hours and hours spent with inventory reports, profit and loss statements, pricing decisions, payroll structures, sales goals, etc. To be the sole person responsible for those decisions can be pretty darn stressful and overwhelming!"
SR: If you were given $100 to invest in your business how would you use it? What about $10,000?
HW: "With $100, I would buy a new ergonomic standing desk in the back room for my managers. Always treat the people you work with as you would want to be treated. Take care of the people working for you; treat them with random little happy gifts. I would put the $10,000 towards our bank loan, that's easy!"
SR: What are your three favorite product lines? Why?
HW: "That's almost impossible to answer, as we have over 900 lines between the stores! Right now at this very moment I am LOVING Walker Creek caramels. Filson is and always has been one of my favorite lines. Reminds me so much of my grandpa and dad. Everything from the log carriers to wool vests to hunting caps gives me that warm homey American-made feeling! Herbivore Botanicals is a stunning all-natural skin care line that I discovered. Customers are swearing that their skin has been totally altered by their products. 100% natural, handmade with no nasty stuff, founded in a kitchen in Seattle by a lovely couple. That's very important to me!"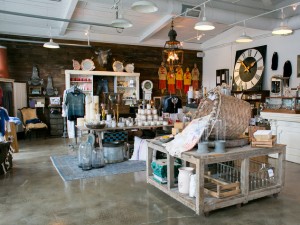 SR: What would you identify as an important turning point in your business?
HW: "When I finally learned how to interview and hire better than I had done before. I stopped making rushed frantic decisions just to fill a position and I put passion over experience as my hiring rule. The passion hires, always perform better than strictly hiring because of a resume. That literally changed my businesses! If your employees love it, then they will work crazy hard and learn everything they can."
SR: What traits do you have that you find makes you so successful in this business?
HW: "Supposedly my grandmother is solely responsible for Hank Williams Sr.'s career, the booking agency she created, the clothing store she opened, and many other business ventures. She didn't take no for an answer. Sadly I never met her. My daddy (Hank Williams, Jr.) did his music the way he wanted and told everyone else to leave him alone when they told him he would never make it. Now he has sold 70 million records worldwide. I will find a way if my heart is set on something. It took me over two years to find investors for the first store; I asked everyone! Multiple banks, people, family members, friends all said no, but I wasn't mad, I just kept pushing until I found a yes! You have to be fearless and keep believing and keep looking for a door to open."
Facts at a Glance

Business Name: White's Mercantile / H. Audrey
Location/Phone No.:
2908 12th Ave South, Nashville, TN 37204
615-750-5379
345 Main Street, Franklin, TN 37064
615-721-8028
Website: www.whitesmercantile.com
Facebook: www.facebook.com/Whites-Mercantile-352216298248672
Twitter: https://twitter.com/WhitesMerc
Instagram: www.instagram.com/whitesmercantile
Email: orders@whitesmercantile.com