Boutique fashion is a constantly changing industry. Trends come and go at lightning speed, so it makes sense for customers to buy clothes on the go too. That was the idea behind Clavillè Fashion Truck, a mobile clothing boutique based in Richmond, Virginia. The idea was dreamt up in 2014 to be a unique, personalized, and affordable shopping experience.
At the time, owner Claudia Villegas was a 13-year resident of Richmond. She earned her degree in fashion design and worked as a designer and seamstress before opening the fashion truck, which came about after browsing the Internet for small business opportunities and discovering a similar fashion truck in Cincinnati. She decided to open Clavillè that night.
Fashion trucks are more common in bigger metro areas, but are beginning to catch on in smaller cities, like Richmond. "Richmond is a fairly fashionable place," Villegas said. "There is a market for this type of business. You just have to be willing to find it."
She and her husband purchased a delivery truck and renovated the entire interior, complete with custom cabinetry and a fitting room. When asked why she chose to go the unconventional route of putting the store on wheels over a traditional brick-and-mortar store, she said, "I like the novelty of having a truck; I can go to festivals, have parties at people's houses, and move around every day. It's never dull. The traveling aspect of our boutique allowed us to really narrow in on our clientele, and essentially bring the shopping to the customer. It was less expensive, it was hip, and it allowed us the flexibility to operate the store in a way that worked for us," said Villegas. "Another advantage is that I can bring Manolo (my puppy and fashion truck mascot) with me anywhere we go in our Richmond Virginia Fashion Truck."
Villegas believes that her customer's shopping experiences are more personalized than in a traditional boutique. By its very nature, the mobile boutique is cozy and intimate and the staff can guide customers through all of the inventory, making personalized suggestions based on what they're looking for or their body type. Villegas said that the personal styling assistance is one of the features that customers enjoy most by shopping the truck.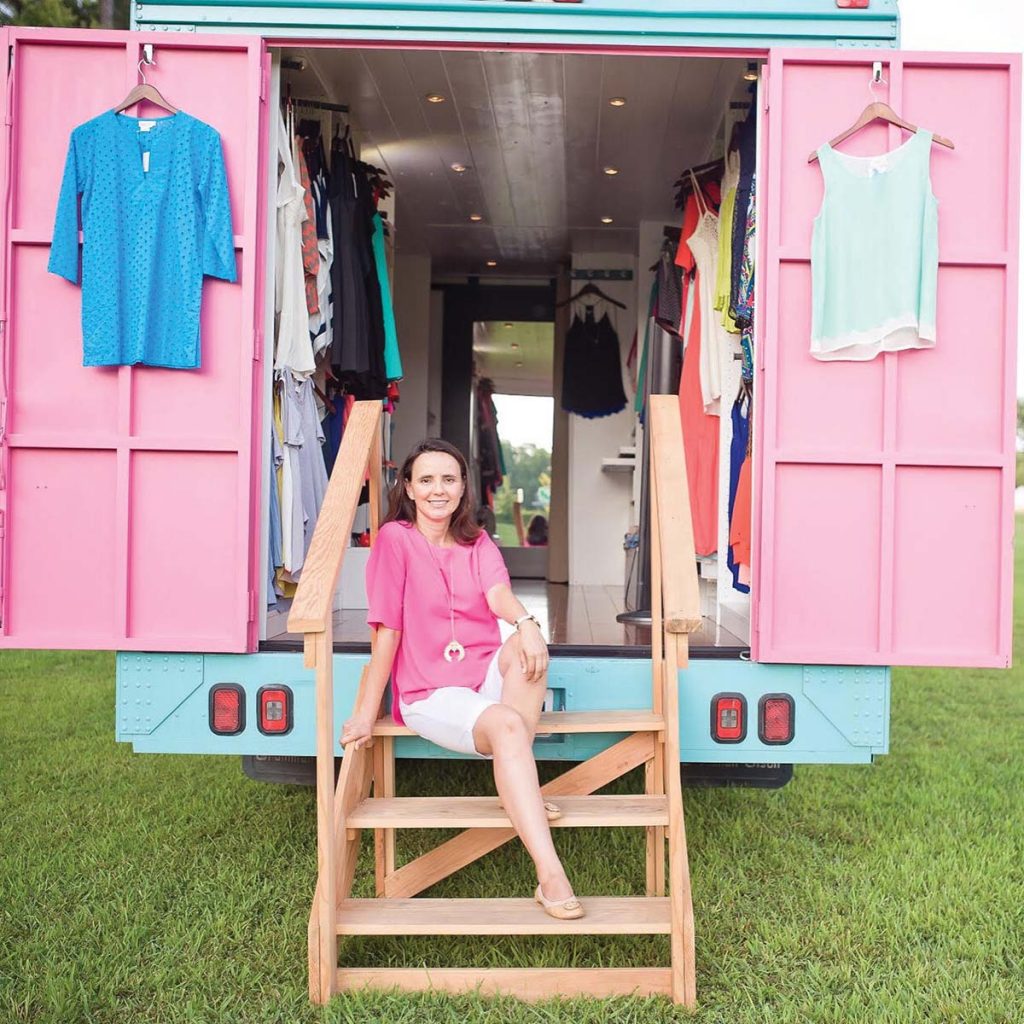 The biggest challenge that faces the mobile boutique is finding a location to park and set up shop. "We cannot just show up to a popular area; it's much more technical," she said. "Ordinances regarding retail trucks and certain neighborhood sidewalk provisions make it difficult to pop up in many parts of the city." Then there are the area's many retail centers, some with strict covenants that prohibit outside commercial interests from setting up on their premises. "I totally understand that," Villegas said. "We're not out to take away from anyone else's business."
To overcome those obstacles, many truck operators work one-on-one with area shopping center owners to explain the concept in an attempt to park the trucks for a period of time. To continue securing additional location options, she works diligently to connect with her community. "We utilize any and all connections with other small businesses, we frequent the businesses we do partner with, and we chat with our customers about customized shopping opportunities," she said.
To advertise her shop, she uses both social media and her website to update regular customers with pop-up shop locations. She continuously partners with local businesses in the area for weekly pop-up shops, and she participates in local festivals and gift markets.
The Clavillè Fashion Truck stands out from the crowd because it's owned and operated by an experienced tailor with a fashion degree. Because of her training, Villegas understands how clothes are constructed and she's very particular about the styles and materials chosen for her shop's inventory.
She also strives to order unique fashions for her boutique by ordering only six pieces of each item, and once sold, ordering new designs. The boutique rarely carries the same thing twice, so customers won't find their "outfit twin" out on the town. The shop's prices won't break the bank either; everything on the truck is under $75. "We wanted to make sure that we were offering a selection that was an affordable price point for the demographic we wanted to reach," she explained. The inventory is very easy to wear, with wide-appeal. They're pieces that customers can easily accessorize and throw on with leggings or jeans.
Villegas operates the mobile store with two sales associates, Katlyn and Kristen, and her husband, who frequently drives the truck. "We enjoy bringing the shopping to the customer, and the unique environment that provides our clients. We focus heavily on a personal shopping experience."
Quarterly, she partners with local nonprofits to style models in charity fashion shows or on a Shop for a Cause event. Villegas considers these opportunities a win-win for everyone involved, and allows her staff to make more connections in the community.
For many new retailers, the search for an ideal brick-and-mortar location proves too costly and is a barrier to entry. Most find that the perfect location simply costs too much, or is affordable but in an area that doesn't have much exposure. According to the American Mobile Retail Association, the mobile business industry has grown to nearly 1,000 trucks across the United States. Established brands and retail hopefuls are outfitting trucks, trailers, buses, and recreational vehicles as a more cost-effective solution to launching a traditional retail storefront.
Q&A with Claudia Villegas of The Clavillè Fashion Truck

Smart Retailer (SR):What shows do you attend as a buyer? Do you have a favorite?
Claville Fashion Truck (CFT): We attend both the Atlanta and New York markets. Atlanta has a wide variety of vendors and options. New York is probably my favorite because it is smaller, so it allows me to be really proactive and particular in my selections.

SR: What is the best business idea you ever had?
CFT: My best business idea was to keep Clavillè's prices low and affordable. We want to reach new customers and offer them prices that allow them to continue visiting us each week.
SR: What are you passionate about? How do you inject that into your business?
CFT: I am passionate about affordable fashion. I believe people don't always need to have a special occasion to dress up. A new outfit can empower people and help to give them the confidence to take on their day. I think it is possible to be the best-dressed at a party and not go broke doing it.
Richmond Virginia Fashion Truck facts at a glance
Website: www.clavillefashiontruck.com
Instagram: @Clavillèfashiontruck
Facebook: @Clavillèfashiontruck
Email: clavillefashiontruck@gmail.com
Phone: 804-501-6518