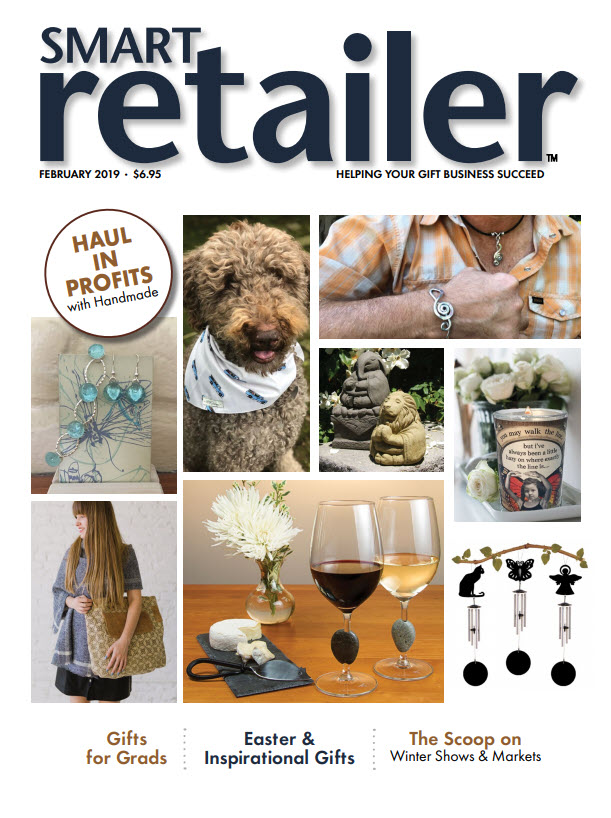 The digital magazine can be seen only by subscribers who are logged in.
Have a website login already? Log in and start reading now.
Never created a website login before? Find your Customer Number (it's on your mailing label) and look for First Time Registration top-right after clicking the link above.
Still have questions? Contact us here.
February 2019
ON THE COVER:
Find these handmade items and more at Las Vegas Market:
Left to right, top to bottom:
1818 Farms
The Artist Jay
Peppermint Charms
Designer Stone
Erin Smith Art
Chloe & Lex
Sea Stones
Jacob's Musical Chimes
Product Focus
New & Noteworthy:
10 A Colorful Array of Grand Gifts
Thoughtful gifts for just about any occasion or celebration.
TREND WATCH:
18 Get the Upper Hand With Handmade Goods
Consumers long to give handmade gifts because they lend a personal touch and contribute to the local economy. Find a treasure trove of these handcrafted works of art inside.
40 Easter and Inspirational
Gifts to Touch the Soul Discover heartwarming faith gifts for Easter and
other occasions.
46 "Top of the Class" Graduation Gifts
With graduations celebrated from kindergarten to doctorate, there's a never-ending demand for congratulatory gifts. Check out these tributes
to academic achievement.
BUSINESS SENSE
36 How to Find Handmade Products
Learn how to cultivate successful wholesale partnerships with
handcrafted artisans.
50 Las Vegas 2019 FIRST LOOK Trend Forecast
Get a sneak peek at the trends that will be on display at Las Vegas Market, Jan. 27-31.
DISPLAY & DESIGN:
54 Emphasis: A Principle of Good Design
Find out how to leverage a classic design principle to grab your customers' attention.
56 Business Briefs:
Optimistic, online, and predominantly female; building community in retail
centers; rolling out your email welcome mat; recruiting right; customer service: more than a friendly face.
RETAILER SPOTLIGHT:
58 Clavillè Fashion Truck
Claudia Villegas combined a booming retail trend with clothing and created a fashion store on wheels.
60 NY NOW Winter
Market and The National Stationery Show (NSS) Retailers will get double the shopping opportunities with NY NOW and NSS at Javits Center, NYC, on Feb. 3-6.
62 Rocky Mountain Gift Show and Denver Apparel & Accessory Market
From Feb. 20-25, enjoy two classic western events featuring hundreds
of exhibitors, exciting product lines, and numerous seminars.
IN EVERY ISSUE
6 Editor's Note
8 Welcome Exchange:
Questions & Answers that Matter
61 Trade Show Calendar
65 Advertiser Index