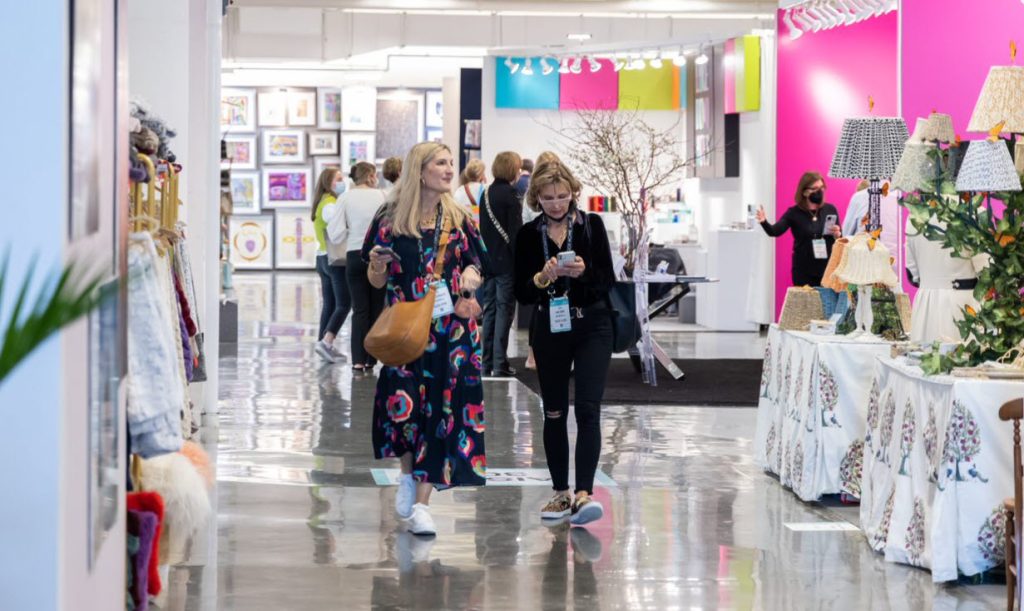 Atlanta Market
January 10-16, 2023
Temporaries: January 11-15, 2023
AmericasMart in Atlanta, Georgia
Follow at: @AmericasMartATL on Facebook and Twitter and on Instagram #ATLMKT
Top 10 Tips for Atlanta Market
What should an attendee always do or visit at your show?
Let Atlanta Market know you are coming. Preregister online (atlantamarket.com/Attend/Registration), to save time when arriving at Market. Submit your information online in advance, and it will be reviewed by the Customer Relations team before you come to campus. This step makes the on-campus credentialing process shorter and gets you in front of product even sooner. You'll also start receiving emails with key market information. 
Opt in to JuniperMarket. IMC's new B2B wholesale ecommerce tool is the ultimate 24/7/365 complement to Market. Register for JuniperMarket.com (it's free!) and find brands to source and shop before, during, and after Atlanta Market. 
Book your travel through Atlanta Market. Optimize your market experience before you get to campus by booking through Atlanta Market's official travel partners (atlantamarket.com/Attend/Travel). Book hotels at guaranteed lowest rates, reserve nearby parking at the lowest costs and more. 
Make a plan. With 7.2 million square feet of exhibition space, 40 showroom floors, 10 exhibit halls, and four days of programming and events, making a plan is paramount to having a great market experience. Read the Atlanta Market Magazine (online and in offices in December), visit AtlantaMarket.com, follow @AmericasMartATL on social media to see the Market Snapshot trending products, and pick up a Buyer's Guide on campus to make a list of the brands you want to see while you are on campus. Reach out ahead of market to make appointments with your must-have brands. 
Explore the permanent showroom collection. Atlanta Market's 1,000+ gift and home décor showrooms feature single brand presentations and multi-line sales agencies. Source home décor and holiday/ floral in Building 1; gift, gourmet, tabletop, and outdoor living in Building 2; and apparel, accessories, and children's in Building 3. In winter 2023, showrooms are open Jan. 10-16. 
Visit the temporary exhibits. Atlanta Market's 30+ temporary collections are gift, décor, and lifestyle trend incubators. Make time to visit the 10 exhibit halls across the three AmericasMart Buildings to discover what's new and next. In winter 2023, temporary exhibits are open Jan. 11-15. 
Discover Atlanta Market with a guide. Take a New Buyer tour to get the lay of the land. Tours customized to gift, home, and temporary exhibits keep the tour focused on just what you need to see. 
Attend a seminar or cooking demonstration. Programming is a key element of the Atlanta Market experience. Attend business-building seminars, tastemaker events and presentations, and cooking demonstrations in Atlanta Market's Food Network style demo kitchen. 
Celebrate the industry. Market is a time to come together so plan time to attend networking events and celebrations. Atlanta Market will host an official market-wide Kickoff Party, and showrooms and industry organizations will host individual events throughout the market week. 
Leave time for exploration. Make a plan, but leave time for discovery, both at-Market and in the city of Atlanta. New brands and favorite neighborhoods can provide great inspiration. 
What are the most common questions you answer from first-time attendees?
What are all the products you have at Market and where can I find them?
Atlanta Market is home to gift, décor, and apparel. The Exhibitor Directory, Buyer's Guide, and Market App are fantastic tools to use to locate vendors onsite.
Do you have on campus events?
We have many events as well as seminars, product displays, photo walls, and amenities. A full listing and schedule can be found online.
Where can I find food?
Atlanta Market offers food vendors, coffee stations, and market-themed snacks and beverages in all three buildings. Visit AtlantaMarket.com to find locations and keep an eye out for floor decals and signage directing you to food and amenities.
Give your best travel advice, "things to do" from a regional standpoint for first-time attendees.
Everyone is buzzing about Atlanta, including travel experts Lonely Planet and National Geographic. Atlanta was selected as one of the top destinations to visit in the National Geographic Best of the World 2022 list. Atlanta also was distinguished as the ONLY U.S. city in Lonely Planet's Best in Travel list for 2022.
Explore Vibrant Neighborhoods
Whether you arrive in Atlanta by plane or car, Atlanta's neighborhoods are the best way to experience the city. Many are walkable and accessible with public transit. Experience funky Little Five Points, cool Midtown, historic downtown, and sophisticated Buckhead. The Atlanta BeltLine connects several in-town neighborhoods along the Eastside and Westside trails.
The Food and Dining Scene
A scroll on Instagram through #Atlantaeats will have you salivating. Small neighborhood restaurants serve innovative, creative dishes with locally sourced ingredients from nearby farms. Atlanta restaurants offer both a taste of home and the opportunity to travel through your taste buds. Enjoy favorites like barbecue and craft beer from local breweries. Try vegan fast food. For a culturally diverse experience, visit one of the hundreds of international dining options along the famed Buford Highway.
Cool Attractions
Top-ranked attractions include the Georgia Aquarium, World of Coca-Cola, the National Center for Civil and Human Rights, and the Chick-fil-A College Football Hall of Fame — all within walking distance of AmericasMart — plus Zoo Atlanta, High Museum of Art, the Atlanta Botanical Garden, and more.
Rich Progressive History
Atlanta is known as the heart of the civil rights movement. The Sweet Auburn district in downtown includes Martin Luther King, Jr. National Historical Park and the King Center — a great place to get immersed in the movement. Just east of downtown, you'll find the domain of another Nobel Peace Prize recipient: President Jimmy Carter's Carter Presidential Library and Museum.
For veteran attendees, what will they notice as being different and/or improved this year?
Atlanta Market continues to refine the market experience with new tools and programming to make sourcing even easier.
The East Coast edition of IMC's proprietary and celebrated FIRST LOOK multi-part trend program debuts in winter 2023. Julie Smith Vincenti, a design expert with more than 25 years in magazine editing and home furnishings trend forecasting, curates new trends using products available at Atlanta Market. Attendees can explore the trends through a fast-paced, image-rich pre-market webinar, at-market events, a product vignette, and trend guide.
High Design + High Design Online is a special JuniperMarket "online pop-up" of vendors in the design-driven High Design temporary exhibits. Buyers can see the brands in person at Atlanta Market and source from them on JuniperMarket before, during, or after market.
We're thrilled to unveil our new Casual/Outdoor Furnishings collection featuring nearly 50 brands on Floors 2-5 in Building 1. This assortment of outdoor furniture, lighting, rugs and more, offers even more opportunity to shop cross-category, especially for garden centers, hardware stores and seasonal retailers.
What makes you excited about 2023's version of the show?
The Winter Atlanta Market is always an exciting time as buyers and sellers come together for the first time after the busy Q4 holiday selling season. Buyers should expect new product introductions across the Market including yearly seasonal/ floral debuts. Atlanta Market will present a full roster of seminars, cooking demonstrations, events, celebrations, and amazing amenities including floor parties, free breakfast, and more.
Also in winter 2023, Atlanta Market continues its partnership with key trade associations. GC Buying Group will again produce its GCX Expo & Education. The Greeting Card Association (GCA) presents the *Noted @ Atlanta Market pavilion. Museum Store Association (MSA) presents The Museum Collective pavilion.
Read more advice about attending Atlanta Market in this preview of the summer version of the show, which includes tips by store owners for store owners. Click to read "Advice for Attending Atlanta Market – Summer".